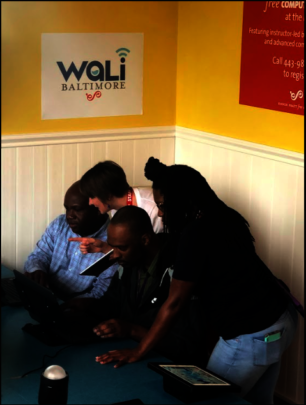 Exciting Updates from Libraries Without Borders!
On behalf of Libraries Without Borders, thank you for your generous donations to our Building a Movement Campaign! We are grateful for your continued support of our work, and would like to share a few updates on our current programs, as well as exciting news about upcoming initiatives.
The Wash and Learn Initiative: Expanding a National Movement
At present, LWB is running the Wash and Learn Initiative (WALI) in laundromats in eight states across the country. Each WALI site features library programming and is equipped with iPads, computers, books, and arts and crafts materials. At every WALI site, both children and adults have the opportunity to learn new skills from experts in basic, digital, health, and legal literacy, among others topics.
On June 10th, we launched Baltimore WALI at four laundromats across the city. Check out these videos from the launch to learn more about our work in Baltimore (link below).
In the months to come, we'll finalize details on our sites in San Antonio and Oakland, while simultaneously gearing up to launch two new sites in Anoka and Moorhead, Minnesota.
The Ideas Box in Puerto Rico: Using the Arts and STEM to Build Local Capacity
Following the success of last summer's pilot program, LWB continues to provide educational and cultural programming with the Ideas Box.
Through your donations, and with generous support from SONY, we have expanded our pilot in Loíza into a full-year program. This May, we also launched "Empréndete: Loíza," a series of community-building events that kicked off with the first-ever make-a-thon to take place on the island of Puerto Rico. During this event, residents formed teams that developed their own solutions to local problems. This fall, we plan to provide these creative minds with seed funding to transform their ideas into reality.
The Legal Literacy Initiative: Democratizing Access to Legal Information
In partnership with legal aid providers, local libraries, and nonprofits, we have curated, contextualized, and simplified legal resources to meet the needs of the communities we serve. With oversight from our Legal Literacy Advisory Board, we will continue to provide these communities with a steady stream of relevant and reliable legal information.
To date, we have Legal Literacy programs in the Washington D.C. area and Providence. In the months to come, we will focus on building partnerships between law libraries and public libraries in order to familiarize branch librarians with legal issues that are common in the communities they serve.
Increasing Rural Literacy Rates: Building on the Success of Wash and Learn
Building upon the best practices gleaned from the Wash and Learn Initiative, we plan to launch a program that serves residents living in manufactured housing communities (aka "mobile homes") in rural areas across the country. The pilot will begin in Fridley, Minnesota, where we have partnered with a local library and a resident-owned, manufactured housing cooperative called the Park Plaza Co-Op. Through this pilot, we will set up iPads, laptops, arts and crafts materials, and a space where residents can participate in library programming inside the co-op's storm shelter. By working with the library and other community-based organizations, this pilot will provide residents with opportunities to develop basic, digital, health and legal literacy skills. Stay tuned for more updates on this program!
Links: