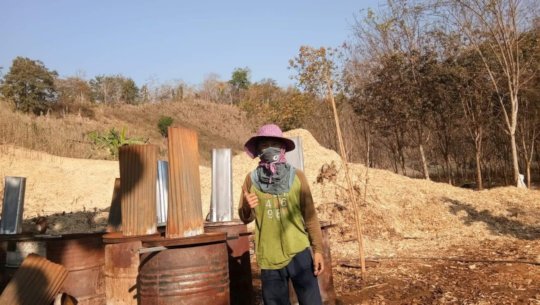 Warm Heart's Stop the Smoke campaign focuses on removing the source of the smoke before it becomes a problem.
Our solution has been to provide farmers a way to benefit from their crop waste by turning it into a profitable product, biochar.
The process of turning crop waste into biochar is smoke-free and produces a product that has a multitude of beneficial uses.
The farmers we have worked with in the past will continue this year to convert their crop waste into biochar. They have reaped the benefits of adding biochar to their fields to improve soil conditions and increase crop yields.
Our goal this year is to continue to reach out to more farmers to increase the amount of crop waste that is turned into biochar, helping to eliminate more smoke from being generated through open field burning.
We are also developing a comprehensive project that will have even bigger, long term impacts on cleaning our air by reducing the amount of crop waste generated every year from corn crops.
Warm Heart will be leading a joint effort to restore forest land that has been used primarily for corn production with crops that produce far less waste and provide sustainable economic growth for the farming communities.
Our partners in this project include Shangri-La Hotel of Chiang Mai, Pacific Basin Economic Council, Kad Kokoa, and Monsoon Tea.
We will be putting forth a plan of agroforestry that will include rebuilding our forest lands with the following crops:
o Thai select cocoa
o Thai coffee
o Forest tea
o Pic Thai, green and black peppers
o Rattan
o Hardwoods
o Traditional tree fruits
Biochar will play a big role in preparing the soils. We will be working directly with select farmers to establish models to demonstrate how agroforestry can restore biodiversity, improve our water systems, create sustainable economic value, and yes, stop the smoke.
We hope you will join us again this year with your continuing financial support and help us Stop the Smoke!
Michael, Evelind, Dana, and the Stop the Smoke team