We have started hands on workshops with different elementary school grades.
The grade 3 students are planting 3 different types of bush beans. We are experimenting to see which one germinates first, which variety produces the most beans and how quickly each one produces beans. The class is broken into 3 groups and each group is germinating seeds in a petri dish so they can observe the whole germination process.
The grade 5 students are also working with legumes. They started by making little pots using toilet rolls.We then added the wonderful bokashi compost soil made in our biofactory.The class is divided into 5 groups, each group is sewing a different type of legumes. We are experimenting with organic, non GMO seeds. We want to see which seeds grow best in the highlands as well as add some biodiversity. The students will be collecting seeds from their plants enabling this project to be sustainable. Of course, they will also get to eat their yummy beans.
We also are teaching about the importance of organic gardens and companion planting. We had 2 of our sponsored students collecting marigold seeds. We are planting marigolds in our garden to attract beneficial insects and repel harmful ones, especially around tomato plants.
Our future goal is to produce enough wonderful soil and seeds so that the children can start home gardens.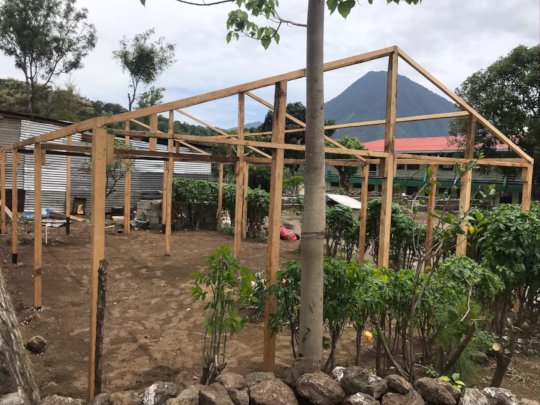 It is amazing the difference a few months can make. The Chuk Muk Elementary garden is being made into an organic oasis. The main garden has been transformed into a sun design with raised bamboo beds that are several feet deep. To create some shade ( and supply food) fruit trees have been planted at the outer edge. This area is so increadably rocky we were left with a plethora of rocks once we had created the garden beds. We used some to build a herb area in the centre, which the grade one students loved planting. The rest we used to construct a thick rock entrance wall. On this wall we planted dragon fuit...so it is both beautiful and functional.
One of our university students, Francisco, is studying agriculture. He has been doing his practicum at the Chuk Muk school. His big project was designing and constructing our new greenhouse.
It is so much fun watching this garden project bear fruit.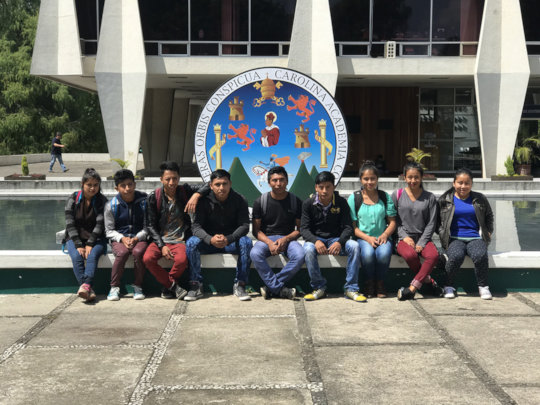 We are helping to build the future leaders of the village of Chuk Muk.
Our goal is to have kind, compassionate, honest and hardworking students.Our first step is to get them an education past elementary school. We are doing this by having our learning centre open to anyone in the village who needs to use a computer with internet, a printer or tutoring help and it is free. We help every student in the Chuk Muk middle school get their supplies and then help with their fees. We find sponsors for the students continuing to high school. All these students are required to give volunteer time helping students in elementary school. In this way they are paying it forward as well as modeling kindness and compassion.
We have found that a university education drastically increases the likelihood of a student having a bright future and bringing their family out of poverty. We presently have 20 students in university studying, agriculture, education, mathematics, music, lab tech, sysyems engineering, business administration and accounting. We however cannot afford to send students to study the more expensive professions like doctor, nurse, nutitionist, civil engineer, physiotherapist. To make these professions possible we are taking the students into Guatemala City to write the exams for the almost free Government university.
Thank you for helping to change lives in a positive way
WARNING: Javascript is currently disabled or is not available in your browser. GlobalGiving makes extensive use of Javascript and will not function properly with Javascript disabled.
Please enable Javascript
and refresh this page.