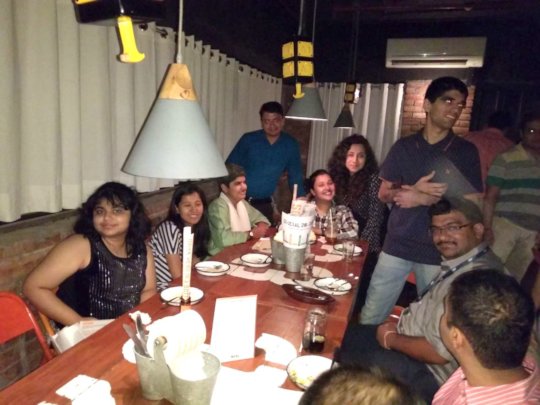 Dear Friend
We are deeply grateful for the support that you have extended to enable us to continue our work with persons with autism their families and extended community.
We would like to update you on all our programs at AFA.
With our children, adolescents and adults
We are delighted to share that Y is happily working with a large catering company. Y was placed in the job after completing her soft skills training at AFA. Today she is an independent lady, commutes to work by public transport and is a contributory member of her family. Young people love an evening out at a pub. And our young adults are no different. After the day's job, adults freshened up, donned some party gear and visited a popular pub. A much-deserved night out after a hard-working day!
An art workshop with young artist volunteers from the NGO Kairassi gave students an opportunity to express to their creative side.
The hot summer months become fun and engaging at the AFA Summer Camp. Packed with games, art, craft activities, fireless cooking, splash pool, computer classes, visits to the dolls museum, a movie, and Mc Donald's, these all helped them learn vital life skills, have a jolly good time despite the blistering summer days.
Trainings, Workshops, Lectures, Talks
We continue to share and learn through our workshops and training programs conducted at both at the national centre and beyond.
Trained 490 parents and professionals in this quarter!
We ran several trainings. These included:
Empowering the Child with Autism: A Training for Parents and Professionals in Delhi
Understanding Autism, Assistive Methods and Strategies, Cognitive Skills, Independence in self-help skills, Understanding and Helping Change Challenging Behavior over two days professionals at the Goodricke School for Special Education, Siliguri
Creating Home: Foundations for High Quality Residential Support for the AFA team on creating valued and enriching lives for persons with Autism by Elizabeth Neuville of the Keystone Human Services
The AFA team also part of several important consultations and roundtables. These included:
A consultation on Re-Imagining Education for Children with Disabilities to focus on how to translate the commitment stated in law into action
A roundtable on Pre-Natal Testing, Disability and Abortion organized by CREA
Shubhangi Vaidya and Merry Barua participated in the discussion on the formulation of Delhi State Rules for the Rights of Persons with Disabilities Act.
Merry Barua served on the NCPEDP roundtable on Assessment and Certification Procedures to study actionable recommendations, identify gaps, find solutions and the means for their implementation. She also served on the panel on Sexuality and Disability rights Let's Open the Doors, organized by TARSHI (Talking About Reproductive and Sexual Health Issues) at the India International Centre, exploring the nuances and social perceptions relating to sexuality for people with disabilities.
Research
We are in the second year of the three-year 'Computer Assisted Early Intervention for Autistic Children in India' research project. The team has begun creating culturally relevant activities to teach eating, dressing, grooming, and toileting to children with autism between the ages of two to six. These autism-friendly activities address the gaps in existing computer-assisted interventions and cater to the needs of children across the autism spectrum.
The progress on the project was presented to and was approved by, the Programme Advisory & Monitoring Committee of SEED Division of Department of Science and Technology, Government of India.
Volunteers and Interns
Our youngsters and young adults were delighted to have a beauty queen in their midst when Shreya Rao Kamavarapu, Miss India Andhra Pradesh, decided to visit and spend some warm but queenly time with us!
Students from the Vision Institute of Applied Studies, Christ University, and Amity University interned with us. We welcomed volunteers from E&Y, Amazon, and Kairassi. And of course, our parent volunteers continue to help us in our classrooms.
Ananda
We have taken extensive external development work around the residential cottage. These include clearing the road space, extending the water and sewer lines. We have made the entryway road in front of the cottage. Some plantation work also has been done during this monsoon.
Computer Learning Programme: The computer classes are going well. Children from Gairatpurbas village and other adjoining villages are enthusiastically attending classes.