A lot has happened since we last spoke - referrals have increased, the search for the perfect nurse is well on its way and we have started a new project! Since September we have received 30 new referrals - these have been from both state and private doctors. It seems that the service that we can offer is being recognised more and more and doctors and families want us invovled. Through one of these new referrals a whole new avenue of work was opened up to us - working with the school. We were given the opportunity to discuss with the teachers how to support one of our children at school as well as how to support the parents. This highlighted for us the importance of truly holistic work and how imperative that every level of a child's life understands the diagnosis and what to expect.
I think we are always amazed at the strength of some of the children we work with and their immense ability to make decisionsfor themselves. Recently we experienced one of our children make the decision of no further treatment after she relapsed. As difficult as this was for her family and the treating team, K was adament that she was granted an extra 4 years and that she does not want to have to go through hospitalisation and chemotherapy again; she wants to be at home. As the palliative care team we were able to fulfill her wish - we ensured she was comfortable and pain-free and she died at home in her dad's arms just like she wanted. To witness that strength and that bravery is humbling and pushes us to achieve more for our patients.
Play is an intregal part of any child's life irrespective of their diagnosis. We have always had a play programme at one of the hospitals we work in and the benefits are amazing We recently have entered a partnership with another hospital and have began a play programme there. This is very exciting and the impact has been immediate. The opportunity for a further more exciting partnership with this hospital is in discussion, so watch this space.......
As the year draws to an end we pay tribute to all those amazing children who have shared their lives with us. We think of their families at this time and wish them peace.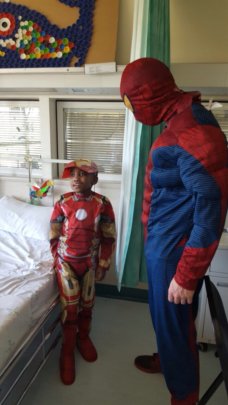 Since being involved in the GlobalGiving Spring Challenge the work of Umduduzi has continued to grow from strength to strength. New patients are being regularly referred to our team for care and support. Our role is to assist these children to improve their quality of life and ensure that the families are prepared for whatever they are facing; frequently the impending death of their child. It is imperative that the child has good symptom and pain control as well as an understanding of what is happening to them (if they are old enough).
One of these children, SK sticks in our minds so much. He was 9 years old and when told that we were not able to cure his osteosarcoma (cancer of the bone) his response left all of us speechless. He said "I'm not ready to give up fighting. Put me back in your machines (radiotherapy) or give me more chemo. Please try a little longer". We could not continue with chemotherapy as he was too weak and it would have caused more harm than good but after discussion with the treating team we agreed on a few more sessions of palliative radiotherapy. After 2 weeks he called the Umduduzi team and said that he thinks it is time to go home. He said that he knows our machines and our medicine haven't helped but he is not afraid to die and he is ready to meet Jesus. His only worry was how sad his mom would be but hoped that God would give him some extra time at home before he dies. With a peaceful heart he made his journey home where he spent 3 beautiful months with his family until he died peacefully.
Being part of these incredbile children's journeys is a privilege that no words can describe. Through GlobalGiving's support we are now in a positoin to hire another clinical staff member which will increase the number of children we can assist in this way.
WARNING: Javascript is currently disabled or is not available in your browser. GlobalGiving makes extensive use of Javascript and will not function properly with Javascript disabled.
Please enable Javascript
and refresh this page.