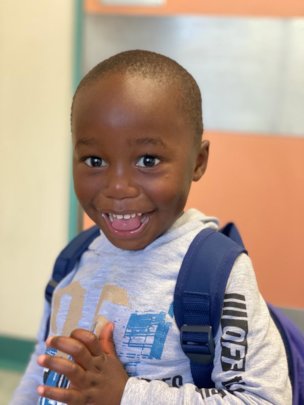 I am amazed at how time has simultaneously stood still and raced during this strange time in our lives. I never thought I would live through a global pandemic that has caused such upheaval in everyone's lives. But here we are, in October 2020 and still managing this crisis.
For us at Umduduzi life continues as normal. Both our play programmes have reopened and he children are delighted to have Sandra and Nomandla back. Strict PPE and sanitising is in place and the children are once again having the opportunity to play and learn during their time in hospital. This is a huge advantage as many of them are without their caregivers due to Covid restrictions within the hospital.
As a palliative care team we are spending a lot of time trying to negotiate parents'' access to their children. Hospital policies have been put in place ensuring that visits are not ad hoc. This has been very necessary as we have needed to ensure that those in hospital are kept safe from Covid infection from the outside. If caregivers are going to visit they need to test first and wait for their results. If they are negative they are allowed to stay in the hospital and visit. However, this cannot be indefinitely as there are other responsibilities at home. This has been incredibly stressful for parents, children, the treating teams and ourselves as families are having to leave their little ones in hospital alone. I do wonder what the long term psychological effects of this "abandonment" might have on our future generations.
All is not doom and gloom though. In June 2017 I wrote about Baby Q. He was born with a severe cardiac problem in December 2016. Surgery was conducted in May 2017 but was unfortunately unsuccessful. Umduduzi assisted in getting him home and helped manage his symptoms. Although his long-term prognosis is not good I am happy to tell you he is now a mischievous little 3, nearly 4-year-old with the most amazing smile. Being at home and receiving the love and attention he needed as well as good palliative care he has had the opportunity to enjoy his life and most importantly have quality of life. This has been a huge blessing to his family. Thank you for helping us help Baby Q and his family.
As the year draws to a close I hope you all stay safe and treasure the time you have with loved ones. If there is one thing this pandemic has taught us it's that. Treasure the time you have.
What crazy times we are currently living in! The COVID-19 pandemic has touched everyone's lives in some ways and no-one is sure when "normality" will return. We can guarantee that whenever that is it will be a normal like nothing we have ever seen before.
As South Africans we went into total lockdown on 26th March 2020. No-one, except essential services were allowed to leave their homes. This has basically continued on varying levels since 1st June 2020. Many people have lost their jobs and families have been affected on so many levels. As an essential service we have continued our work, visiting hospitals and where possible doing home visits – permits to travel in hand. Our families, who already experience a high level of stress given their children's' diagnoses, are even more stressed. Do they bring their child to the hospital for their appointment? Will they get COVID-19 if they travel? What would a COVID-19 diagnosis mean on top of the existing condition? Do we let someone from the home go and buy food? Can we afford food?
Our services have warped slightly in this time becoming more of an advice station and a food supplier. Many of our families no longer have any form of income as they were not permitted to continue their specific line of work during lockdown. Some still have been unable to earn a living despite some of the restrictions being lifted because what they do for a living is still banned. Families are desperate and we have stepped in where possible to assist with food vouchers and food parcels. Unfortunately, these only meet the need for a short time and we ourselves have limited resources because of COVID-19.
As a donor-funded organisation we rely on fundraising initiatives to raise money. With the onset of lockdown all of our planned events were cancelled and it is unlikely that the rules will change before year-end to allow us a chance to raise much-needed funds.
The world has changed forever but the need for palliative care remains. Thank you to everyone that has enabled us to do out work – to provide comfort and care to children with life-limiting and life-threatening illnesses – something that has become even more imperative in the time of COVID-19
As a team we are starting to see more and more teenagers. Within the South African Health Care System once a child reaches 12 years of age they are seen as adults and are moved out of the paediatric wards into the adult wards. This in itself presents huge challenges as they are so young yet their caregivers are not allowed to stay with them as they are in the paediatric wards. As an organisation we see children up until the age of 18 years.Our work has started to be recognised by the adult practitioners and therefore we are receiving more referrals from them.
Teenagers are tricky at the best of times but add a life-threatening or life-limiting illness into the mix and the challenge is greater. having said that though some of our biggest lessons have come from this group. Take Patient L. He is a 17 year old boy with an osteosarcoma (a bone cancer) in his left leg. He has gone through all his treatment, which included an amputation, and was for a short time in remission. His cancer however returned in November 2019. His parents were very keen for him to start treatment again.Shortly after Christmas he sat them down and said he does not want any more treatment. He told them that he knows he is dying and that he is ok with that. He told his parents they have 2 months to mourn him because he has started a NGO and they need to continue his work. L also decided he wanted to plan his own funeral. He has written down exactly what he wants to happen - who is talking, what songs are being sung and what Bible readings. He has also met the undertaker and designed the pew leaflet (which he's asked to see a proof of!).
It is incidents like this that truly highlight the importance of palliative care. L has known from the outset what his diagnosis is, what treatment options are available and what would happen if the cancer came back. He has therefore been able to have honest conversations with his parents as well as make choices that work for him. His family in turn have been able to prepare themselves emotionally for this time and they are making beautiful memories together. They also know that when he does die that they will be fulfilling his every wish for his funeral service. Meeting someone like L has been a very humbling experience and one that has entrenched for all of us that the work we are doing is important.
WARNING: Javascript is currently disabled or is not available in your browser. GlobalGiving makes extensive use of Javascript and will not function properly with Javascript disabled.
Please enable Javascript
and refresh this page.