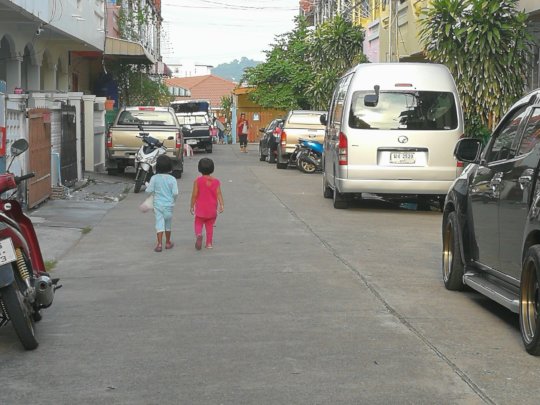 Hello everybody!
Hope you are doing well and staying safe during this virus crisis that has hit the world out of the blue. Thank you for your support of the Tamar Children and for your love for them. Our children are much affected by this crisis. We are very thankful that all of them are safe and nobody has caught the virus so far, but most of the children are bored due to being out of school and forced to stay at home for a long time already.
Here in Thailand all schools were closed in early March and will only re-open in July. This is mostly because the Songkran Holiday – the Thai New Year and the most important holiday in Thailand – was postponed from the middle of April until probably June and school will only start once that holiday is over. On top of that, all nurseries and all non-essential businesses were closed as well. Therefore, Tamar Center and our Nursery is closed in the moment as well. That means that the children are spending a lot of time at home with their mothers. Some are doing very well with this and some are very bored. We are providing them with activity sheets and helping the mothers and encouraging them to spend some quality times with their children and most of them are doing great with that. In the next weeks, the Thai Government is planning to open school lessons on the TV so that children can learn at home, will see how that will go… On the positive side we never had so many children asking for going back to school.
We also have some incredibly good news: In the last month, two babies were born into the Tamar Family. Two girls with the names of Amira and Believe. Both had some little health challenges in the beginning but are doing fine now. Mothers and babies are back home, and all our other women are helping them with cooking, cleaning, looking after babies and everything else. It gives everybody something to do and the babies are bringing a lot of joy to the Tamar family.
In the beginning of May we hope that the lockdown will be eased, and we hope that our Nursery and Tamar Center can fully open again. We are already planning to put some extra helpers in the Nursery as it is a long time until June, and we want to put on some exciting activities for the children until school starts.
At Tamar Center, even though our work has stopped officially, we have still been busy. There are thousands of women without work now in Pattaya. We have provided many food packages to the Bar Girls and have stayed in contact via Social Media with many women. We also partnered with another Foundation and have continued to provide hot meals from a Restaurant for the Bargirls that are in need. Many of the women are desperate, have no housing anymore and are not sure what will happen, as Tourism and Jobs will be down for a long time to come. We are currently working on many different ideas on how to help the women that have lost their jobs during this crisis but need to wait until we see when and what restrictions will be eased.
Thank you for your help and for making our work possible!