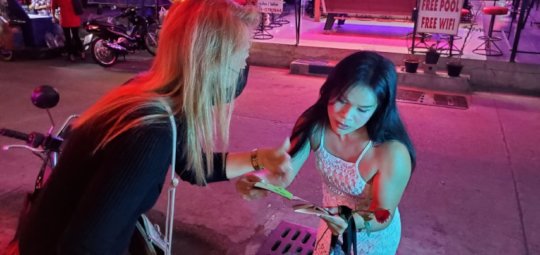 Greetings from Pattaya! It is time for an update about the progress that we have made towards the new Tamar Building. Thank you everyone for donating towards this goal and a special "Thank You" to all who donated through the "Little by Little" campaign making your money go the extra mile.
In the last months, we have focused on the needs in the city caused by the different lockdowns, the lack of tourism, and the ramifications produced by them. We concentrated our energies on helping women who were homeless and hungry by distributing thousands of food bags, hot meals, and other needed things. But we never forgot our new building project. It was always there and we kept thinking about how it would have helped us serve these hurting people. Right now, with thousands of women out of jobs, we could be offering hope and a way out with the new vocational alternatives. During this crisis, we also, have seen prices for real estate decrease in Pattaya due to the number of buildings that suddenly came on the market. If you drive through Pattaya right now, you will see many buildings for rent or for sale and investors are trying to snap up bargain buildings in hopes of making a profit.
At the beginning of this year, we discussed how we could jumpstart the project again. We decided to contact the owner of the building and to make him a cash offer for the building. Our thoughts were that the owner might be willing to sell it to us now for less money, all cash, since the market is flooded with buildings. The owner was very happy to hear from us, but sadly was not willing to sell the building for the price that we offered. He even told us that he actually wanted to raise the price from the one that he quoted us last (which was more than the building is worth). Somehow the owner believes that in the middle of the whole economic crisis where this building has been empty for almost seven years and there are many other buildings for sale, that the value of his property would be going up! It is hard to understand the thinking behind it, but we believe that he just has a number in his head and is not willing to move away from it. As that number is over the market value (Pre-Covid, we had an external company do a value estimation of the building) and the owner rejected our cash offer, we were not able to move forward.
What are the next steps? Currently, we have raised a little over 10 Million THB for the new building and are continuing to fundraise. What that means is that during the whole Covid-19 time in 2020, we still received roughly 6 Million THB in donations for the new building. We have now decided to start looking for different buildings in the area. There are many buildings for sale and we will try to see if there is one that would meet our requirements and be close to the women we serve in the red-light areas. We are looking to find a place close enough for the women to easily reach us, but also far enough away that the red-light district will not be a temptation/distraction for them.
We are thankful that you are with us in this journey. We are still hopeful to purchase a new building sometime this year. We are sad that we are not further in our progress, but hope that through all the delays, we will find the perfect building for us.
The Tamar Family