Miracles never cease. Several years ago I took this picture of one of our severaly ill AMPATH patients, Genevieve, with Frannie Einterz. Who would have thought Genevieve would survive.
But with the help of gifts from Frannie and donors like you to my humanitarian fund, Genevieve is doing more than surviving. When rounding on the MTRH wards last week, I was shocked to find Genevieve as my student nurse on the wards (the latest photo of Genevieve on the wards).
Thanks to Frannie and our many humanitarian fund donors, we will support Genevieve until she graduates from nursing school and then she will be more than capable to fly on her own. Just one of the many miracles at AMPATH.
Asante sana!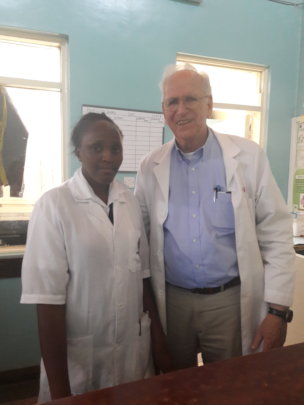 Asante Sana ('thank you' in Swahili) to everyone who contributed to Julie and John's wedding fund for AMPATH-RH!
Julie arrived in Kenya in mid January and will be there at least through mid July. She's providing much needed leadership to AMPATH's reproductive health services for women and families, serving as AMPATH's Team Leader in Obstetrics & Gynecology.
Everyday women's lives are improved because of the commitment and passion of people like Julie. And in turn, the lives of their children and families are also changing for the better. Kenyan systems are improving and more Kenyan medical professionals are being trained to meet the health care needs of their communities.
Today, March 8th, is International Women's Day and truly an opportunity to celebrate all the progress that has been made in Kenya.
We are so grateful for your support!
Happy New Year!!
The New Year is upon us and we anticipate a very busy 2018 as we assist the Palliative Care Team in Eldoret.
This month Dr. Colleen Brown from St. Vincent's Indianapolis is in Eldoret. She is accompanied by Peter Baenziger a Pediatrician currently doing a Palliative Care fellowship at Indiana University. They are working to develop improved services at the Children's Hospital. They are also working with Dr. Peter Kussin, an expert in Intensive Care from Duke University and a leader in palliative care in the ICU setting. Dr. Kussin has a long history of providing care in Eldoret and is working with the team to develop palliative care training in internal medicine at Moi University.
I will be traveling to Eldoret in April and am excited that two new palliative care specialists will be joining us. Dr. Thomas "Ti" Jones is an oncologist and palliative care specialist working in Lafayette Indiana. He recently returned from a year of Peace Corps service in Uganda. His experience in Africa and expertise in cancer care will be a great addition to the team. We also will have Dr. Lindsay Dow come for her first visit. She is a palliative care faculty at Mount Sinai School of Medicine. She is leading the educational efforts for the medical students at Mount Sinai and we will lean heavily on her experience in curriculum development. The goal in April is to show Drs. Jones and Dow the lay of the land so they can return for future visits and work independently with the team.
I want to recognize the wonderful support of the wound care nurses at Bloomington Hospital who donated a generous number of colostomy supplies. The Palliative Care Team in Eldoret is always in need of these items. Thanks also to Colleen who brought them with her to Kenya!
While AMPATH's focus is to provide support, it is Dr. Korir and her team mates Daisy, Phanice, Susan, and their new clinical officer Silvanus who are doing the real work. We will continue to assist in their efforts as best we can.
I look forward to providing future updates and THANK YOU FOR YOUR SUPPORT!
Sincerely
Ken Cornetta
WARNING: Javascript is currently disabled or is not available in your browser. GlobalGiving makes extensive use of Javascript and will not function properly with Javascript disabled.
Please enable Javascript
and refresh this page.