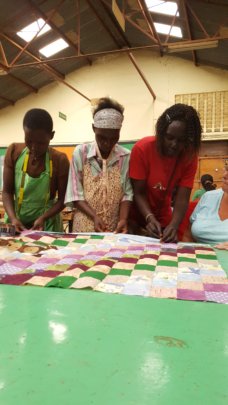 Abigail and I started teaching the women at Imani to quilt on the 25th of July. The women in the workshop had selected three women that they felt should learn the technique. (Democracy at work!). We worked with Beatrice, Emily, and Penny. Abigail and I had bought fabric in Nairobi for the project before arriving in Eldoret. We were unsure if we would be able to find fabric locally. Then the week before we started teaching the technique, we went shopping in Eldoret with Antonia for a sewing machine with a blanket stitch. Antonia is in charge of purchasing for the workshop in Eldoret. This was quite the experience, but I don't have the time.
We started by showing the quilts that Lynn had made as samples. Then we taught them to use a rotary cutter and cut 3 1/2 inch squares until we were up to our eyebrows in squares! By the end of the week, they had pieced (or is it peaced) two baby quilts together and then asked to be creative and pieced the quilts in a different pattern.
Lynn, the most awesome quilt teacher ever, arrived the next Monday in Eldoret. We rotary cut her a little slack and only went to Imani for her to meet the ladies. Did not want to overwhelm her because she was dealing with jet lag!
The next day, Lynn hit the ground running and taught them applique techniques. They actually clapped when the monkey went on the patchwork. Lynn finished out the week teaching the actual quilting and binding of the quilt. The next week was spent learning the graceful giraffe quilt. (I am trying to attach pictures). Emily, Penny, and Beatrice were quick to learn and enthusiatic about their new skills. Look for quilts and pillows at Global Gifts in Indianapolis soon!
Thank you to everyone who made this possible! We would like to venture there again with more quilt instructors to do a mini workshop!
Lea Anne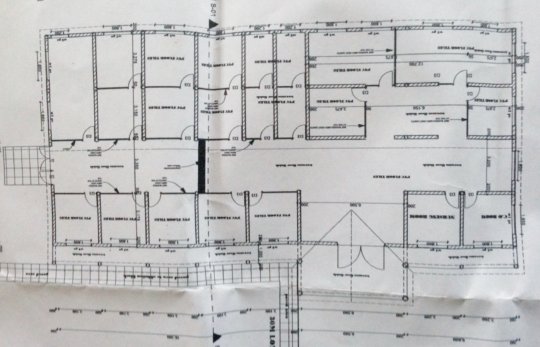 We have had an exciting spring and summer! Our adolescent clients in 4 different AMPATH sites organized Adolescent Fun days. At the Eldoret site, we had 130 clients attend the festivities which included games, a question and answer session, and motivational speakers! Clients shared their struggles taking medications at school, questions regarding relationships, and desire for a cure. This event enhanced the foundation of peer support which is so vital in adolescents, especially those living with HIV. Those in attendance (and many more) are the adolescents who will be using our new clinic and be our peer leaders!
After going through the quotations and bidding process, we secured the company, Watalamu, to do the renovations. Watalamu is an enterprise within Family Preservation Initiative of AMPATH. Currently, the needed renovation material is undergoing procurement. In the meantime, the adolescents are all anxiously waiting for their separate space. With your generosity, we were able to support the minimum for starting renovations (YAY!). We are continuing to ask for you generous support and promotion to friends, family, and relatives. You are laying the groundwork for adolescents to recieve exceptional comprehensive adolecent services.
Asante Sana!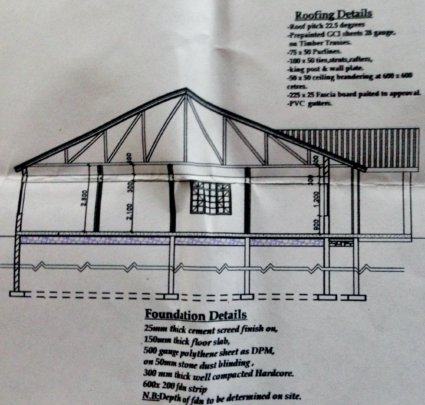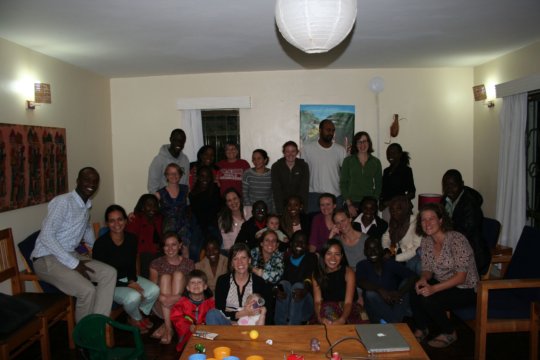 We launched our 'Break Ground: advance adolescent care in Kenya' campaign on Wednesday evening in Eldoret, Kenya, at IU House, to coincide with GlobalGiving's Emerging Organization Bonus Day. With peer mentors, clinicians, researchers, and students, we began the evening with a 'fireside chat' about adolescent care and HIV.
The evening was filled with lively conversation led by the peer mentors about the challenges of being an HIV positive adolescent, providing peer mentorship, the difficulties they have faced, and where they have found strength and empowerment in their lives to become passionate youth leaders. The diversity of young people present and their unique stories underscored the critical need for an adolescent-friendly care program in the region.
To mark this occasion, we celebrated together with a special cake cutting performed by two of our peer mentors.
We wanted to take this opportunity to thank everyone who has been supportive of this initiative and the many individuals who have donated the past few days as we launched our campaign for adolescent care in Kenya! Your support will help us build the foundation of adolescent care in this region of Kenya and give youth hope for the future.
We look forward to updating you as we commence renovating our space and implementing new programs.
Asanteni sana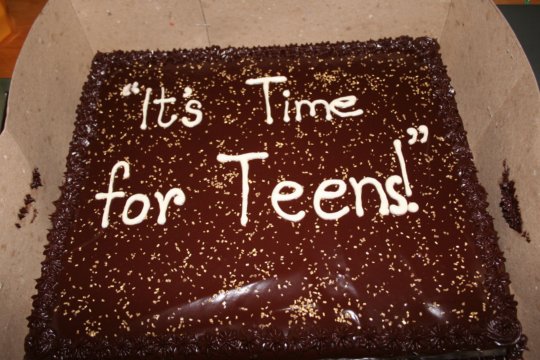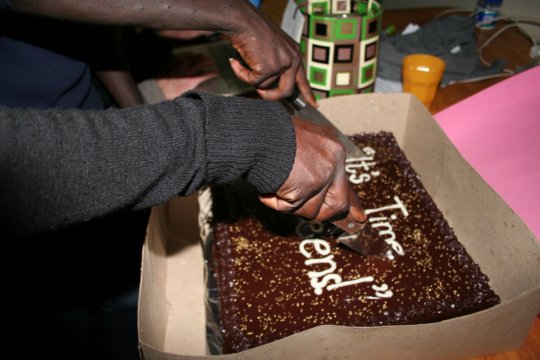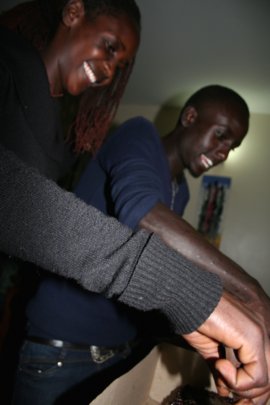 WARNING: Javascript is currently disabled or is not available in your browser. GlobalGiving makes extensive use of Javascript and will not function properly with Javascript disabled.
Please enable Javascript
and refresh this page.