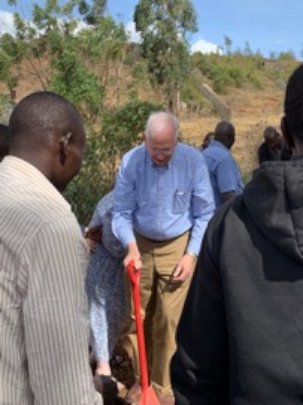 This update is from Colleen Brown !!!
Happy 2019, and thank you for your continued support of the MTRH Palliative Care program in Eldoret, Kenya. The program continues to expand and serve more seriously ill adult and pediatric patients and their families. We ended 2018 with a visit from another North American Palliative Care Fellow, Dr. Gregory Pelc, from the IU Palliative Medicine Program and Dr. Colleen Brown, from St Vincent Hospital in Indianapolis. We were able to spend a few weeks working with the MTRH team in Eldoret. Additionally, they joined Dr. Joe and Sarah Ellen Mamlin at a community celebration and tree planting for the new Kimbilio Care Centre, the new hospice and palliative care center in Eldoret. It is modeled on their original hospice center in Kipkaren, Kenya, however will also allow for more care options for patients, including seriously ill patients from Moi Teaching and Referral Hospital (MTRH) and the Indiana University based AMPATH program. Additionally, when they complete the final construction phase, they will also be able to provide short-term housing for learners and ambulatory patients or family members to stay near the hospital when loved ones are hospitalized at MTRH, or for patients who may need outpatient therapy yet live far away.
Overall in 2018, we had seven different physicians from all over the US spend almost six months working alongside our Kenyan Palliative Care colleagues in this mutually beneficial medical exchange. We are excited to continue this collaboration throughout 2019, as we continue to support the local team through staff changes, including longtime nurse, Phanice Jepkembio, retiring and Dr. Millicent Korir resigning to pursue advanced training in Psychology; and the addition of their newest team member, Divina Rotto, RN. We continue to grow our presence in the surgical wards and the Pediatric Hospital, and look forward to additional opportunities to partner our North American and Kenyan colleagues to enhance the education and clinical insights of all of our teams.
Everyone who visit appreciates your continued support!!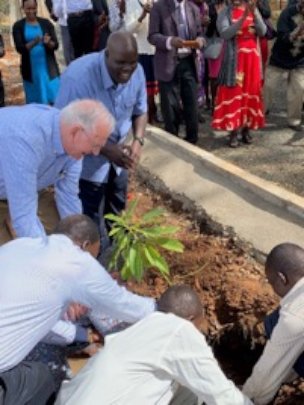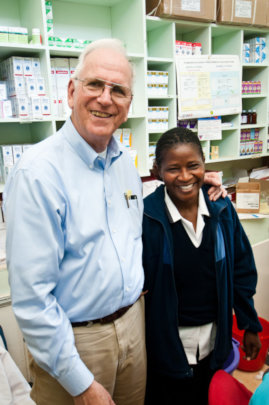 Asante sana to everyone who supported this Humanitarian Campaign page over the past years and months!
As Joe says: Your gifts give life to neighbors like Grace and also to this old doctor.
Joe's Humanitarian Fund continues to support those most in need of a little help, which goes so far to change lives in Kenya.
As the year ends, we are retiring this Global Giving campaign.
You can still support AMPATH at: https://www.ampathkenya.org/donate. There is currently a match available for new donors to AMPATH and for new monthly gifts set up through Dec. 31, 2018.
Thank you for all your support!
Links:
As 2018 winds down it gives us time to look back. For the AMPATH Palliative Care Program it has been a year of progress. The number of patients served continues to increase due to the hard work of the Kenyan Palliative Care team in Eldoret. To lend a hand, we have had an unprecedented number of new North American physicians spending time with the team. Education has been a major focus of our recent visits, both jointly managing hospitalized patients with the palliative care team and conducting training for hospital nurses and physicians. Our most exciting work was on the development of a one-year curriculum for the first palliative care training program in Eldoret. Currently, most trainees travel to Uganda since there is no comprehensive clinical training program in Kenya. The one we have proposed will combine didactic lectures and clinical rotations in hospital palliative care with outpatient and inpatient hospice. The proposal is now going through the review process by the Kenyan educational authorities with the goal of the first class enrolling in 2019.
Your contributions are greatly appreciated and they have the potential to provide an even greater impact. Our students will need assistance in books and other educational materials. Please consider donating to our program as 2018 comes to an end and the promise of the New Year approaches.
WARNING: Javascript is currently disabled or is not available in your browser. GlobalGiving makes extensive use of Javascript and will not function properly with Javascript disabled.
Please enable Javascript
and refresh this page.