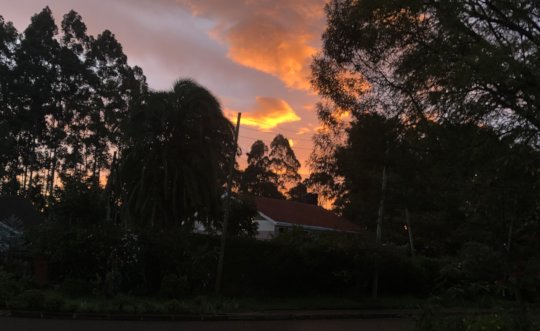 Hi everyone! I just spent most of October in Eldoret and have lots to report. Much of my time was spent on finalizing the Palliative Care Curriculum for nurses and clinical offices. The work led up to a Stakeholders meeting with representatives from the Nursing Council of Kenya and Clinical Officers Council Kenya. We are working to have graduates recognized as specialists in Palliative Care on their respective licenses. The representatives provided important insights and we are working to meet their recommended changes. The administrators and educators at the College at Moi Teaching and Referral Hospital were also very helpful.
The Palliative Care team continues to work hard in providing care to patients in the hospital. I also had an opportunity to visit the new Living Room International Hospital. They will collaboration with us by providing our trainees with exposure to hospice and palliative care services at their hospital.
As I mentioned in the last report, We are very excited to have Dr. Hussein Elias join the efforts in Palliative Care. He was instrumental in the Stakeholder's meeting and coordinating efforts with the training college. He will be spending 50% of his time with the Palliative Care program and will be the course director for the curriculum. Moreover, he is evaluating whether Community Health Workers, who are the major caregivers in rural Kenya, can be trained in identifying people who are in need of Palliative Care. He envisions them as being the eyes and ears of physicians providing symptom management in patients with severe chronic diseases. Your contributions are being applied to cover his salary and help him with these and other development projects.
It was also great to get to know Hussein better. While I was there he defended his research thesis to the faculty at Moi University. He did an outstanding job and I was very impressed in the design and results of his study of chronic back pain. He then took his final exam for the Family Medicine residency – and he just emailed that he passed! He is now a Family Medicine specialist and we are so lucky to have him helping us.
Hopefully everyone is enjoying a production summer whike taking advantage of the warm (sometimes hot!) weather.
Lots of exciting things to report. Your support will allow us to hire Dr. Hussein Elias who will serve as the palliative care coordinator for AMPATH. He will join the team in September. He is a Kenyan who obtained his medical degree in Russia. He is now completing his residency in Family Medicine. He has a passion for palliative care, and as a resident expanded the palliative care program in Webuye Kenya. In addition to his role in the Palliative Care Diploma Program, your support will allow him to explore the use of Community Health Workers in providing palliative care services. Many of you may not be familiar with Community Health Workers but they are common in low to middle income countries. They have limited formal medical training, and many are volunteers, but they are often the only medical service available in rural areas. Dr. Elias feels they could serve as the eyes and ears for patients who return home after receiving palliative care services at a medical center. Your support will help conduct fund training sessions throughout Western Kenya.
Dr. Lindsay Dow from Mount Sinai Medical School will be visiting Eldoret in September and November. She has conducted training on communicating difficult news during her prior trips and will be speaking at the African Palliative Care Associate meeting on this topic. She teaches palliative care to medical student and residents and has been co-developing the training program. I plan to visit in October to help keep things moving.
Enjoy the rest of your summer and as always, thank you so much for your support! Ken
Just got back from a productive trip to Eldoret. The team is doing well and working hard, as always. It was wonderful to see everyone. Most of my effort was directed at planning for our Honor Diploma Course in Palliative Care. This will be the first of its kind in Kenya and will provide one full year of clinical training for experienced nurses, clinical officers, and physicians. During my trip, there was a successful stakeholders meeting that reviewed the curriculum. We had input from education leaders at Moi University, Moi Teaching and Research Hospital, as well as the Dr. Zipporah Ali the Director of the Kenya Hospice and Palliative Care Association and Dr. Margaret Tumwabaze Tusiime, from Hospice Care Africa, Uganda. The curriculum was well received and is now awaiting final approval from the nursing, clinical officer and physician boards.
The curriculum is innovative. Trainees will spend Monday through Thursday in patient care rotating monthly through various teams at the Moi Teaching Referral Hospital and Weybuye District Hospital. We are also partnering with the Kimbilio Care Center and Hospice that has just opened up a 50 bed hospice in Eldoret. Each Friday students will return to Eldoret for educational efforts. In the morning they will participate in Palliative Care Rounds and the afternoon will consist of a didactic lecture, review of assigned readings, and discussion of illustrative cases.
While we anticipate significant assistance from North American physicians during the first few years of the course, our true goal is to develop a Kenyan physician who can lead the educational efforts and eventually serve on the faculty of Moi University. For an individual to be eligible for a long-term position at the medical school, we will need to support them for 2 years as they gain the academic requirements for faculty. Given the expenses for the course and faculty development, we will need to raise $60,000 in the next 2 years. We are currently meeting with AMPATH and other leaders to develop a fund-raising plan to reach this challenging goal.
If it was not for you, we could not have made it this far. Currently Kenyans must travel outside the country to gain Palliative Care degrees and there are no physicians on staff at major universities. This will be a major advance for palliative care in Kenya and your support has been vital in bring this forward.
Thanks as always!
WARNING: Javascript is currently disabled or is not available in your browser. GlobalGiving makes extensive use of Javascript and will not function properly with Javascript disabled.
Please enable Javascript
and refresh this page.