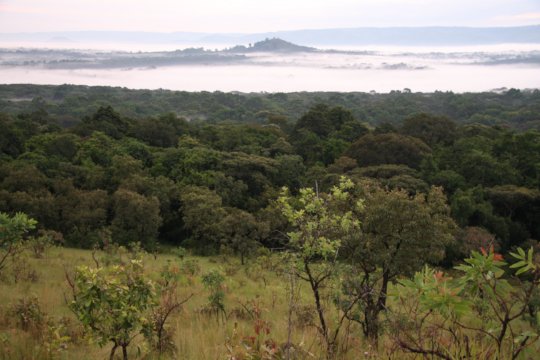 Palliative Care at AMPATH continues to play a critical role in alleviating pain and suffering in Western Kenya. Our Kenyan colleagues have been challenged even more by the presence of COVID. While those of us in North American were experiencing the virus surges in 2020, Africa was less affected. Unfortunately, the tables have turned in 2021. While many of us in the West are enjoying the warmer weather and see life starting to return to normal, much of Africa is being hit hard with COVID. Vaccine availability is very limited.
Support for our program has allowed our team in Kenya to train over 100 community health workers on palliative care and COVID19. This efort is led by Dr. Hussein Elias. Over 1000 home visits have resulted from this training, reaching those in rural Kenya who have little access to health care.
Other educational efforts are taking off as well. The national accrediation board for clinical officers has approved our program and student enrollment is open. We hope to obtain similar recognition for our nursing program this fall.
The need for palliative care is greater than ever, and any help is greatly appreciated and will further improve the lives of those in need.
Please stay safe and I again thank everyone for their support during this worldwide crisis.
JAMBO!
I suspect most of us have been looking forward to 2021. Unfortunately, it appears we will still be dealing with COVID19 for a while. This also means the need to provide Palliative Care is even greater.
The AMPATH program, led by Dr. Hussein Elias in Eldoret, has continued to train Community Health Volunteers. To date, 80 individuals have participated in a 3 day training in Palliative Care, which has included information regarding COVID19. Since going back into their rural communities, the trainees have assessed over 1,000 individuals for physical and psychosocial distress. Seventy five of the individuals assessed required referral to a palliative care clinics for symptom management. Our budget for this program was 10 trainings. Given the positive impact we have been able to show, we hope to expand the program throughout Western Kenya. Any contribution you provide will assist us in this expansion.
We continue to hone our curriculum for training clinical officers and nurses as Palliative Care specialists. COVID19 has provided challenges for learners but have also used this opportunity to develop a Western Kenya Palliative Care Teleconference. This is a monthly online meeting that combines a sort didactic lecture on a specific topic, and then allows Palliative Care practitioners to present challenging cases for group discussion. The first teleconference was help in January of 2021 and was well attended with a great discussion.
The AMPATH program is grateful to the amazing Kenyan Clinicians who continue to provide clinical care during the pandemic. We also thank those who support their efforts. The program continues to grow and you are a key to our success!
Please stay safe! - Ken
JAMBO!
Hope everyone is staying safe in these challenging time.
Reports from our colleagues in Kenya tell us that things are starting to open up slowly. COVID is still a concern and folks are working hard to take appropriate precautions. Since our last report, we are excited to announce that our Kenyan colleague Dr. Hussein Elias was appointed Adjunct Professor of Family Medicine at Moi University. This was made possible by your financial support and we are deeply indebted to support of people like you.
I can share that Dr. Elias has been working diligently to promote palliative care. His efforts include clinical care and a number of educational efforts. In our last report, I mentioned he was organizing training sessions for Community Health Workers (CHW). These individuals are embedded in rural communities and are often the first contact patients have with medical professionals. The palliative care trainings were planned before COVID-19 but he was given permission from local health officials to proceed on the condition that he also provide training about COVID. He has conducted three sessions to date, each lasting 3 days. Numbers were limited to 10 so social distancing could be maintained. Additional trainings are planned in the upcoming months. The impact of this program is being assessed and if successful we will look to expand throughout Kenya. Part of the goal is to connect the CHW with palliative care specialists in an effort to ensure individuals in rural setting have access to pain and symptom management. We continue to work towards expanding the number of palliative care specialists and we'll update you in our next report.
Thanks again for all your support. The program continues to grow and you are a key factor!
WARNING: Javascript is currently disabled or is not available in your browser. GlobalGiving makes extensive use of Javascript and will not function properly with Javascript disabled.
Please enable Javascript
and refresh this page.