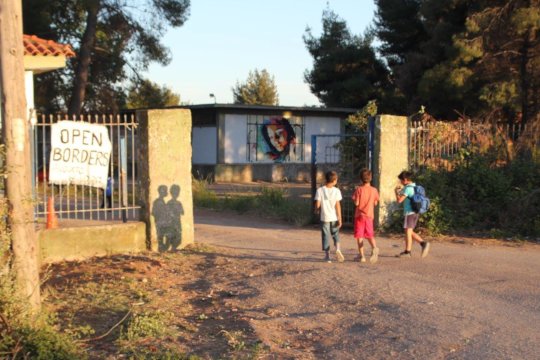 Dear Friends,
this is to inform you, that in October 2017 our organisation - Echo100Plus - ended all operations at Ritsona Refugee Camp in East Attica/ Greece. The decision to leave was certainly not an easy one! After one and a half years on the ground, and with the certainty that the approx. 850 camp residents were adequately taken care of by the authorities and other NGOs, we decided it was time to move to new challenges and to more impact.
Within the 18 months of our presence, the living conditions in the camp changed substantially and we are proud to say, that Echo100plus and its more than 250 volunteers certainly played a key role in this.
Since our arrival in March 2016, we focused on logistics and the instalment of a central distribution platform at camp. We renovated and refurbished the former dining hall of the Air Force base, in which Ritsona Refugee Camp is located. This became our warehouse and the main storage and distribution platform on site. Three times daily, our 10 to 12 volunteers handed out approx. 800 meals, drinking water and bread, catered by the Army. As water and bread rations were all too often in short supply or at times not provided for at all, we regularly had to stock up at our own expense. (Especially in the hot summer months the drinking water provided by the authorities was criminally low!)
In addition, Echo100Plus provided hygiene items and other vital needs such as tea, coffee, sugar, milk and cooking oil that were distributed once a week. And last but not least, we organised and stocked up the so-called "Ritsona Boutique", in order to facilitate a dignified clothes and shoe distribution to the residents, their only source for clothing at camp. To keep the "Boutique" stocked, Echo100Plus recruited and organised in-kind-donations on a large scale from within Greece and abroad – a major logistical task - to store, sort and prepare for distribution. Again, Echo100Plus filled in the gaps by purchasing clothes, when items were running out.
Although logistics and distribution tasks were our main mandate at camp, our volunteers were always eager to share extra time to engage the camp community in activities in order to break the monotony and desperation of daily camp life. With their hands-on help and your generous donations, Echo100Plus was able to
- refurbish another ruinous army building at camp that hosted multiple activities: a carpentry workshop, allowing residents to construct their own furniture, art therapy workshops for children and minors, run by the "Flourish Foundation" and a fitness studio, where our volunteers ran yoga and gymnastic classes
- finance and oversee the construction of a football field, sponsor three adult, one minor' and five children's soccer teams and initiate a soccer programme in cooperation with ISMP (International Sports and Music Project), an NGO run by one of our volunteers
- offer guitar lessons for all ages in the camp in cooperation with ISMP
- provide a double container space for language classes sponsored by the Swiss NGO "Neighbours in Need" to host language classes run by our volunteers
- facilitate a "Refugee Vision Programme" in cooperation with the NGO "Cross Cultural Solutions", that checks eye sight and provides glasses to the residents
- adapt one building as a prayer room
- run a laundry, where residents could wash their clothes
- organise and implement a variety of social activities such as the "Ritsona's Got Talent" show, movie screenings and beach trips for camp residents
Before leaving Ritsona Refugee Camp, we tried to make sure, that our services would remain functioning and that residents would not be affected by our departure. We chose and instructed the international NGO "Cross Cultural Solutions" as our successors, and after a few weeks of working side by side, CCS was ready to take over all our operations at camp.
Without your generous donations and the help of our amazing volunteers, that followed our call to help us on the ground, none of this would have been possible! Thank you from the bottom of our hearts for helping us make a difference!
To find pictures and films of our time in Ritsona, please visit our website: http://www.echo100plus.com/en/projects/project-4
Facebook: https://www.facebook.com/echo100plus/videos/1385258108234825/
Echo100plus has left Ritsona camp, but is still very active in Greece. Continuing support is very much needed for other projects! If you are interested, visit our other projects on the Global Giving platform.