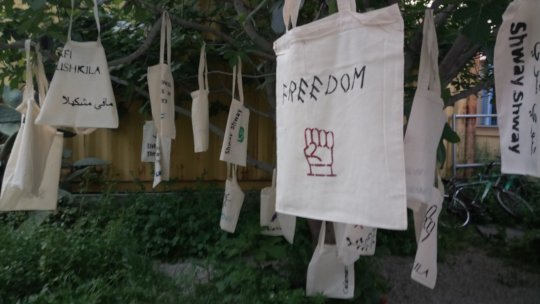 With the arrival of Spring in Leros, and the Aegean Islands, we have seen an increase in people coming by boat from Turkey due to the good weather. Since February it is reported that 7123 people have arrived on the islands. With the current population on Leros reaching as many as 1036. With this influx of people, the Hub has been busy as ever but a lot of new positive changes have come with it.
In our last report we said that due to the rise in numbers we had to temporary close new registrations for a short while, luckily, we were able to re-open it and hopefully will not have to close again. We were able to do this by adding extra classes and making shifts in our timetable. From the beginning of February to now we have had a total of 9081 attendances in our varied classes, this roughly means we've had on average an attendance of 726 students a week.
As part of making sure we can cater to the needs of the growing population we started holding a new registration class every Wednesday, also known as the 'Welcome Class'. Here we give new students not only the chance to sign up to classes, but to get a proper introduction to the hub and all it has to offer. The class is held in English by one of our teachers, but translators are on hand to ensure everybody can understand. To date we have had translations in Arabic, Farsi, French and Somali. 253 new students have registered with us in the last three months. We have also noticed a rise in the number of women wanting to join and have therefor added an extra Welcome Class to our Tuesday's Women's day activities, where we now offer computer, English and arts & crafts and cooking just for women.
On the 25th March we had a big shift in our ABC English class, where 25 students after just one month were all moved to beginners' level, and the beginner's students went up to A1. We are also expecting another shift up in the next two weeks, but of course single people are moving up individually every week. All of our levels, except for the hardest C1/C2 are currently fully booked every day. We are very happy and proud with the performance of our students and the level of teaching that is currently allowing such progress at the hub.
We've also had great success the exams that have been taken. In computer class a total of 16 students took exams on subjects such as Excel and PowerPoint, all passing with flying colours! The next ESB exams of 2019 will take place in June, we currently have 17 candidates signed up to take them and we wish them all the luck!
We are very happy to be able to say that as of mid-March we were able to introduce Greek lessons to the hub four times a week. So far, we have had 415 attendances in the class and for this reason we will be offering a second more advanced level of Greek within the next few weeks. Currently at the hub we are teaching English, French and Greek.
The free boutique opened up again, filled with donations that have arrived from all over the world. We serve the whole refugee population as well as any locals that can benefit from what we offer. The shop is open three days a week and has proven to be very successful so far. Our arts & crafts, cv workshop, barber workshop and sports activities remain as popular as ever, with the new addition of beach cleans that help clean the beautiful beaches of Leros and help integrate the students with the local community. Football remains one of the favourites, we reach capacity every week, and have therefor divided the games up into training and matches to ensure everyone gets to play. The players come ready to play with enthusiasm and fantastic skills! We even had a friendly match between the staff from the Hotspot and the students of the Hub that was a great success!
As always, we are very grateful to everyone that helps make all of this possible, from our hardworking and dedicated volunteers, to all of our donors around the world. Thank you for your continued support!