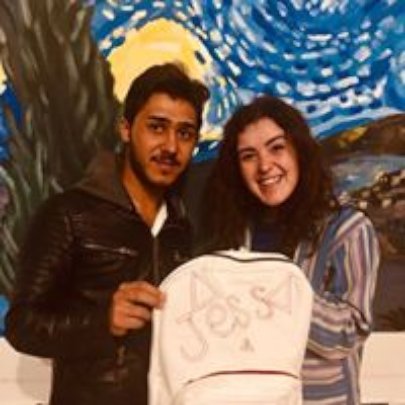 Global Giving Report: The Echo-HUB: Preparing Refugees for Integration
All Hands on Deck!
The last months were extremely busy at the HUB. For the first time ever, we had to stop registering new students as the classrooms were overflowing, due to an overwhelming demand for our language classes and recreational activities from many young Palestinians who arrived from Gaza.
Since the beginning of this year, we witnessed an immense increase in new refugee arrivals on the Greek islands. 101 boats attempted the trip to the Greek islands, carrying a total of 3776 people. Fifty-one boats completed the trip which brought 1839 people onto the Greek islands. The rest in the remaining 50 boats (1937 people), were arrested by the Turkish Coast guard and Police.
On Leros the refugee population is currently at 1176 people, and all reception facilities have reached maximum capacity. The Camp management resorted to setting up tents to accommodate the additional people. The living conditions for the residents are precarious, and there is no indication that the situation will improve. When the weather is good, the boats keep arriving.
HUB news:
We had very busy weeks leading up to Christmas. Apart from our regular schedule, we completed work on the second edition of 'ZINE': our intercultural art and literature magazine created by residents and volunteers which we published recently. Our students and volunteers participated in the 'Santa Charity Run' to raise funds for the 'Blood Donor Society' of Leros, which was an opportunity to give back to the local community.
During the holidays we closed down the HUB for a radical facelift, executed and funded by our coordinators and supported by a strong team. We now have two classrooms equipped with projectors, whiteboards and sound systems, which facilitates teaching and makes learning so much more fun!
We welcomed Konrad from 'Bunt kickt Gut' – a German NGO specialised in integration through street football – who held a football workshop on Leros for the young men from camp. It was a huge success and a welcome distraction from the monotonous camp life.
We also adjusted our schedule to accommodate the maximum number of students and improved our English curriculum. We see fantastic progress in our students' language skills, moving upwards from level to level. We have a local volunteer who runs French language classes, and we are about to reintroduce Greek language courses to our curriculum.
We purchased a second-hand industrial sewing machine for our tailoring-workshop, and we are creating backpacks from recycled sails. Our barber workshop is a huge success, run by professionals from the refugee community. IT, Football, Arts and Crafts, Film and other activities remain very popular. We also run weekly CV workshops to prepare our students for the job market.
We are incredibly grateful to all our wonderful volunteers, who are so passionate and hardworking and create a friendly and safe environment at the HUB that promotes learning and creativity. And, last but not least a huge THANK YOU to all our donors and to Global Giving, without whom none of this would be possible.