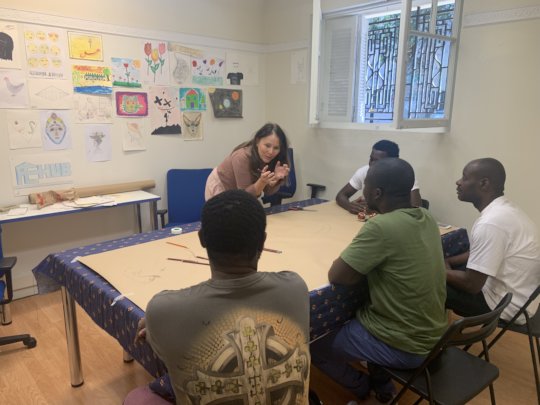 Echo100Plus would be nothing without the help of our, to date, over 800 volunteers. They come from all over the world, of all ages, with different work and life experiences that enrich our daily activities at the ECHO Hubs. Volunteer are the face of the organisation, they work hard and are very determined. We are truly grateful to them.
We often find that many of our volunteers either extend their stays with us, or try to come back. We've had over 150 returning volunteers. One of which is Caterina Verde, an artist from New York City. She volunteered with us at the Leros Hub in January 2019 and at the Athens Hub in October. We asked Caterina a couple of questions on her experiences and why she decided to return to volunteer with us…
How did you hear about Echo100Plus and what drew you to volunteer with us?
I obtained information from a friend who was interested in volunteering in Greece. With her I travelled together to Ritsona Refugee Camp outside of Athens, where we volunteered for a week or so. This inspired me to volunteer again. I was very moved by the people that I met in Ritsona, particularly by their courage and spirit in the face of all the difficulties that they had encountered and what still lay ahead. It's here that I met some of the volunteers from Echo100Plus, that at that time, were active in the camp. I was attracted by their style of work and ethos and was put in contact with one of their founders. Apart from a connection (with Catharina) to due to our backgrounds in Art and Art History, I felt that I wanted to see for myself what things were like for refugees arriving on the Greek Islands (after reading so much about it) as well as how and if my presence was helpful. I was also interested in knowing more about how Echo100Plus defined its role within the context of this multinational crisis.
What was your first experience like?
In Leros, it was intense. It was January -- the weather was horrible -- storms, wind, rain, and cold. But it was wonderful too. The other volunteers and managers maintained their good spirits, explaining over and over again the same things to the new volunteers. It was very different from Ritsona where we wore working inside the camp. On Leros, we were driving shifts all day long (we worked in 12-hour shifts) from the camp to get people to the school as well as provide activities, skills and language courses to the students coming from the camp. But it was also very gratifying getting to know everyone in such an expeditious way. I was also photographing and I taught a couple of classes: an art/photography class with a fellow volunteer and tai chi.
I also felt that the founders of Echo100Plus were working in a good direction with careful consideration of the needs at the moment. It's a very difficult task to keep things in balance when you are relying almost entirely on a volunteer staff and one that is constantly changing.
What drew you to come back to volunteer with Echo100Plus?
I am particularly inspired to work with so many people from different countries and cultures who have had to leave their homes and livelihoods, under great stress, facing danger and upheavals in their lives - who try to start anew in places that are also uncertain as to how permanent they will turn out to be. Only the hope for a better life for their families keeps them going – it takes a lot of courage! Echo100Plus is doing a great job of creating a centre for people to regroup, congregate, learn new language skills and prepare for the next steps as they may move to other countries within the EU. So many of the HUB's students are immensely talented and highly skilled; they need opportunities to put their skills to work and develop new ones. It is my opinion that it's important for all of us to see what is going on in the world -- not just as an abstraction but to get to know people and understand what their challenges are. Echo100Plus does hands-on projects and offers the opportunity to everyone to participate and contribute to help with the refugee crisis in a meaningful way.
What did you find to be the major differences between your two experiences?
Leros and Athens are two different aspects of the spectrum. I was asked if this time I wanted to focus on an art project in Athens which, I said I did, of course. The Athens Hub is in its early life and already full! This proves the need for a second HUB is there. On Leros, refugees are in the first phase of arriving, still living in the camp and waiting for their papers. This can take a long time, sometimes more than a year. Once in Athens, we are dealing with a different transitional phase, people have their papers but often still need language and skills support. They also need to find jobs, which can be very tough. The support system from the government doesn't last terribly long so it's imperative that they can make their way. The goal for the Athens Hub is that it also serves as a place for community, and necessary services. They can come as long as they want and need to. I've been teaching an art project class. My students are amazing. Most have little if any, art experience but their enthusiasm and willingness to try new things is heartening and in so doing they are making some wonderful work. I hope that they will continue on to develop their skills.
Would you come back a third time and why?
Yes, I would definitely come back. I feel connected to the people at Echo100Plus and it gives me great joy to see some of the students who were on Leros now in Athens. There's a sense of continuity and I think I have something to offer. In fact, I hope that people who can help would consider this experience because the "hands-on" approach is often the best way to really learn what some of the issues are and develop a deeper understanding.