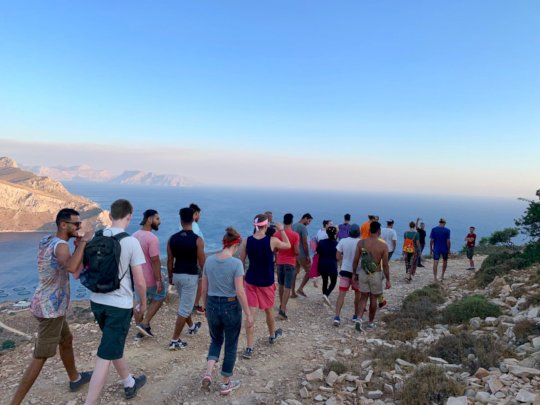 It's been a busy few months on the Aegean islands: Since September alone, over 18,000 people have arrived by boat from Turkey, 1026 of these on the island of Leros. Many more have been stopped by the Turkish coast guards, but still the numbers are rising and the islands are struggling to meet the needs of so many new arrivals. On Leros there are now c. 2,400 people, of which more than 1,000 are homeless or sleeping in flimsy camping tents around the hotspot camp, that is beyond capacity to accommodate them. The refugee populations now make nearly 30% of the island's inhabitancies.
In light of this situation, tensions are unfortunately on the rise, and our Echo Hub Leros is needed more than ever; it provides a safe place and offers educational and recreational activities, that contribute substantially to the mental wellbeing of the camp residents. In the last two months, we have registered another 137 new students and attendance has been at an all-time high of about 1,000 students a week joining various classes and activities.
For some the wait on the island has reached the one-year mark, which means that finally their geographical restriction will be lifted. Eager to escape the camp and island life many move to Athens in search of new beginnings and a possibility to find work. In this period of uncertainty and unease we are happy and proud to be able to say we can now provide a new safe and welcoming space in the capital: The Echo Hub Athens!
Welcome to the Echo Hub Athens! A community and education centre, that opened on the 5th September in Kypseli, Athens. To date we have already registered over 450 students. The focus and aim of the Athens-Hub is on making sure that our students are provided with the necessary skills to integrate into Greece society and the job market.
We decided to have a second location in Athens as we saw the influx of people heading to the city from Leros and other islands. We believed there was more that could be done help the community of refugees that had received asylum in Greece and wanted help with integration and develop their next steps. This included many of our students from Leros that had reached out to us asking for us for places where they could continue their studies, find a community of friends, or practice their skills.
In the new Athens Hub we offer six levels of English, totalling to 33 lessons per week, 3 levels of Greek taught three times a week, with the possibility of obtaining an internationally recognised certificate in the higher levels. As well as many extracurriculars; computer classes, mind and body – using meditation, yoga, breathing exercises and comedy therapy to help feel centred and project to the future, Poetry & Theatre class and CV & career goals workshop.
We collaborate with other organisations to make the Echo Hub a one stop shop in order to meet a variety of refugees needs; through "The Language Project" we have found our language teachers, through "Social Hackers"we are able to provide computer literacy classes, a must for most jobs, and our collaboration with "Human Rights 360" means that three days of the week there are lawyers, social workers on hand to help with everything from obtaining tax numbers, to finding a job, to sorting legal and psychological issues. We are continuing to work on future possible relationships with other organisations to help achieve our goals and continue to offer our students the skills, peace of mind and knowledge to enter into Greek society and have access to employment opportunities.
Our future goals for the very new Echo Hub include; wanting to help arriving refugees with whatever is needed, we try to stay flexible in our response, but with a main focus on education, hopefully also vocational training with time. Psychosocial support, on the personal one to one level, as well as support and training groups for interpreters. We have found that a lot of our students here and in Leros have found work in this field and are often not given the correct support or training. This can lead to severe cases of PTSD and other issues. We want to help Greece or rather the local communities to deal with the very difficult situation and we hope to bridge some of the gaps and mediate between the arriving and the receiving communities. And the list goes on, and on and on…