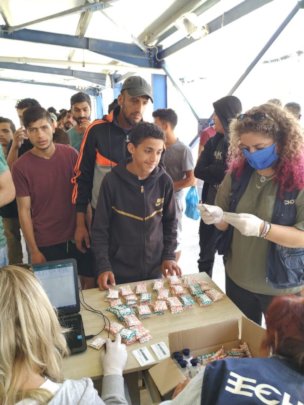 Since our last published report, our volunteers sadly had to be evacuated from Leros and, like the rest of the world, the team and students went into lockdown and the HUB was closed. It seems, this was the best thing we could have done as luckily no one got sick, and our team was able to return to their homes safely. It was a difficult time for everyone but especially due to the fact that we had to halt all of our on the ground operations and couldn't assist others going through this distressing time.
In order to prevent a complete lapse in education and activities, we transitioned all of our English, Greek, French and German language classes online. Students were able to join Facebook groups and have daily lessons with their teacher. We offered shared exercises, live sessions and Q&As. We reached as many students as possible, and had teachers from every corner of the world speaking to their students on a daily basis. Language groups were well attended, and we even had extracurriculars such as exercise videos (some prepared by one of our students), photography classes, yoga and relaxation, drawing and many more. It was important for us to maintain contact with our students and volunteers throughout this hard time to ensure we didn't lose momentum. Furthermore, we wanted to offer a means of distraction and help tackle potential mental health issues during these distressing circumstances.
We wanted to give a sense that even though we were apart we were very much together in all of this. It was the perfect time for many of our volunteers to showcase their skills and share them with our larger community. The response from our students was very positive and we were happy to demonstrate our dedication through our online channels.
During the lockdown we were able to raise funds for safety equipment and products that were lacking on the island. This included items such as masks, soap, hand sanitizer and additional PPE. The local team distributed these items in the hotspot to residents, to local care providers, and to other actors on Leros. We were very happy to be able to offer these much needed supplies for peace of mind and added safety.
Towards the end of June, a small team was able return to Leros and started sorting through our clothes warehouse, primarily replacing winter supplies with summer stock. Due to the lockdown, the residents of the hotspot and other housing facilities had not received clothes for months and were not at all equipped for the harsh Greek summer. Once the team had fully prepped the stock we were able to start our summer clothes distribution on the 20th of July. It ran until August 6th and in total served 984 residents on Leros. This included 257 babies and children (under the age of 16) and 34 unaccompanied minors. Due to the ongoing threat of the Corona virus, we were extremely prudent with the distribution, prioritizing the safety and health of both staff and beneficiaries.
For this reason, we moved it from the usual site of the HUB boutique, to the HUB garden. Here we were able to spread items out in the open air, all team members wore masks throughout and we invited residents to come in very small groups. These groups were all driven to and from camp in our vans to ensure people were on time, didn't have to walk in the summer sun and acted in compliance with the first reception's restriction rules.
On the 12th of August we were finally able to open the HUB again for activities and lessons. Our team gave then HUB a much-needed lick of paint and dusting after having been closed for so many months. We followed government guidelines on social distancing in classrooms and centers. This meant that we had limited numbers of students in classrooms, with desks 1.5m apart, mandatory mask wearing, and other such safety practices. With great energy and enthusiasm, we welcomed students back for English lessons and limited activities. Within a short period, we were able to add German classes and other extracurriculars such as photography, creative writing, music and outdoor activities including the very well attended and loved football session. We are pleased to see that during this time many of our old students had moved on to either the mainland or other countries. As a result, we are thrilled to welcome new students and register them for classes and activities.
Exciting times lie ahead for the ECHO HUB Leros as a new team, new students and a new schedule learn to navigate the new normal of living through a pandemic.