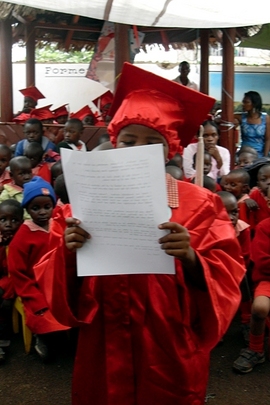 ------December Graduation---------- In December 2009, the St. Vincent de Paul Nursery School graduated 30 of our students from the program. Graduation festivities brought together proud parents and caretakers, teachers, and children in a celebration that included singing, dancing, a fashion show, and speeches by the graduates, plus awards, and of course, a big feast! It is an opportunity for children to celebrate their achievements with their families and to say goodbye to the school and teachers who have played an important part in their lives over the last few years. We are pleased to report that following graduation, the entire graduating class of the St. Vincent de Paul Nursery School was qualified and enrolled into local primary schools -- a huge success considering the environment surrounding education in Kenya. In 2003, the Government of Kenya made primary education free to all children. Despite this important step, families continue to face significant barriers in sending their children to primary school due to two main factors. First, while enrollment in school is free, the costs associated with attending school are burdensome to many families, particularly those in Kibera. Without funds to purchase uniforms, textbooks, and other supplies, children are not allowed to attend school. Second, as a way to control overpopulated classrooms, government run primary schools are allowed to turn away prospective students that are not considered to be adequately prepared for entrance. To be admitted into primary school, students must therefore go through an interview process. As such, despite education for all policies in Kenya, 86% of school age children are enrolled in primary school in the country. (According to a 2003 study by Oxfam, 37% of school-going age children in Kibera were not even in the educational system and 70% of the children attending school only have limited access to informal schools and community centers.) Within this context, the 100% primary enrollment of the St. Vincent Nursery School graduates is an important achievement. Enrollment of the entire graduating nursery school class indicates that not only did all students successfully pass the primary school interview process, but all parents/caretakers of the nursery school students were motivated to identify resources to purchase the required materials for sending their children to school. -----January Commencement--------- In January, the nursery school welcomed our newest class of 30 students (17 boys, 13 girls), keeping our total enrollment to 87 children. On the first day of school, incoming students are fitted for uniforms with the help of teacher Miriam. Often with parents/caretakers close by, the new students are a bit shy and need some time to get used to their new surroundings. Meanwhile, parents/caretakers are excited for their children to have the opportunity to attend pre-primary school -- less than half (48%) of children in Kenya are enrolled in pre-primary school, and in Kibera this is even more rare. Global Giving funds are being used to purchase uniforms, shoes and food; provide teacher and staff salaries; purchase educational supplies; pay utility bills; and contribute to the school fees of 47 children who are unable to pay full tuition. -------------------------------------------------------------------------------------------------------------------------------------------------------------------- FUNDRAISING OPPORTUNITY: On Tuesday, March 16th, Global Giving will be matching all donations made to our project by 30%. If you were considering making a donation this month, we would love for you to do so on Tuesday so that your impact can be even greater. ---------------------------------------------------------------------------------------------------------------------------------------------------------------------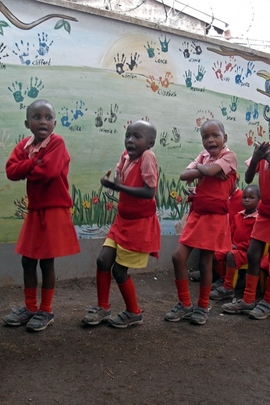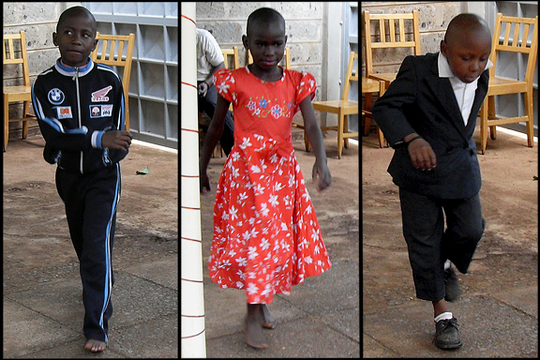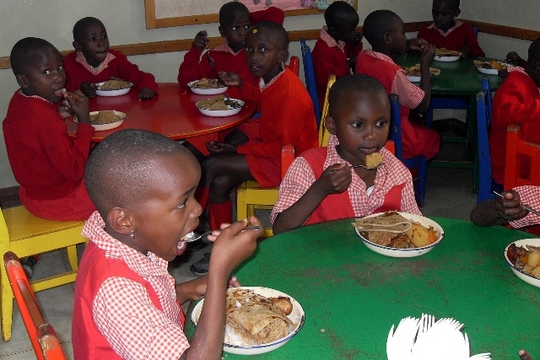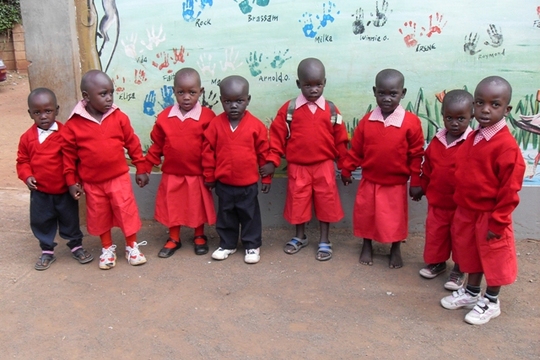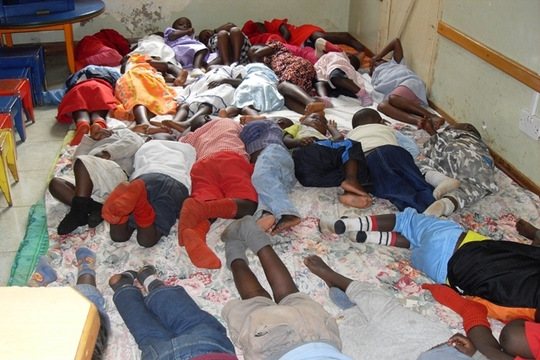 Today is the final day of the Global Giving Challenge. Thanks to your generous gifts, our project, Educate and Feed 85 Kibera Kids At Risk, has raised over $11,000 for the nursery school and rescue center. We are thrilled (and amazed) at the level of support we have received.
Currently, with 181 total donors, we sit in 2nd place, trailing the leading organization by just 19 donations. We are hopeful that we can make one last surge in this final day of the contest to claim the prize for the greatest number of donors. A cash prize of $3,000 will be awarded to the organization that achieves this feat -- this represents 1/10th of the total operating budget of the rescue center and nursery school for an entire year.
We hope you will take a moment to reach out to any friends, family, classmates, or coworkers that you have not yet shared our project with (or that need a friendly reminder!) to let them know the impact of a small donation. Online donations will be accepted until 11:59pm (EST).
Many thanks again for all of your support. Here's to a successful last day of the challenge!
WARNING: Javascript is currently disabled or is not available in your browser. GlobalGiving makes extensive use of Javascript and will not function properly with Javascript disabled.
Please enable Javascript
and refresh this page.