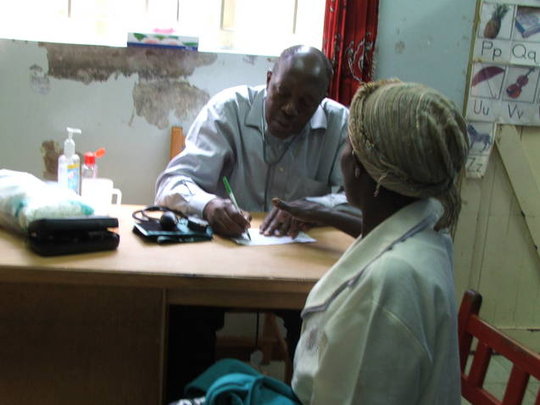 St. Vincent's Helps Vulnerable Children Access Critical Care: Lilian's Story
During a recent St. Vincent's board meeting in April, a young girl came to St. Vincent's with sadness on her face. Although the girl refused to speak, St. Vincent's learned through her cousin, Peterson, who accompanied her, that the girl's name was Lilian and she was a double orphan, having lost both of her parents.
Peterson explained to St. Vincent's that they came to seek financial assistance to help Lilian undergo a needed operation to remove a tumor that had been detected during recent medical tests. Lilian's family tried to seek support from friends and relatives in the Kibera community to cover the Ksh 100,000 (approximately $1,200 USD) procedure, but had failed to collect even a quarter of the needed amount. In the meantime, Lilian dropped out of school due to her condition.
The family then learned about St. Vincent's through another local school, Shine Academy. St. Vincent's has become known in the community as a trusted, reliable resource to which people can go when they are in urgent need of support. Weekly meetings open to the community, such as the one Lilian and her cousin attended, help identify those families in greatest need and St. Vincent's works with families to identify solutions and harnesses its networks to ensure families are connected to additional services when needed. Through this approach, St. Vincent's program creates a safety net for families in the community so that they are able to continue caring for the children.
On their first visit, St. Vincent's encouraged Lilian and Peterson to try to raise the additional amount needed by holding a fundraiser in one of the local public spaces easily accessible to friends and relatives. The pair returned weeks later, reporting that despite their efforts, they were still unable to secure the necessary amount. And now, the cost of surgery had been increased due to its urgency. With no other viable options available and the need for the surgery immediate, the board members promptly decided that St. Vincent's would contribute the balance so that Lilian could proceed with having the surgery without further delay.
Two weeks later, Lilian and Peterson once again came to the board meeting, this time around with good news. The operation had been successful and Lilian now had hopes to return to school. Lillian shared with the board her future ambitions to become a doctor so that she could save lives for the less fortunate in the community. Lilian has since been enrolled in St. Catherine Nangina Girls boarding primary school in Western Province, Kenya where she is in Class 6.
-------------------------------------------------------------------------------
Healing the Sick: St. Vincent's Collaborates with Family Hope Charity & Chamberlain College to Host Free Medical Clinic
In early May, St. Vincent's collaborated with Family Hope Charity (Chicago, IL) and Chamberlain College of Nursing to host a free, two-day medical camp for the Kibera community at St. Vincent's Nursery School in Olympic Estate, Kibera. The medical team comprised 23 medical experts from the United States, four local doctors and five clinical nurses. A team of 18 local volunteers supported the team with translation.
Mildred Wesonga, a local high school student who attended the medical camp commented: "Here, the personnel were very friendly to me and for the first time, I find this very relaxing. As from experience, most of the doctors I have visited were not friendly to me in the local clinics in Kibera. My prayer is that we should have more of these camps annually to help us community members." Mildred attended the camp because of ongoing chest pains she had been experiencing.
An interview with one of the nursing students working at the camp, Carolyn Lay, says of the event, "It was really good to give a listening ear to people as they tell you what ails them and by the end of the day, the trust they all have in you…. But for me, the most inspiring thing was to give education to the sick people who showed up."
A total of 576 children and families received medical and dental care and treatment at the event.