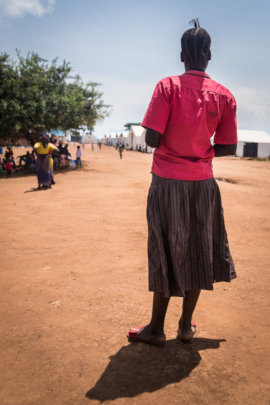 There are now 65 million refugees in the world today. Every minute, 24 people around the world are forced to flee their homes. That's 34,000 people a day who leave everything behind in the hope of finding safety and a better tomorrow. Experience Regina's story written by Kerstin Blidi. Because of generous donors like you, CARE is able to help the millions of refugees like Regina around the world.
"Regina arrived at Rhino Camp, a settlement of South Sudanese refugees in Arua district in north west Uganda, in July 2016. She had fled her home in Yei, South Sudan, with her five siblings and two of her children, the youngest only 2 months old.
Traveling without her husband, life has been difficult for Regina. "Being both a single mother of two young children and a refugee is challenging and at the beginning I did not know what to do. I did not know how to take care of the house and how to get food for my children," she explains.
But things improved for Regina, and nowadays she earns a small income from knitting and embroidery. Regina joined a women's group established by CARE. The group knits and sews together, and sells their products to both refugees and host communities in the area. Now Regina can feed her family and buy school uniforms for her children.
Each week, the women also put aside a little money as a special welfare fund to help if someone's child falls ill and needs medical attention. While medical treatment is free, transport to and from the clinic requires money. The village saving and loan group, which is organized by CARE, also puts something aside to distribute as loans for new initiatives the women would like to try. In this group, women also do different activities together and discuss their well-being.
For Regina, the benefits are social as well as financial. Many of the forty women who make up the group are single mothers, alone in Uganda with their children. They meet every Sunday after church in order to knit, to sew, and to chat about issues that affect their lives including gender based violence.
This is the second time Regina has been a refugee in Uganda. Rhino Camp was her childhood home before returning to what was then southern Sudan when she was 8 years old. Her father died a year later leaving her mother to raise the family alone. Regina finished school and worked as an assistant at a local clinic. Thanks to her education, she also counsels her friends and colleagues at Rhino Camp, in an effort to reduce the stress and trauma experienced by many through their country's war and the long journey to safety in Uganda.
Things have improved for Regina but she holds little hope of returning home to South Sudan soon. "With the money I earn, I would like to go back to school and extend my medical skills so that I can serve the community," she says. "But I am not hopeful of going back to South Sudan. When there is war, there is no hope."
- Kerstin Blidi, Fundraising Coordinator CARE International