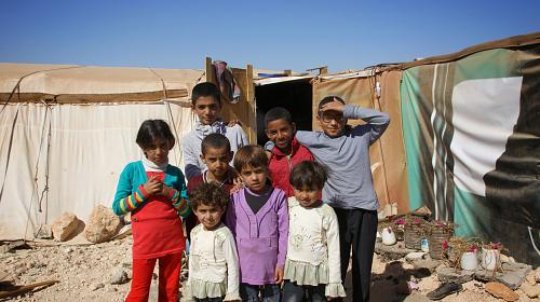 CARE is working to help Syrians meet their most urgent needs and protect their dignity. We are on the ground in Jordan, Lebanon, Egypt, Yemen and Syria, collaborating with partners and helping people displaced by the conflict and the communities hosting them. Here's an overview of the assistance we've been able to provide:
THE BALKANS
CARE has expanded its assistance for refugees crossing into Serbia and Croatia, hoping to make their way into the EU. Over the past weeks, CARE has reached approximately 3,500 refugees with much needed emergency assistance.
"To reach safety refugees have to endure a dangerous, ever changing gauntlet. They constantly have to change their routes, and persevere in terrible conditions. For aid organizations it is extremely important to remain flexible so we can continue to reach people where they are most in need," says Felix Wolff, CARE's Balkan Director.
JORDAN
ESTIMATED NUMBER OF REFUGEES: 630,000
CARE set up refugee centres in East Amman, Zarqa, Irbid, and Mafraq, as well as providing community services in the Azraq refugee camp. CARE is also partnering with two community-based organisations in Azraq town. CARE volunteers, who are refugees themselves, assist in organizing and preparing distributions of relief supplies. We provide emergency cash assistance to pay for basic living costs, including rent, food, health services and essential household items. CARE also assists with vital information on how refugees can access further health, legal and social support. In addition, we are providing psychosocial assistance to women, men and children helping them to cope with their experience of violence, flight and loss of family and friends.
LEBANON
ESTIMATED NUMBER OF REFUGEES: 1.13 MILLION
In Lebanon, CARE meets refugees' most basic and pressing needs, mainly providing water, sanitation and hygiene assistance as well as non-food items and cash assistance in Beirut, Mount Lebanon and Northern Governorates. This includes the improvement of drainage systems, distribution of sanitary items, and the provision of hygiene sessions.
EGYPT
ESTIMATED NUMBER OF REFUGEES: 132,000+
CARE raises awareness among the refugees of sexual exploitation and other forms of gender-based violence to protect them from any form of abuse and raise awareness for legal regulations in Egypt in regards to violence. CARE also offers legal assistance to individual cases.
YEMEN
ESTIMATED NUMBER OF SYRIAN REFUGEES AND ASYLUM SEEKERS: UP TO 30,000
CARE Yemen has been supporting vulnerable displaced Syrians through the provision of enhanced emergency protection, shelter and non-food items. CARE Yemen aims to contribute to the better identification of the needs of displaced Syrians in Yemen, providing humanitarian actors with a detailed analysis of the number of Syrians in need of lifesaving assistance and how to best address their needs. CARE Yemen seeks to refer critical cases of displaced Syrians to specialised protection services.
TURKEY
ESTIMATED NUMBER OF REFUGEES: 1.94 MILLION
Following the huge influx of Syrian refugees last fall, CARE immediately began assessing needs and coordinating with Turkish authorities and other organizations to support refugees with food, safe drinking water and hygiene items. CARE is doing its best to meet the most pressing needs of urban refugees in the border towns of southern Turkey.
SYRIA
Inside Syria, 12.5 million people are in need of humanitarian assistance. Approximately 6.5 million people are displaced within the country's borders and another 5,000 flee their homes every day. Through our partners, CARE is providing lifesaving emergency assistance to people affected by the conflict in Syria, reaching 182,000 to date. We have provided food, baby items, hygiene kits and winterization kits and other emergency supplies to families; psychological and social support to children; and equipment, medicine and support for hospital obstetric care.
Links: