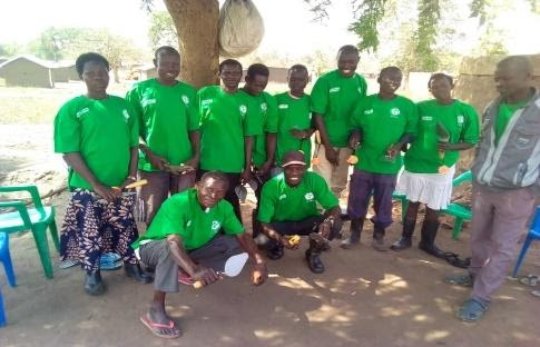 Hello supporters,
Greetings to you and your family from Palorinya Refugee Settlement in Northern Uganda. We, like you, are feeling the effects of a drastically changed world over the past few months, from a virus that has reminded us that we are far more connected than we previously took notice of.
Speaking of connection, while the virus has halted us in many ways, it has also propelled us into further action. From that place, I'd like to remind you of the impact we have had so far with the many South Sudanese refugees we have worked with in increasing food security and decreasing deforestation in and around their new home in Northern Uganda.
In 2019, we planted over 92,000 moringa, fruit and timber tree seedlings in collaboration with 120,000 refugees. In addition to these plantings, refugees received training on tree seedling care and management as well as the multiple uses of the seedling types distributed. But our work didn't stop there.
We trained over 148 artisans on how to build Rocket Lorena stoves, a type of cookstove that drastically decreases the need for firewood while also decreasing smoke levels that can be harmful to human health. Those 148 artisans, all refugees, received ongoing payment for their work to construct 2,000 cookstoves for 2,000 refugee families, effectively making these families' ecological footprint drastically lower while also protecting the health of the individuals that cook family meals, most of whom are women and children.
As 2019 turned into 2020, we prepped for another seedling distribution, and have to date raised an additional 54,000 tree seedlings to be distributed to more refugees. Those seedlings are currently awaiting patiently in the nursery to be distributed, safely and sanitarily, to more refugees wanting to restore their soil, green their land, and increase their food security. Given the current COVID situation in Uganda, we hope we will begin seedling distribution in the coming weeks or months.
If there is anything that COVID has taught us, is that while some things in life can be halted, others remain uncancelled. Things like family, community, growing your own food and tending to your own land. That's what we've been busy doing here at WildFF, and it's what all of the refugees we work with have been doing in their respective homes.
We know there's a lot going on in the world right now, and a whole lot of different causes you can support. But we urge you to remember how at risk our refugee populations in the world are, not just of COVID, but of radically changed climate patterns that continue to exert their power over our world. Please continue to support this work: together, we can change the way that refugee service delivery is implemented, and bring agency and the ability to support oneself through the gifts that nature provides back into the hands of refugees.
All the best,
the WildFF team