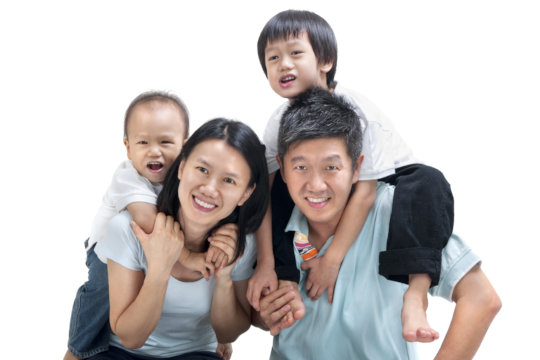 Hello my name is Sarah. Chinese New Year is a time of celebration, for my family it is also a time of reflection. Just before Chinese New Year in 2015 I was diagnosed with breast cancer, I was only 35 with two young sons aged 8 and 2 years old.
I had visited the Doctor as I had found a small lump in my breast but was so shocked to hear the diagnosis, I was too young to have breast cancer! He talked about treatment but all I heard was chemotherapy and radiotherapy. All I could focus on was the thoughts of my husband and family, how could I tell them? What would happen? How would we get through this?
My husband and I decided not to tell Harry, our oldest son and we only talked about the treatment when we thought he was asleep or staying at his Grandmother's house. I lost my appetite and began to lose weight and my hair started to fall out. It was then that we received a call from Harry's school. Harry had been in trouble and was not doing well in class. I was so surprised, Harry was a good student and popular with the other children. We confided in his teacher as to what was happening in our lives.
Hope in the darkness
Harry's teacher told us about Hong Kong Cancer Fund and I went to see them in their CancerLink Centre in Tin Shui Wai. I was a little nervous about going but now look back and realise it was the best thing that I did during my cancer journey.
Everyone was so helpful and professional and all of the services and support they gave to me and my family were free of charge.
I spoke with a Social Worker and she told me about the Rainbow Club which helps children who have a parent or relative affected by cancer. She also suggested ways in which we could tell Harry about my cancer and how it would help him understand. It was such a relief to have support. Harry was my immediate concern.
The team also offered me their wig service and my husband and I had couples counselling to discuss the changes to my body. I also attended workshops on pain management, nutrition and worked one-on-one with the Clinical Psychologist. The support they gave us is beyond anything that I can describe. Everything was free and given with love and compassion.
Timely support from CancerLink
Last year, my breast cancer returned. Again, the CancerLink team helped us as a family process the initial shock and supported us through the journey. Harry is now 12 and his brother is 6 and our family is strong, we communicate and discuss our feelings and spend time together.I feel more hopeful and confident now that I have a network to support me through the good days and the bad days.
I am forever indebted to the support of the Cancer Fund and was delighted to hear they are opening a new Women's Cancer Care Centre in Central that will focus on the special needs of women who have been diagnosed.
Please do help support other families like ours to get back on track.
Sarah
Links: