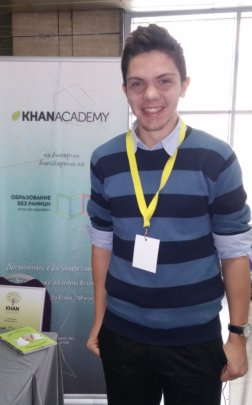 Dear Friends,
With the end of the year approaching we would like to share with you more from the exciting and inspiring meetings we had in the recent months. You will also find details of our December work at the end of this report.
Kristian - a gold medalist in Linguistics
We met Kristian at the annual Education 2016 conference in Sofia in late October. He won a gold medal at the 2016 International Linguistics Olympiad in Mysore, India. The 173 participating students from 30 countries worked out problems via linguistic analysis and phenomena represented by mathematical models.
Kristian came to us and shared his experience of looking for the best studying resources:
"I used Khan Academy to prepare my math skills. The explanations are simple and intuitive. Khan Academy is a great supplement to what we learn at school. The content is engrossing, even a 'page turner', and a great way to get excited about specific school subjects."
We are so proud and happy of his achievement and successful use of Khan Academy's Math lessons!
Alex and Daniel - growing from being bored by to being strongly engaged with Math
One of our commitments is to broaden adoption of Khan Academy in Bulgaria. Part of that is working with kids one-on-one, including those bored in the classroom and needing engagement, for example with math, at their own pace.
Alex is a Bulgarian third-grader. Here is what he says after 5 weeks and 200 000 Energy Points with Khan Academy:
"In Khan Academy my teacher gives me challenges and I am very happy when I manage to solve the challenges. I win badges and energy points! I want to win Black hole and Sun badges – they are very rare and mysterious. I really like the smiley face after every solved problem. It is sometimes hard, but I end up getting it by watching the video lesson or by using the hint."
Daniel, a Khan Academy coach and a member of the core Bulgarian team, likes how easy it is to help the kid:
"We skype with my 10-year-old student once a week and I can easily track his progress in Khan Academy's Coach Dashboard. Our conversations are just 30 minutes, but still allow us to cover everything he needs to move on - topics range from details of math problems to why math matters. The kid does the actual learning on his own!"
We hope these stories charge you with positive emotions and confidence about what can be achieved with Khan Academy. Each of us can remember a story from school when a teacher really inspired us or gave us the tools to succeed. We hope to give back now! We believe that all children can achieve amazing results if we give them an opportunity and an appropriate tool!
State of the effort today
Thanks to your generous contributions, during the past 9 months we translated over a million words of text lessons and exercises and hundreds of videos, and checked many of the translated texts. But we have a long way to go. We continue to count on you to support us in the translation of Khan Academy and to give more Bulgarian children opportunity to learn in their native language so they have their personal stories of success!
Donate an amount of your choice, devote your donation to a person you love and make it a gift, ask your colleagues or friends to start a monthly donation or just spread the word.
What we have been up to in the last days - in figures
Just in the last 30 days we edited more than 300 000 words and initiated 80 new subtitles translations to be finished by the end of December.
The users of the test version of Khan Academy in Bulgarian bg.khanacademy.org continue to grow and to use the platform more! Since the last report from the beginning of December:
the site had 4 980 visitors (+ 63,98% in comparison to the same period last year),

the total number of browsed pages is 30 161 (+ 64,44%),

in 6 999 sessions (+ 67,32%).
Our YouTube channel with dubbed videos KhanAcademyBulgarian had 3 365 video views (+ 63%).
Thank you for making this possible and for your continuing support (monthly donations get matched at 200% while funds remain through the end of the year)!
With best wishes for a wonderful Holiday Season and a very Happy New Year,
Education without Backpacks team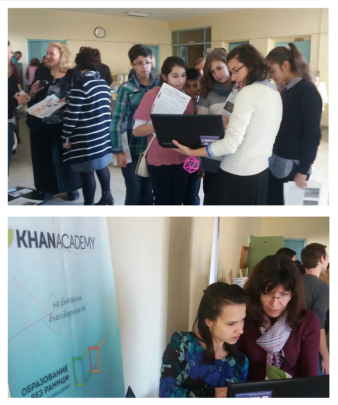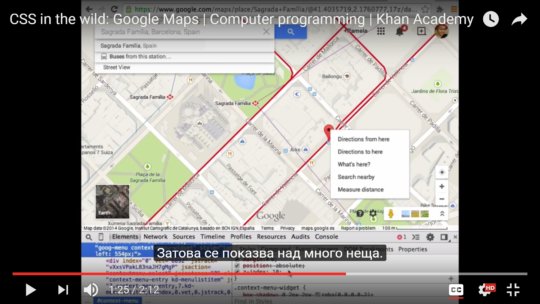 Links: