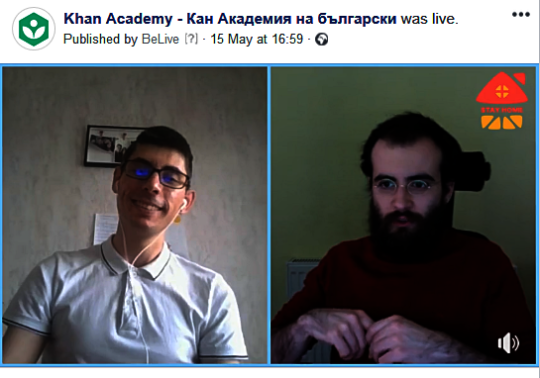 Dear Friends,
The Covid-19 pandemic is changing the world we live in and force us rearrange our priorities. Bulgarian education is no exception! In just two days it completely changed its model of work and our team worked overtime to help all participants in the process - students, teachers, parents and government institutions.
Have a look at what we have achieved together for the past four months:
Adviser to the Ministry of Education and Science
Our team was part of the working group which consulted the Ministry of Education and Science regarding the readiness and opportunities for the introduction of distance learning in Bulgaria. Other participants were representatives of all leading digital platforms, the teachers' unions, school principals, teachers, universities. We are also happy that the Ministry of Education and Science accepted the proposal initiated by us and other experts to analyze and evaluate the process of distance learning due to Covid-19. Following the request by the Minister of Education Krasimir Valchev, we are supporting the Institute for Research in Education in coordinating and implementing this research.
Materials for a global switch to home-schooling
We know how important it is to have assistance when you start something new. So when emergency situation and distance learning were introduced in Bulgaria in March 2020 with no preparation possible beforehand,we stood up to support Bulgarian teachers, students and their families as much as possible. For this purpose we have compiled various lists of useful tips and materials on topics such as online security of students' personal data, quality educational platforms and variety of good practices for teaching and learning online. All of these materials we share for free!
Free webinars for teachers and parents
In support of teachers and parents, we organized over 10 free webinars on various important topics related to quality digital tools and platforms for education, online safety, gamification of the learning process, developing children's skills for safe use of the Internet, and the life of teenagers offline and online. We are happy that many of our partners, experts in various fields, took part in these webinars and we believe that they are really useful. The positive feedback from teachers and students proved that.
State of the translation effort today
We announced our brand new Philosophy and Music Courses, with the support of Nedelya Cake Company. Soon we will be ready with the translation of the World History Course thanks to the support of the US Embassy. Have a look at what is already available online (links below).
Localization results for the period 22.02.2020 – 01.06.2020:
Translation: 74,2 K words and 65 videos (418 minutes) - 33 History; 13 Computer science; 8 Economics; 6 Growth mindset; 5 Chemistry;

Proofreading: 21,6 K words (Resources, Helpdesk, Math, History) and 84 videos (792 minutes) - 73 Health and medicine; 5 Growth mindset; 5 Chemistry; 1 Physics
Khan Academy and Shkolo.bg - A really great collaboration!
Shkolo.bg is one of the leading platforms in Bulgaria for school communication with parents and students and further school administration processes. It has 580576 registered users.
Nearly 4500 video lessons in Mathematics, Chemistry, Physics, Astronomy, Biology, Medicine, Philosophy, Music, History from Khan Academy are now easily accessible from Shkolo.bg! Thus, even more students, teachers and parents will learn about the Khan Academy . From the beginning of April till mid June 2020 there are over 16000 Khan video lessons views on Shkolo.bg!
Khan Academy usage growth
Khan Academy usage growth for the past 4 months: 23.02.2020- 17.06.2020
Sessions: 356% growth (compared to same period last year)

Users: 215% growth (compared to same period last year)
Helpdesk of Khan Academy fully translated!
Our team completed the translation of all materials from Khan Academy`s Helpdesk for the benefit of Bulgarian users! And we turned out to be the first team globally to completely translate this really valuable resource, thanks to our colleagues Meli Popova and Sevdalina Peeva! You can find there detailed answers to hundreds of questions about the platform. We are happy we have accomplished that exactly when many students, teachers and parents needed more support and are successfully working towards finishing the school year.
Maths Mastery competition
Schools are closed and there are no competitions, but we wanted to motivate students even when they are at home by giving them the opportunity to challenge themselves. So we launched a national Math competition on Khan Academy. Every student can take part in it. We really believe that everyone can learn anything! In addition to the knowledge gain, the most engaged students and teachers will receive great prizes provided by our partners from Ozone.bg (one of the most popular online game stores in Bulgaria)!
They believe in our cause - Deloitte Foundation in Bulgaria
Deloitte Foundation in Bulgaria supported our cause and Khan Academy in Bulgarian! We want to thank them for the financial support and for the promised pro bono support for the localisation of the Finance and Capital Markets, Micro- and Macroeconomics courses at Khan Academy.
Education is everything!
Bulgarian education took a very big step in just a few days and impressed the whole Bulgarian society. Teachers were often called heroes for their great efforts to lead their students, our children, into the world of online education. We are happy we are helping education in Bulgaria to be modern, effective and useful!
You can help us keep helping if you become a monthly donor or at least tell your friends about us. Because education is everything!
Thank you!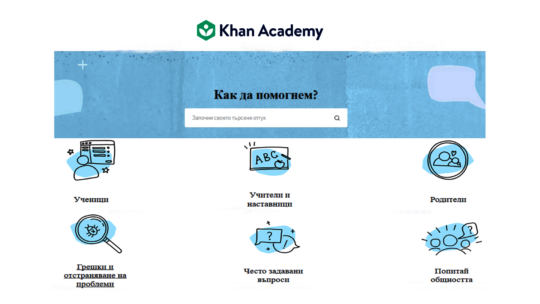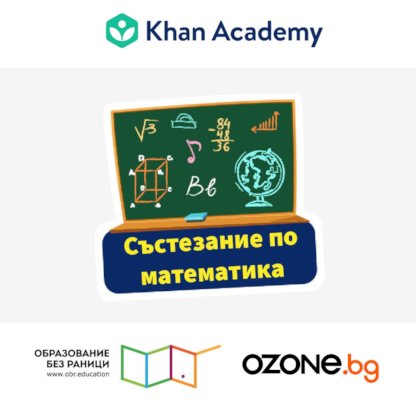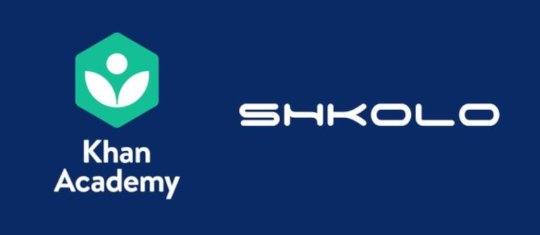 Links: