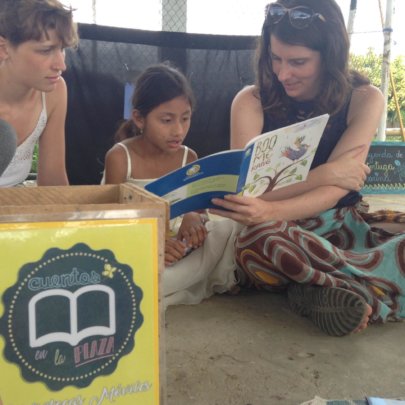 The work of bringing books, cultural activities, and entertainment to the children of earthquake ravaged north of Manabi province continues.
In January for our trip to the north we prepared the magical puppet show "El Mago de Oz" (The Wizard of Oz). For this we received help from the new volunteer Jade. Together Volunteers Ed, Jade, Lino and Nina made the puppets with felt, cardboard, cloth and buttons. The famous Oz characters of Dorothy, Scarecrow, Tinman, Lion, Wizard and two Witches, one Good and of course, one Bad were created. Our first performance was before the assembled "Club the Ninos" on a Friday afternoon in Puerto Lopez. They really enjoyed the show and it was a dress rehearsal for our trip north.
Then we were ready to go on tour to the kids in the earthquake region up north. Very early Saturday morning we left by bus. Our troupe managed to inspire and fascinate these kids with the puppet show and our simple magic tricks. They also became true magicians with their self-made magic wands. It was an unforgettable experience for all of us.
Reading with them was a special treat as well, because you could tell they really needed the practice made possible through the Clara Luna Foundation. It was amazing to be able to make the children laugh and be happy!
In February we traveled with Joseph, Yesica, Paola and Marina to the north with the Marin turtle story. In spite of the rain, the kids of San Vicente, Tabuchila, Canoa and Chone seemed very happy to have books to read, volunteers to read with them, the puppet show, the games and Marin the handcrafted turtle.