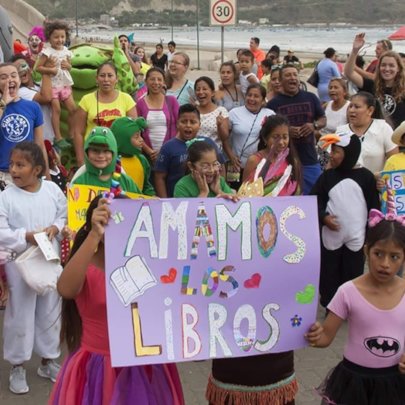 The end of May was a busy, joyful and colorful month that welcomed an art Festival called Festi'artes (2nd edition – focused on the connection with the Pachamama). It was organized by the collective Alegrate Puerto Lopez and more than 165 artists attended to this event. The Children from Clara Luna and the community were both, actors and participants to the event. On the first day for the parade, children walked dressed as their favorite book character and they showed banners to share their love of reading.
Then, in the Pabellon infantil, (https://youtu.be/RjZKRiRHY9w) they could enjoy activities about reading and different workshops such as one with Santiago Gonzalez, who is a famous Ecuadorian illustrator that presented one of his characters called « Luciano el Gusano ».
With the teenager groups, we also started a library activity. The idea is to lend the long-term reading books we have and this group of about 8 youths from 12 to 15 will be in charge of running this concept. For now, we registered the books we have, created a membership card and we are thinking of the different rules. Implementing our programs inside the community is something very important for us.
We keep on going to the school of Rio Blanco, a small community 20 minutes far from Clara Luna. This month we focused on whales and see life as the « Humpback Whales season » started in Puerto Lopez. Indeed, they chose this place to give birth and from June to September you can see them jumping majestically not far from the beach. We worked on the book, « More, More, more » from dawn Casey, and the kids draw their own whale, working with different textures (crayons, painting…) and different types of blue. It is amazing how you can see 20 different drawings with cute differences, even though all the drawings were inspired by the same book. Children's imagination is limitless!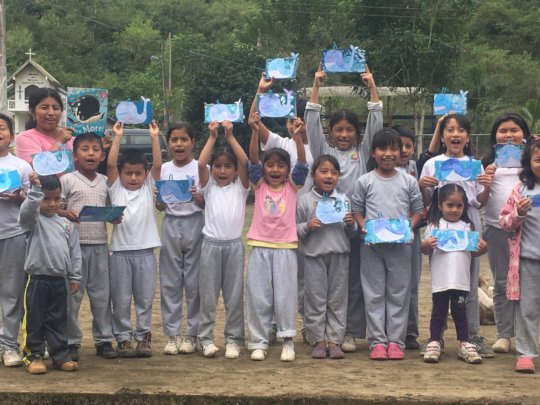 In March we were visited by a second group of volunteers from the Solidarite Sud that helped initiate the Month of the Woman. International Woman's day was celebrated on March 8th by reading stories of accomplished women in history ranging in scope from the artist Frida Kahlo , the American computer pioneer Grace Hopper and botanist Barbara McClintock, who studied human genes. Maria Sibylla Merian a 17th century German woman who observed and classified the metamorphosis of insects was also featured. A craft activity followed her biographic reading that explained the change from caterpillar to butterfly.
We also read "Little Red Riding Hood and the Wolf" by Road Dalh and presented a puppet show adapted from the book.
In April we held an overnight camp for the children at a retreat facility in the neighboring community of Salango. In collaboration with two other local organizations, Casa Buho and Crisfe about forty children spent a few days participating in a GLOW-BRO Camp.( Girls Leading Our World – Boys Respecting Others). The campers explored many aspects of their approaching adolescence such as the physical and emotional changes they may experience. The camp gave the participants an opportunity to bond with others outside their immediate family. For most them it was the first time they spent nights away from home. Volunteers Pauline ,Walter ,Sarah ,Ed ,Lobo, Lily and Trish lead and participated in workshops that covered subjects from bullying to anatomy.
For April's Book of Month we read "A Child of Books" by Oliver Jeffers in our twice weekly Children's Club then each child wrote their own book explaining their life story.The next week we read "The Incredible Boy eating books" the story of Enrique, a boy who loved books and ate them to absorb their knowledge .
In May we continued our outreach to the small village of Rio Blanco bringing stories and activities to their one room school. We read a story about a caterpillar's changing and made paper butterflies as the activity.
Club de Ninos made posters and marched in costumes during the opening parade of the second annual Festi Arte of Puerto Lopez. Clara Luna was represented by a book tent where all children could sit on mats and read or be read to during the three day weekend. The children partook in classes on illustration, water coloring and chalk drawing. It was a very productive time at Clara Luna.
We have continued our outreach reading program and related activities to the rural community of Rio Blanco on the edges of the canton of Puerto Lopez. During the school vacation in February and March we brought books to a community member's shed where we set up tables and chairs for reading. Now that school is back in session, every Tuesday morning we ramble down the dirt road, ford the gentle White River that is the namesake of the community, carrying books and art supplies to the one room school house. The children have a hunger for books that is evident as they read the books aloud, then lean over to the students at neighboring desks and share their favorite parts of the stories with them.
One story we read was about a girl with many fantastic hats, so then we made hats using paper plates, ribbons, feathers and crayons. Each child's work was unique and creative.
More recently we read The Giving Tree by Shel Silverstein and then made tree sculptures using brown paper bags, cardboard and colored paper.
Tuesday evenings we go to the Plazaleta with blankets to spread on the ground and boxes of books. A lone ceibo tree stands at the end of the plaza. The ceibo tree is currently threatened by the proposed expansion of the road. We enjoy reading with the local children under its sturdy limbs. The kids made posters expressing their love of the tree and we hung them in the Plazaleta hoping that the planned road work will be kind to the tree.
We also extended our outreach with this program "Cuentos en la Plaza" (Stories in the Plaza) by bringing literature and activities to local schools in Puerto Lopez and to an after school community project in the village of Puerto Rico.
Volunteers Pauline from France, Blerta from Albania , Giorga and Camilla from Italy, Walter and Shara from the US and Aline from Germany were very helpful in organizing and coordinating our efforts.
WARNING: Javascript is currently disabled or is not available in your browser. GlobalGiving makes extensive use of Javascript and will not function properly with Javascript disabled.
Please enable Javascript
and refresh this page.