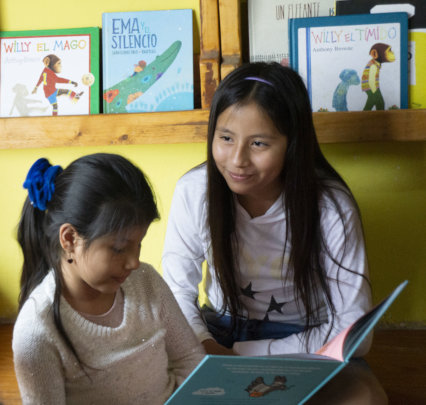 There has been a lot going on at Clara Luna in the past few months. September, October, and November were filled with an array of themes for Children's Club, from King Kong and climate change to women's empowerment and Ecuadorian legends. Throughout September we read Anthony Browne's King Kong book and followed it up with crafts inspired by the book. At the end of September, to honor 2019's Climate Strike, we held an event for the Children's Club in a local park, reading children's books on the environment and finishing the evening with a play put on by the kids! In October, in the spirit of Halloween and Día de los Muertos, we read spooky legends from Ecuador, including "La Dama Tapada", "La Mano Negra", and "Las Brujas Blancas". To end October we hosted an event where our Children's Club participants read these traditional stories to their parents. Afterwards, a group of children performed a muppet rendition of "Davilara, el Rey de la Bomba", based on the award-winning book "A ritmo endiablado de bomba" written by Marco Chamorro and Alice Bossut. In November, we shifted the focus of our club to women's and girls' empowerment throughout the globe, reading stories about inspirational individuals like Malala Yousafzai of Pakistan and the Mirabal sisters of the Dominican Republic. As always, we followed our stories with arts & crafts, such as making homemade medals for our students to present to their mothers.
In September we restarted our Youth Club on Saturdays with pre-teens. For this we start with English lessons for an hour and then move on to activities that mirror the Childrens' Club but more advanced, both technically and thematically.
For the children's English classes, in September we learned about haikus and names of foods. One class included a blindfolded fruit tasting game which our students loved. In October we covered a wide variety of topics, getting help from two Swiss volunteers to take over the classes. In November, we learned about different English-speaking countries, discovering the traditional foods, dances, and some slang from countries such as Jamaica and Ireland. For the adults' English classes, we continued our usual bi-weekly lessons on grammar and new vocabulary. For our Intercambio, or language exchange, we played many language-learning games enjoyed by our participants from Ecuador, Germany, the United States, France, Belgium, and Switzerland.
It was a busy and very enjoyable few months, and we hope to continue this action-packed schedule into 2020!