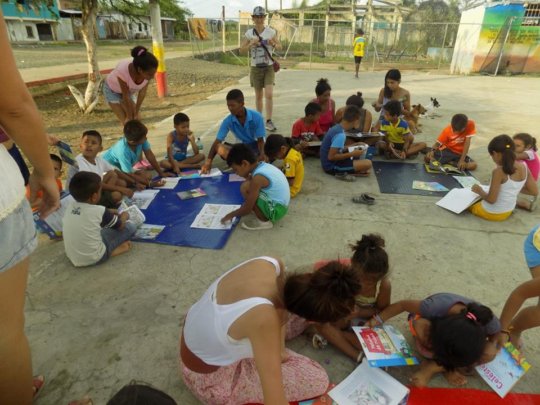 Since the Earthquake last April, Clara Luna has been involved in relief and recovery of the affected areas. We have focused our attention primarily on children, because that is our specialty. For months and months, we worked in shelters providing children's programs to the kids. Many of them were not attending school because their schools had been destroyed. If they were attending school, they had no extracurricular activities outside of school in the shelters. A majority of people were living in shelters until August, today nearly a year after, some people are still in shelters. After many people moved out of the shelter there was still a dire need to provide childrens programs in the area since many of these programs no longer existed.
Clara Luna developed a way to continue providing children's programs in the affected areas with its mobile libraries. Throughout our work in the shelters, we were able to identify key community members who would be able to lead the mobile libraries. Because there is no physical space to work, working with key community leaders was essential. These people would then be responsible for holding children's activities and free reading time for the kids in their community, while Clara Luna could not be present. For example, this person would bring books and materials to the park every Tuesday at 4pm to work with a group of children.
In February, we had all the details finalized of the project and held a two day training for the community members who would be in charge of our mobile libraries or what we call "Cuentos en la Plaza". Members from six communities of the affected areas from the earthquake participated in the workshop where they learned better techniques to work with children, how children cope with trauma (the earthquake), why reading and art is important for children, the how to's of "cuentos en la plaza", and how to evaluate the project and it's success. At the completion of the training each community member received a donation from Clara Luna of 106 books and some materials for the crafts. Now, these leaders are working in their communities weekly with the children affected by the earthquake.
We would not have been able to find these community leaders, do this training, or give these donations to deserving communities if it wasn't for your support. Thank you for believing in Clara Luna and it's mission to provide children's programs to them most deserving of children in Ecuador.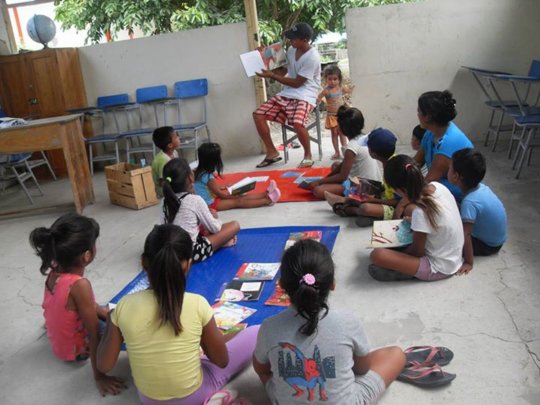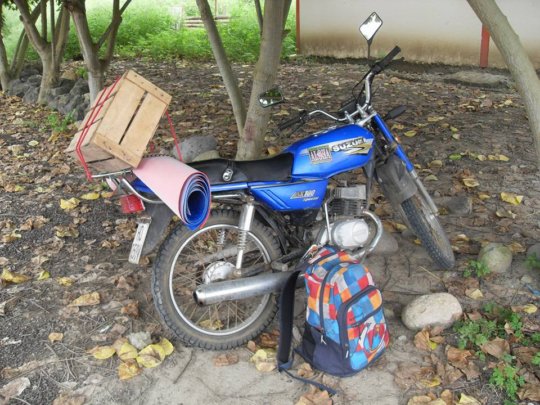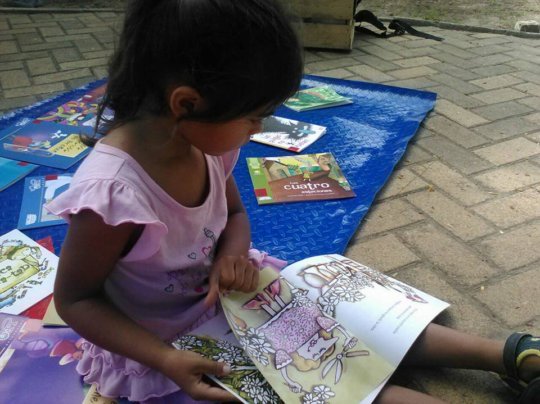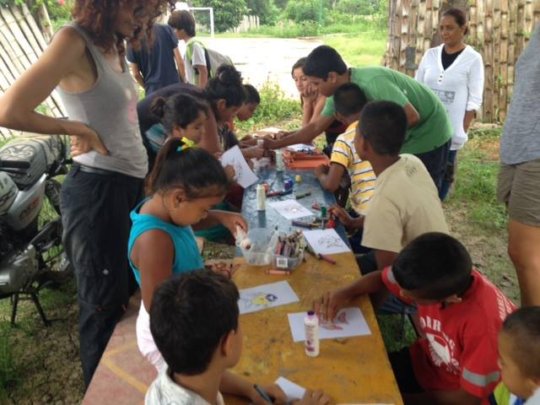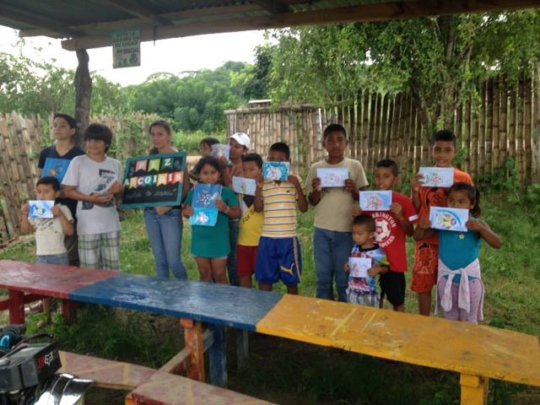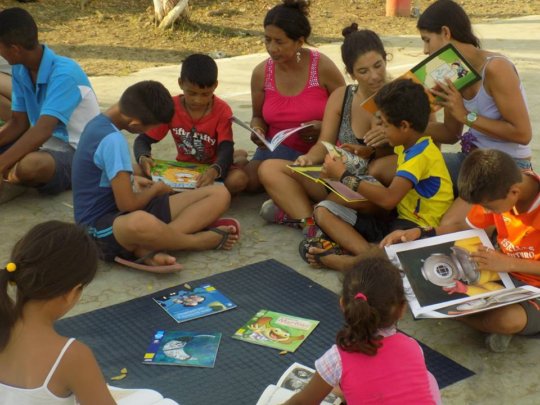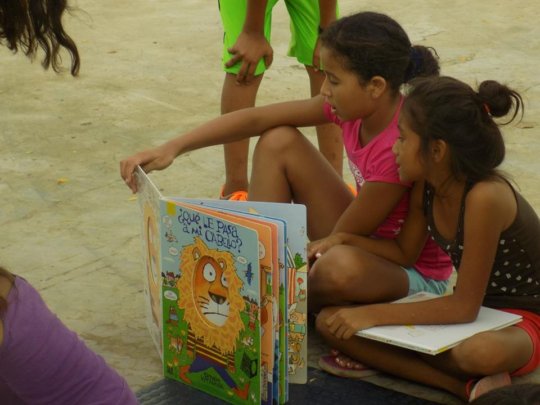 We are currently in our fifth week of vacation courses at Clara Luna with the youth of Puerto Lopez. Each day during the week, we have a different club ranging from music, dance, eco-club, journalism, mural painting, recycled art, and more.
In this report we will do a feature on two clubs, Journalism and Mural Painting.
Teaching journalism club is Valeria Saenz, a former journalist in Ecuador. At the end of eight weeks, the students will have put together a blog each with their own piece complete with photos to share with the community of Puerto Lopez. This past week, we had a special guest in journalism club, Daniel Zapata who is a professional photographer. He brought his equipment to teach the students how to take photos for their articles. The students were thrilled to use professional cameras and take stupendous photos for their final blog posts.
Mural painting club is taught by Sheyla Cobos. She has painted murals around nearly all of Puerto Lopez and was the perfect teacher for this class. In the first couple weeks, the students learned about murals and what they consist of. Then they came up with personal ideas of what they would like to put in a mural in Puerto Lopez. We then combined a majority of these ideas into one mural. We then had the task to go find the perfect wall to paint in Puerto Lopez and that was right outside one of the high schools. Two weeks ago, the students started painting the mural and are still working on the finishing touches.
These vacation courses are serving their purpose by giving youth in Puerto Lopez activities to do during their vacation and keeping them involved. These courses would have been impossible without your help. So thank you, and know you are making a difference in many youth of Puerto Lopez.
After the Christmas and New Year holidays, the activities return on January 10th with the English courses for the Rabbits and the Butterflies levels, and a little later for the Tigers. The "Language exchange" returned as well, which was welcomed warmly by the new volunteers, whom have little knowledge of Spanish. "Club de Ninos" is very popular and the attendance is growing every week. We had 38 kids participate in the "Pirate" theme activity. They all made pirate's hats, eyes patches and participated in a treasure hunt. The monthly themes varies based on the books they are reading. The past month the kids have made a lion's head mask, a big birthday cake, and a bird in a nest. During club de niños they also play outside for a game or two. All this, of course, after 30 minutes of reading. The new "Club de Jovenes" is having a lot of success. About 20 teenagers meet at Clara Luna every Saturday morning. "Cuentas in la Plaza" happens every two weeks. Many children and families playing in the park are interested and come to read a book or two.

For the first time Puerto Lopez had the "Feria Algarroba" from January 21-22 on the "malecon" or boardwalk. Clara Luna had a stand and offered different activities for the kids, such as reading, face painting, a puppet show, and storytelling by Paola and some of the kids. Valeria and Arturo, friends of Clara Luna, entertained the children with songs.

The last week of January, Paola and three volunteers went to visit 3 villages touched by earthquakes last April. This is a visit that Clara Luna has committed to doing monthly since the earthquake. The children had a rare occasion to read, draw, hear storytelling and watch a puppet show named "La Gallinita Roja" played by the volunteers. The children appreciated the show and laughed a lot when the curtain accidentally play fell down revealing all of the puppets and actors. This incident could be used again for the next shows, it's a guaranteed success for laughs.

Here we are , January is over and we are going into February with thrilling programs and busier than ever!
WARNING: Javascript is currently disabled or is not available in your browser. GlobalGiving makes extensive use of Javascript and will not function properly with Javascript disabled.
Please enable Javascript
and refresh this page.