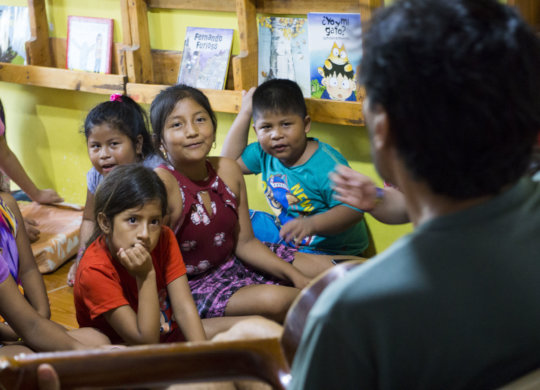 Throughout January, the kids from "Club de niños" read many books from Dr. Seuss. They loved listening to the rhymes and completed them by themselves. The stories "Huevos Verdes con Jamón", "Yoruga la Tortuga", "Gertrudis Paz", "El Gran Fanfarrón", "Loráx" and others made us laugh and also learn how to be happy with ourselves.we went twice to San Jacinto, a district of Puerto López for our event "Cuentos en la plaza". We brought the library to the kids of this district and also performed the muppet show "La princesa vestida con una bolsa de papel" again. It was amazing to see how fascinated the children were by watching the smart princess tricking the dangerous dragon. The second time we went there, we focused on the stories of Anthony Brown. Finally everyone drew his main character, the kind gorilla Willy.
For the month of February, the children were very enthusiastic and engaged with the themes like dark matter, humans' internal GPS to direct us through places, Goodall's chimps, and Curie's radioactivity. We wrapped up the month's theme with a vote for "Clara Luna's Woman of Science 2020", and the winner was Jane Goodall with a strong lead over the others. February was a month full of ingenuity, leaving us with a learning experience on how lovely it is to share with others what we have, as well as what we know.
The month of March at Clara Luna began with something new: a large group of volunteers traveled from Quebec to lend us a hand. They arrived with the goal to improve upon their Spanish and themselves, and went to live with families in Puerto Lopez for a total change of life: new family, new culture.
The beginning of the month was full of emotions, dances and events. Unfortunately, the global pandemic reached Puerto Lopez and forced us to cancel the Olympic Games and close Clara Luna's doors. The volunteers from Quebec were the first to leave Puerto Lopez for their country. Maddie, our Peace Corps volunteer, was repatriated to the United States, as was Franka, our German volunteer. What a shame they didn't have the time or opportunity to say goodbye to the children... Annabel, the French volunteer doing her civic service, was able to choose to stay at Clara Luna, in the hope of being able to return to work for the association "as soon as possible". The quarantine was declared on March 17th and all public places were immediately closed.
Clara Luna, like many others, was very disappointed with this devastating news. But we all keep in touch with the volunteers and look for solutions so that we can continue our activities. It was very difficult to have to cancel our events, close our doors and separate ourselves from our dear volunteers, but we do not lose hope or motivation.