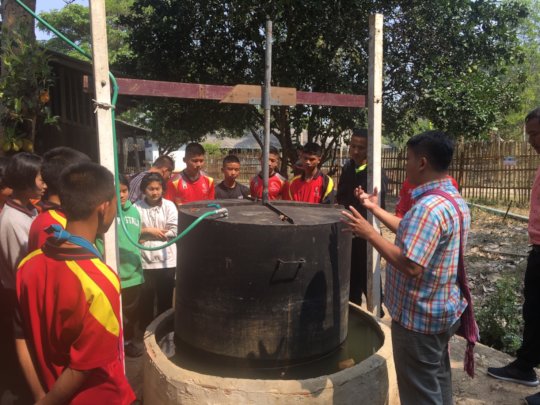 Dear donors and all readers
We are happy to show the recent progress in the project you are making possible. The advances come from training communities and collaborating with several organizations especially National Innovative Agency (NIA) that shared us more of good practices. In the past months, our work has expanded and new partnerships have grown.
In late 2018, when this GlobalGiving project was getting underway, the headmaster and a group of students at Mae Lamung Wittaya School, Umphang district, Tak province became enthusiastic about the innovations they heard from CCF. It was a natural fit to the school's climate change and alternative energy activities. As a result, the school contributed its own budget of $350 to build a biogas plant with in-kind helps from its community. It took only 2 days to finish one biogas plant.
Before building this biogas plant, the school needed to use some 33 kilograms of Liquefied Petroleum Gas (LPG) per week for cooking, which costed around $113 per month. At present, the school can produce biogas for cooking every day. This can reduce the expenses of LPG for 25% or $28 per month. The headmaster informed that the school would use this saved money to improve its educational quality, such as buying educational equipment for the school's science lab.
In addition, the biogas can solve some 10 to 15 kilograms leftover food problems each day, which caused bad smells and ruined the learning environment. Now, the leftover food has become important raw materials for the biogas plant. The school can convert some 10 – 15 kilograms of waste food to become two cubic meters, equal to 0.92 kilograms of LPG or $0.94 per day.
The results are very encouraging to both teachers and students. It is unbelievable to them that they could change the waste food to be very useful energy. They have learned how to recycle unused things to become valuable. This success also inspires the surrounding communities to look for an alternative energy.
Under CCF's GlobalGiving biogas project, we are to work with others to implement, monitor and advocate non-collecting firewood, reducing pollution, and sustainable energy production.
Thank you so much for your caring,