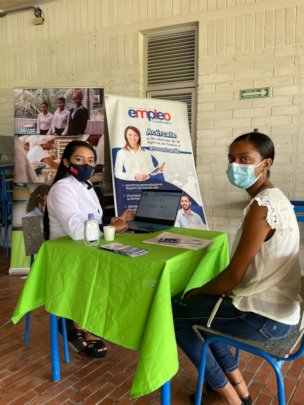 Before the crisis generated by COVID19, Colombia had a poverty of 26.9% of the population. The effect of the pandemic will raise poverty in the country to 38%, which translates into around 5.6 million new people entering poverty. 19 million Colombians living in multidimensional poverty.
Effects of the pandemic on our adolescent mothers
In addition to the situations of extreme poverty, exclusion, biological, human and social vulnerability experienced by our adolescent mothers, we identify others such as:
Increased suicidal ideation
Domestic violence
Depression
Food insecurity
By not having a "safe territory" to attend to every day, a feeling of abandonment and hopelessness has been unleashed. In the Foundation they not only find the fundamental psychosocial care to create sustainable life projects, quality technical education, education in values, citizen awareness, the importance of the maternal role, the affective bond between mother and child, among other educational opportunities and job inclusion but also they find love, respect, and a safe place where they can develop their full human potential.
Now more than ever it is essential to invest in the comprehensive empowerment of women in order to repair the social disasters triggered by the pandemic.
SUSTAINABLE SOCIAL AND LABOR INCLUSION
More and better job opportunities in today's new market.
Due to the health crisis and the social crisis in the country, the Employment and Entrepreneurship Office has been affected in the workplace with fewer job opportunities for our adolescent mothers, Therefore, our mothers receive training courses and empowerment workshops according to the new job opportunities offered by the current market. We guarantee the participation of graduates in our training offer through flexible models and we have created other necessary spaces related to psychological support for those graduates who have presented emotional and family problems as a result of the pandemic.
During the months of June-September we have achieved:
We are generators of female labor
a) Jobs managed: 143
b) Permanent jobs: 86
c) Temporary jobs 36
d) Own management jobs: 12
We identified 130 job opportunities.
We manage 143 jobs, of which 130 adolescent mothers have worked in different jobs as kitchen assistants, waitresses, sales consultants, bakery assistants, cashiers, operators, therapists, bartenders, waitresses, stylists, receptionists, among others.
We carried out the Labor Closet for the second time in Cartagena, 237 adolescent mothers graduates had the possibility of acquiring ideal pieces to look effective in their work environment.
We achieved 100 new alliances with companies such as: Patprimo, D1 Stores, Hotel Casino Atlantic, Da Pietro Restaurant, Bakery By Gaga, Megatiendas, among others. • We are committed to our mothers and their employers, strengthening capacities for the new labor market, for this reason, the OEE has carried out 240 job follow-ups.
We adapt to the new job market and continue to strengthen the skills of our adolescent graduates (we have carried out 19 strengthening workshops and 5 empowerment courses)
We held the Business Breakfast for the strengthening and generation of alliances and we had the participation of 16 companies.
We had the participation of 12 companies in our job fair where they announced the vacancies available to employ mothers of Juanfe