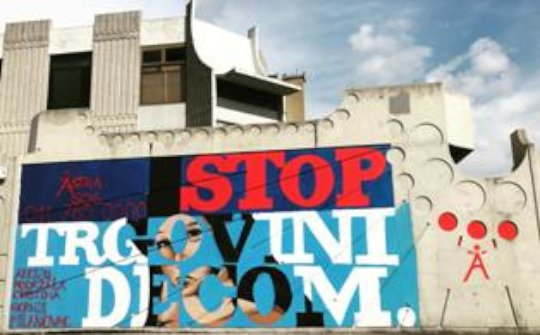 Ana contacted ASTRA in July 2018 and ask for help. Her story is shocking: she was still a girl of 13 when she was sold for the first time by her family for a forced marriage, to a family in a foreign country. She was in addition exposed to sexual abuse, psychological and physical violence by other family members and their friends, and during the several years of exploitation, she was forced into begging. She was never able and too frightened to talk to anyone. She was ashamed and thought that she is worthless: "...I thought that I was guilty and that I deserve it, it became my way of life, didn't know for any better..."
After several years of starving and fighting for bare life, she managed by the occasion to escape the torture she had gone through. She met Bojan, a young man who was also a victim of trafficking. Together, Ana and Bojan, becoming her husband, managed to escape. They returned with their children in Serbia. But this was not the end of their suffers.
Upon return, Ana reported her case to the police. When she and her husband tried to apply for assistance at the social welfare center, an institution in charge of providing long-term assistance to victims, they were thrown out of the office! And then Ana found ASTRA.
ASTRA immediately provided food and hygiene packages and clothes to Ana's family and their children. In addition, ASTRA then contacted local Red Cross to arrange other assistance such as soup kitchen. Another obstacle – Red Cross was not permitted to include Ana's family on the list of beneficiaries without the assessment of the social welfare center! ASTRA's case manager complained to the National Center for Protection of Victims of Trafficking, and the local center for social welfare finally scheduled an assessment meeting with Ana's family. When they came, they were told to come the day after. ASTRA's case manager then accompanied Ana's family to the social welfare center in order to prevent further victimization and maltreatment. In spite of the interventions from a Center for human trafficking victims protection, the social welfare center did not contact Ana's family for several months! Finally, Ana got one-time assistance -it took six almost months from the first contact with the public social welfare center until this family received even one-time assistance and entitled long-term financial assistance.
Half a year without an answer and any assistance by a public institution – imagine how long is this period for someone who has survived human trafficking and who is not yet integrated into society, who is unemployed and have no basic means for the living! What is the possibility of reintegration of victims of trafficking in human beings, when the social protection system does not recognize the urgency of the situation or when the basic needs of the users are not met? Ana told us: " I cannot think of what could happen to my children if you didn't help us. We were starving. You returned my hope for life." This is motivation to us to continue our work and never to give up! Each little step in this process, every little victory and every assistance is important to change someone life for the better!
Many nice things happened in the previous period:
We are proud to tell you that ASTRA and her employee, Ms Ivana Radovic received the US State Department Trafficking in Person (TIP) report as the Hero of 2018!. This is the first time that this award comes to Serbia, and we would like to thank you all for your support!
On the national level, ASTRA SOS Hotline received the license for the National SOS phone from the Ministry of Labor, Employment, Veterans' Affairs and Social Affairs of Serbia. This is the first and the only licensed, free of charge Hotline for victims of trafficking in Serbia. A little shadow on this success is that the Hotline expenses will not be supported by the national budget for a while.
In cooperation with partners in local communities and artists, ASTRA organized the "Painting the Freedom" campaign aimed at informing as many citizens in local communities, about various forms of trafficking in human beings that everyone can be exposed to. Art caravan went to the cities of Gornji Milanovac, Zrenjanin, Cacak, Kraljevo and Belgrade.
ASTRA organized a seminar "Trafficking in human beings - a complex trauma. A review of the complex relationship between victims (survivors) and caregivers" where 10 direct collaborators, were exchanging experience and examples of practice related to working with clients who survived trafficking, discussed on the various and innovative ways of supporting victims and on the prevention of secondary victimization. It was important to list the good practices and see that ASTRA initiative led to some positive steps in victim's protection and respect of their right. Bad practices, on the other hand, are reminding us what else in the system does not work and what we can do to find a solution.
Without your support, many Ana and Bojan would not succeed! Thank you for being a part of the change, making a life better for someone who survives human trafficking. Stay with ASTRA and follow our actions!
Links: