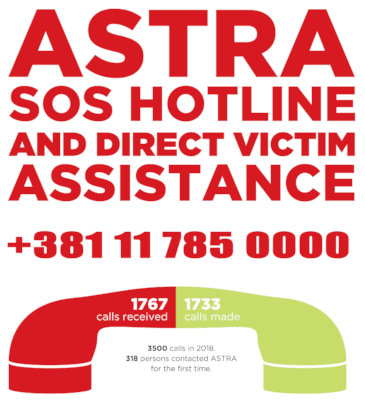 ''I thought that offenders should be brought to justice, but even though he and his collaborators committed a serious crime, they escaped justice without any satisfactory punishment. This is so devastating for me, '' said ASTRA beneficiary.
This strong feeling of injustice and helplessness that have overwhelmed the survivor of human trafficking overlaps with the trend that occurs in criminal cases in the last few years. There has been an increase in the number of pre-qualification of the criminal offense of trafficking in human beings, to mediation in prostitution, or the increase of the plea agreement that the prosecutor's office arranges with traffickers, which gives them lower penalties. The victim is treated as a person who voluntarily engages in prostitution, not someone who was exploited and forced into prostitution, whose rights were seriously violated, who still suffers from the consequences of those traumatic experience. Victims are exhausted through the whole procedure, they are re-victimized by passing through the system of social protection and judicial procedures as at the end, the justice is not achievable for the survivors.
In addition, compensation for victims of trafficking in human beings remains an unresolved problem, as a property claim in the criminal proceedings is not used. Instead, the victims are referred by the decision of the first-instance criminal court to seek compensation in civil proceedings which is expensive, long-lasting procedure and is a further trauma for them. Since 2003, when human trafficking was introduced into Serbian criminal code, only 3 judgments for compensation for victims of trafficking were awarded, with only one implemented in practice.
ASTRA client, presented above, said that she doesn't want to lose a few more years in another court process. According to her, offenders cannot compensate for what they've taken away from her and ''what they did is unforgivable, but the state let them with almost no consequences, so I do not have time for one more letdown '. She gave up on further prosecution in the lawsuit.
ASTRA strongly advocate and push institutions to adopt the practice of judges' deciding about compensation in the criminal procedures, even partially, and introducing the Fund for Victims of Violent Crimes which would be able to respond immediately to the needs of the victim.
Donate and support our beneficiaries who have suffered a lot. Make a difference for them, help us to provide them continuously with legal assistance, to get back to school, to ensure job training, medical help, etc. Let's make someone's day/week/month or a year a significantly easier and better.
Links: