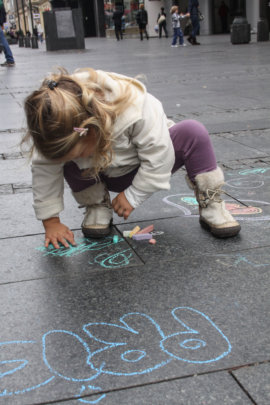 At the beginning of each year, we look back at the last year, to our achievements and lessons we learned in order to make a plan for the following year. So far, the biggest number of calls referred to European number for missing children was in regards to runaways and un-accompanied children. Out of 33 reports that we received in 2016, in 22 cases children were found, while the others are still missing. In 2016 we received the highest number of calls so far, which shows that this number is being recognized by institutions and citizens as a relevant number.
Anyone who works on the SOS line, especially on the line for missing children, knows that those are not just numbers, but stories and human destinies.
In 2 cases a report about possible victim of human trafficking came through European number for missing children 116000 in Serbia where institutions and associates called us to report the missing child who they suspected to be a victim of human trafficking.
In one case, a social worker called us to report the missing of a 15 year old girl, who she suspected could be a victim of human trafficking for the purpose of forced marriage.
In our line of work we learned that stories often start the same: a girl meets a boy, and a boy meets a girl. She thinks she was in love and everything is great at the beginning. Until, it is not anymore…
As the mother of the girl told the social worker, she feared that the family of the boy the girl was with could take her abroad and exploit her there. Mother feared it could happen any day soon, so she urged for the assistance. She did not know the exact address, but she knew in which part of the city they could be.
Social worker suggested that besides contacting the police, she contacts ASTRA as well through line for missing children, which she accepted instantly. In cooperation with social worker, we responded quickly and informed all other institutions in order to find the girl as fast as possible.
The police was informed and local social welfare centre was also involved in order to prevent any possible exploitation. In a matter of a day, the girl was found, safe and sound and she was reunited with her family.
- "Thank you for reacting so promptly and for helping find my daughter. She is fine now. If she left, I fear we would never see her again. I can't even imagine that", said the mother when she contacted us.
Finding a child is always a priority and it asks for instant reaction of all relevant actors, institutions and the community in general.
Your support matters to us and it matters to children. We thank you for it.