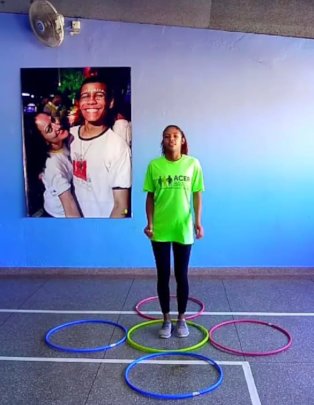 Even during this quarantine period, we have been trying to make students continue to practice activities, even in social isolation. Videos and lives are made on social networks with physical and fitness exercises, motor coordination, displacement, game rules, among others. One of the main activities is Rugby, which is very important because it has contributed to the development of several children and young people.
Emilly, 17, is one of the youth monitors and keen rugby player who is recording the exercises so that students do not lose the habit of excercising and she told us a little about how the routine is going on in this pandemic: "Classes are being held through video calls and postings of exercises performed by us, on social networks. We can say that it is a bit still, the students are not participating as much as expected, but we are keeping the content up to date. At first, I had a little difficulty because I didn't have that much ease with these recording things and because of the space too. As we are in a difficult moment, I hope that when everything improves, our classes will grow more and more, after all, many students always ask when we will return with the face-to-face activities. ACER has contributed to the performance of these children and young people, maintaining the dynamics of the students, at home we stand still, often doing nothing, with our classes we are giving content to them, some of our students have even sent videos running the activities that we went through. And so, our work is making good progress, even in quarantine."
Despite all this, there are some limitations, as not everyone can access the digital platforms where the class takes place remotely, which is a problem we faced during this period. Even so, Rugby transforms young people and children who may not have the opportunity to develop sports skills. The expectation is that all this will pass soon, that we can learn a lot from it and so that we can return to activities, with an even greater number of young people participating in the classes.