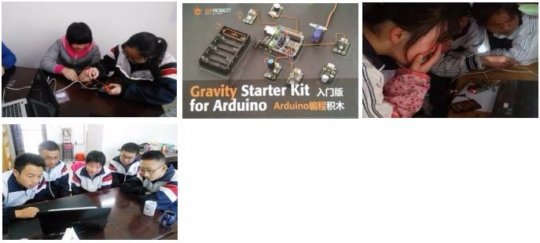 Here is from a volunteer, Vicky who wants to share some episodes that she observed since the DFRobot kit swap initiative project was arranged, and materials delivered to schools a couple of months ago.
"Long Lingzhi is a freshman student from Kaili No.1 high school and she contacted the teacher of this project Yangqing to join this project. Her goal is to create a smart flowerpot after learning all of tutorials and the sensor. As Long Lingzhi commented, the project gave her a chance to access sensors and infrared ray that seems really high-tech for them at young age. When she went past the makerspace and see what students were doing, she immediately applied for it.
Yangshen was a teammate of Long Lingzhi . He wished to become a robot when he was a kid. After he realized that programming is the core of robot, he started working on programming. He mentioned that computing skills are so critical in current world and he felt proud that he successfully persuaded his parents to buy a computer so that he could start self-learning.
Yangshen and Long Lingzhi, like most of their teammate joining the kit swap initiative project in Kaili No.1 High school, had strong interests and passion in STEM and hands-on projects. But so far, these students in rural high school in China, were challenged by the lack of resources like summer STEM camp, tutorials and STEM kits and the heavy academic workload for students
However, there are observable hope from the DFRoBot kit swap initiative projects. Teachers have devoted their personal time tutoring students over 4 hours per week without extra payoff. The first kit is passed down from one student's hand to another and first screen is read by a crowd of students. Despite absence of compliments, teachers and students who joined DFRobot kit swap initiative project, expressed their joy and fulfillment in the past three months.
Vicky felt the same senses of satisfaction and accomplishment when teachers shared with her about their students' brilliant ideas. She got the same happiness and passion when seeing students testing on their own hands-on project and the Aha moments that the light bulb turned on. This project is a great chance to allow teachers and students explore new possibility of life from their own interest and passion. It is like a soft summer breeze that re-energize students in coping with new learning and extreme pressure from Gaokao (Matriculation Exam) in rural China.
Vicky hopes, step by step, more and more youths in rural China will have assess to the same kits, same tutorials and maybe same STEM camp that urban youths have."