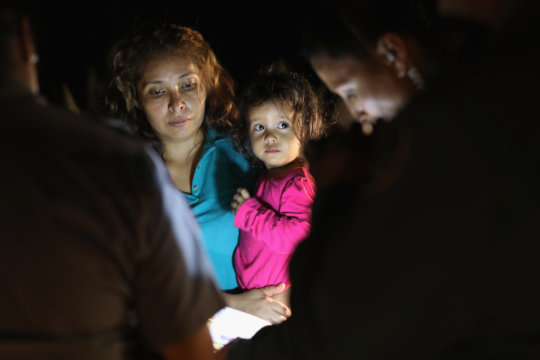 Crossing an international border to seek asylum is legal and enshrined in domestic and international law. International refugee protection law—which the U.S. led efforts to develop in the wake of World War II—recognizes the reality that refugees fleeing persecution are often not in a position to pursue regular channels of immigration, and therefore prohibits states from penalizing asylum seekers for their manner of entry. The U.S. is bound by these international treaty obligations.
The Executive Order signed on June 20th, World Refugee Day, is not a solution for families seeking much-needed asylum and does nothing to reunite the thousands of children who have already been separated from their parents at the border. The administration is replacing one form of cruelty with another.
The executive order continues the disturbing criminalization of asylum, in a break with the very treaty obligations the United States helped craft after WWII. It proposes detaining children and their families for the length of their proceedings—which can often take many months or over a year—despite obligations to release children promptly.
Those fleeing severe domestic violence, gang-related violence, or other forms of persecution perpetrated by non-state actors in Central America have the legal right to have their asylum cases heard without being criminalized or separated from their children.
IRC continues to urge the Administration and Congress to reverse course on numerous, troubling erosions to long-standing, bi-partisan protections. Central American children, and their families, have suffered enough.
IRC staff in El Salvador have witnessed first-hand the acute vulnerabilities and protection needs of those who are forced to flee and seek safety in the United States. Families seeking asylum in the U.S. from the Northern Triangle are doing so because they have exhausted all other safe options and are in need of protection. The Administration's family separation policy won't change that fact.
In response to tremendous levels of violence and critical protection needs, IRC returned to El Salvador last year. The International Rescue Committee works with the government to improve quality of and access programs and services for people in need; the IRC provides emergency cash relief and lifesaving information services to people in El Salvador who have been uprooted by growing violence.
Links: