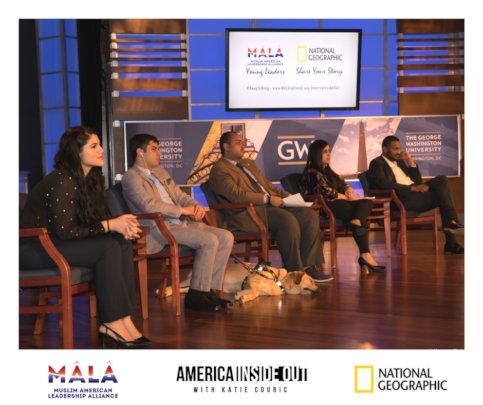 On April 11, MALA hosted a pre-air screening of "The Muslim Next Door," an episode in Katie Couric's National Geographic docuseries, AMERICA INSIDE OUT, which premiered on the National Geographic Channel on April 11, 2018. In the series, Couric travels to dozens of cities across North America — from Freemont, Nebraska, to Montgomery, Alabama, to talk with hundreds of people to get an inside look at pressing social issues.
In this episode, Couric explored the stories of Muslim Americans in today's America. MALA hosted the screening at the beautiful Jack Mortom Auditorium on the campus of George Washington University in Washington, DC.
The screening was followed by an impressive panel of young Muslim American leaders, who shared their own experiences as "the Muslim next door." These included Laurel, the first-place recipient of MALA's Muslim American Journeys Scholarship competition, and MALA storyteller Sadaf, who is also a Postdoctoral Research Associate at Princeton University. The remaining panelists were a Herbert Scoville Jr. Peace Fellow at the Truman Center for National Policy, and the President of The African Middle Eastern Leadership Project. The panel was moderated by MALA's Deputy Director.
After the screening, MALA announced a drive inspired by the episode to continue to spotlight and amplify Muslim American voices through storytelling and to elevate public dialogue on Muslim-American identity in the 21st Century. Selected stories were shared by MALA and National Geographic, and included:
Aamir: Shanti and Salaam: "I was once asked, "What was your first memory of religion?" Being an American-born Indian Muslim having grown up near New York City, you might expect me to say "9/11." However, my first memory relates to the interplay between Hinduism and Islam, two of the biggest faith traditions among South Asians..."
Hibaq: My American Journey: "As I stare into my mother's eyes, I can see the misery.I looked at her arm, the scars are as visible as the stars in the dark night. I ask her how the scars appeared on her soft and beautiful skin. She reminds me of where she came from..."
Lina: A Muslim Ethiopian American's Journey to Success: "Being a young woman who happens to be of an African-American descent and of the Muslim faith, I feel that I incorporate diversity on a daily basis of life. The fact that I am able to go ahead and pray in my local mosque in Richardson, Texas, and also volunteer in the Ethiopian community center within the same day speaks volumes about the cultural diversity within America."
We are proud that these heartfelt stories have gone into our Muslim American Journeys collection. Thank you to our GlobalGiving family for your warm support and participation - you make this possible!