Christmas is just around the corner and the migrant workers are returning to the Hoedspruit area in Limpopo, South Africa to start harvesting mangoes for the season. This is Hlokomela's busiest time of the year and a great opportunity to reach vulnerable women to educate them about breast and cervical cancer. Thanks to your generous donations through GlobalGiving, we can carry on with this life saving work!
Wellness Day
On October 20, 2017 Hlokomela, in conjunction with the Hoedspruit Rotary Club, held a Family Wellness Day in Hoedspruit town. Here our Women's Clinic offered breast examinations to women taking part in the day. We managed to screen 44 women and 2 men. Out of the 44, 10 were referred to the clinic for breast ultrasounds. The day was amazing and a wonderful opportunity to create awareness.
Stats
Every month that passes proves to increase the number of women being screened for breast cancer. Women from all walks of life are making use of our facility and are being referred to us from other institutions. We aim to provide a screening service to any woman who needs it. We aim to be sustainable, in order to become sustainable we have implemented a small fee-for-service to women outside of our clinic patient demographics. This has proven to open the door to a much wider number of women in and around our community. We scanned 156 women for breast abnormalities from August 1 to November 1, 2017. Out of the 156, we had 14 patients with some sort of breast pathology. During this period there were no confirmed malignancies.
Sex workers educated about breast and cervical cancer
During September we had a workshop for sex workers about breast and cervical cancer. These women are at a higher risk of developing these cancers due to their HIV status. They were very interested in the information shared and went back to their communities to share the knowledge as well as to show fellow sex workers how to do breast self examination.
Coming up
We are also very excited about possibly expanding our scope to introduce more screening options for women in the near future, such as 4D scans.
Thank you so much for making this vital service possible with all your generous donations!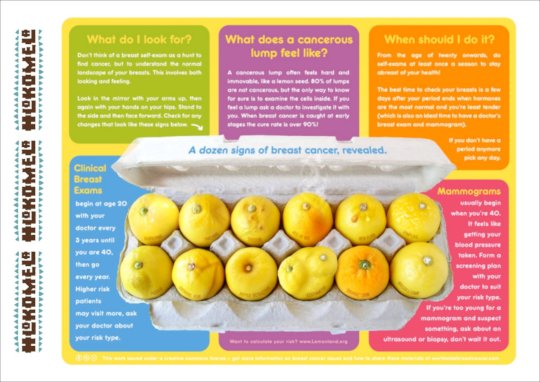 Links:
Wow I can't believe how time flies! So much has happened during the past 3 months at Hlokomela Women's Clinic! And the GlobalGiving community has helped us so much to achieve these goals.
Ultrasound training at Helen Joseph Hospital
I spent a week at the Helen Joseph Hospital's Mammography Department in June where I worked and received highly valuable training. Dr Su Lucas and the Tshemba Foundation made this possible. I worked with some of the country's finest sonographers and radiologists. I was able to gain hands on experience on ultrasound and mammography methods and was exposed to a large number of malignant findings. I was able to assist in doing some core biopsies of possible malignancies also. During this time I realised just how un-biased cancer is. During my time in this department, I witnessed cancer being found in 5 different women, from 5 different age groups as well as different ethnic groups. This strengthened the importance of early detection and just confirmed the importance of what we do at the Hlokomela Women's Clinic. Teaching self-examination has become one of our core educational tools. If you know your breast, you will know when something is not right.
Student volunteer
We have been fortunate to have Megan Hadley work with us during July. Megan has just completed her first year of Medicine at the Johns Hopkins University in Baltimore Maryland, USA. Megan works under the mentorship of Dr Susan Harvey, who heads the Mammography Department at the University. Megan's main objective at Hlokomela was to improve and implement patient record and tracing systems within the women's clinic. She did a very good job and implementation of the systems she created has already improved our operations.
Officially opened!
The Women's Clinic was officially opened on July 7, 2017. Although the clinic has been in operation for some time before, we had a small function with a beautiful ribbon cutting.
Stats
Since May 8, 2017 we have seen 67 women for breast ultrasound screening, of whom approximately 80% are on anti-retroviral treatment and are at a higher risk of developing breast pathology than any given HIV negative person.
Coming up
We are planning some awareness outreaches within our local communities during August in celebration of Women's Month! May we reach, educate and inspire many more women in the coming months.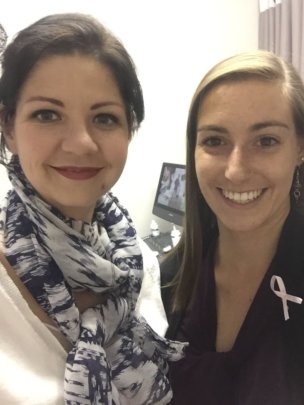 Links: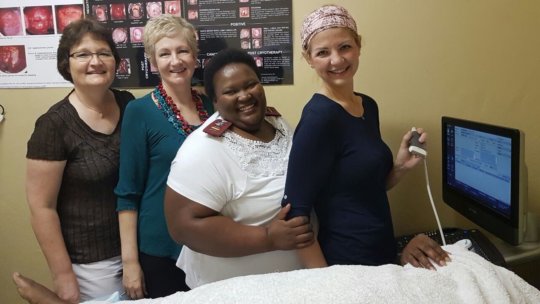 Firstly I would like to introduce myself. I'm Sonja Botha. I have been in nursing for the past 11 years. I have a passion for women's health and I am super excited to be involved in this life changing program. I started at Hlokomela on 19 April 2017 and will be responsible for the women's health facility. It's a privilege to report on the latest developments relating to breast cancer screening ultrasounds at Hlokomela in Hoedspruit, Limpopo, South Africa!
In May 2017 I started receiving sonography training from Dr Su Lucas (radiologist) specific to breasts, to enable me to effectively use the ultrasound unit, acquired with your donations through GlobalGiving, in the screening process. It has been a wonderful experience and I enjoy every moment of this amazing program. After I became involved with Hlokomela's women's health program, I realised that the need in our communities for this type of screening is huge. This program provides an essential service to people in a community where it was previously unavailable.
At Hlokomela's first open day on 5 May 2017, the brand new women's health clinic was introduced to the public. The facility is sponsored by the Tshemba Foundation. The building is situated behind the main wellness clinic and has 2 consultation rooms, a kitchen and a toilet. One of the consultation rooms is our dedicated ultrasound room where we will be doing breast cancer screening for all female patients. This would not be possible without you, our donors! We are investigating the option of making this a paid-for-service for those who can afford to pay, in order to generate some funds to make the project sustainable in the long run.
It is our mission to make this type of early detection screening accessible to each woman who enters our clinics. We have been screening women daily and Dr Su Lucas and I communicate regularly. As our referring doctor, she assists us in diagnosis and confirmations of findings. This enables us to manage follow-ups and refer patients if treatment / further action is required.
During the reporting period we did breast ultrasound scans for 22 patients, 3 of whom were referred to the doctor with abnormalities that were detected during the scan.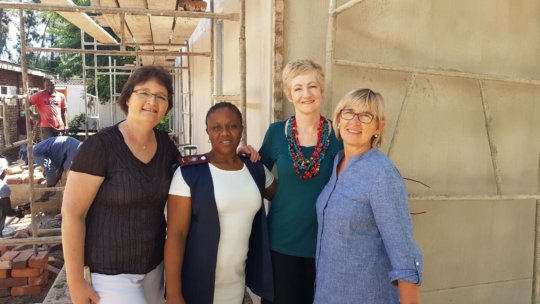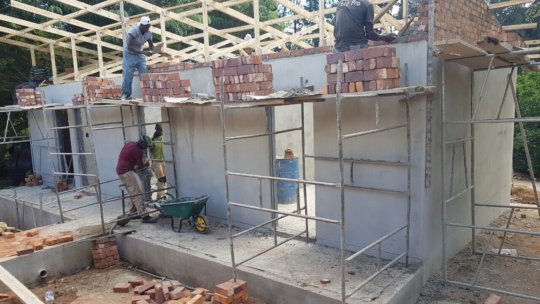 Links:
WARNING: Javascript is currently disabled or is not available in your browser. GlobalGiving makes extensive use of Javascript and will not function properly with Javascript disabled.
Please enable Javascript
and refresh this page.