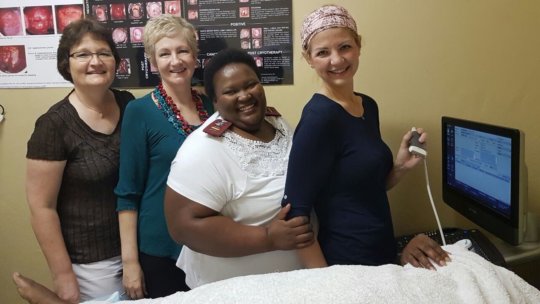 Firstly I would like to introduce myself. I'm Sonja Botha. I have been in nursing for the past 11 years. I have a passion for women's health and I am super excited to be involved in this life changing program. I started at Hlokomela on 19 April 2017 and will be responsible for the women's health facility. It's a privilege to report on the latest developments relating to breast cancer screening ultrasounds at Hlokomela in Hoedspruit, Limpopo, South Africa!
In May 2017 I started receiving sonography training from Dr Su Lucas (radiologist) specific to breasts, to enable me to effectively use the ultrasound unit, acquired with your donations through GlobalGiving, in the screening process. It has been a wonderful experience and I enjoy every moment of this amazing program. After I became involved with Hlokomela's women's health program, I realised that the need in our communities for this type of screening is huge. This program provides an essential service to people in a community where it was previously unavailable.
At Hlokomela's first open day on 5 May 2017, the brand new women's health clinic was introduced to the public. The facility is sponsored by the Tshemba Foundation. The building is situated behind the main wellness clinic and has 2 consultation rooms, a kitchen and a toilet. One of the consultation rooms is our dedicated ultrasound room where we will be doing breast cancer screening for all female patients. This would not be possible without you, our donors! We are investigating the option of making this a paid-for-service for those who can afford to pay, in order to generate some funds to make the project sustainable in the long run.
It is our mission to make this type of early detection screening accessible to each woman who enters our clinics. We have been screening women daily and Dr Su Lucas and I communicate regularly. As our referring doctor, she assists us in diagnosis and confirmations of findings. This enables us to manage follow-ups and refer patients if treatment / further action is required.
During the reporting period we did breast ultrasound scans for 22 patients, 3 of whom were referred to the doctor with abnormalities that were detected during the scan.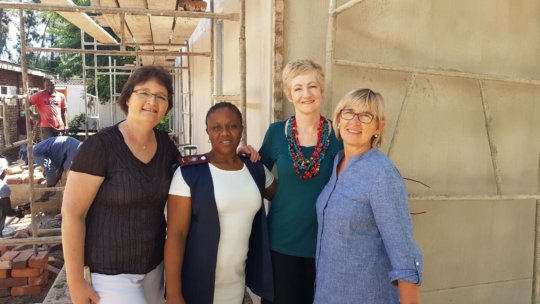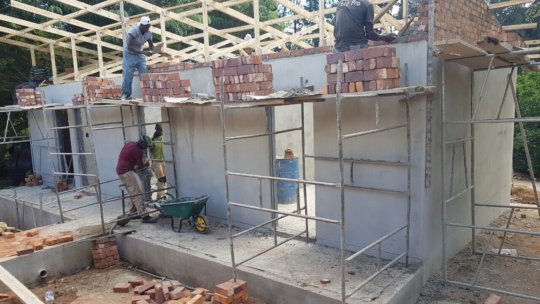 Links:
At last, our very own ultrasound machine!
First of all, thank you to you, our donors, for enabling us to take this project from strength to strength. Without your support none of the amazing achievements we've made so far would have been possible.
Breast cancer screening is now available at Hlokomela Clinic! This is exciting news for our area as women in this part of South Africa are often not diagnosed with breast cancer until it is too late to treat. More than 3000 women die every year in South Africa due to breast cancer.
During December we took a major leap forward with this project when our very own ultrasound machine, which we bought with GlobalGiving funds (your donations!), was delivered to Hlokomela Clinic. Tanya Reynolds, an application specialist at Malaika Medical and Dr Su Lucas, a radiologist from Chris Hani Baragwanath Hosptial in Johannesburg, trained our nurses on how to do breast examinations with the machine. The training was made possible through a partnership with Johns Hopkins University (Baltimore, USA) and the radiology department at Chris Hani Baragwanath Hospital and builds on training that our nurses received earlier this year.
Taking on breast cancer screening as another full time service offered at Hlokomela clinic is however asking a lot of nurses who are already booked back to back for consultations. Therefore we hope to add a dedicated women's health extension to the clinic. Here a dedicated nurse will do breast cancer as well as cervical cancer screening.
This is all very exciting for us at Hlokomela! GlobalGiving has indirectly given us the opportunity to work with different health and learning institutions on the very same project. What a wonderful added bonus this is to being part of the GG network! Currently, staff at Johns Hopkins University and Mount Sinai Hospital in New York are partnering on how they can send Hlokomela trained volunteers to help with the implementation of our women's health services.
We'll keep you up to date with all the exciting developments at Hlokomela!
Links:
Wow, providing breast cancer treatment for female farm workers has been a real learning curve for our nursing staff here at Hlokomela Clinic in Hoedspruit, South Africa! But it's been a journey that would not even be possible without you, our donors.
After the first round of ultrasound training for our Professional Nurses and Assistant Nurses in July, Dr Susan Harvey and two biomedical engineering students from Johns Hopkins University returned in August for a week of intensive theoretical and practical training. Sister Julies Moriri says: "The training was excellent but it felt like only one day because it was so intense. I look forward to the next training session".
In the meantime we are expecting delivery of the full sized ultrasound machine that we were able to buy with your donations. Dr Susan Lucas, Head of Clinical Unit: Breast Imaging at Chris Hani Baragwanath Academic Hospital in Johannesburg, South Africa will be at Hlokomela Clinic when the machine arrives and will be on staff twice a month to support our nurses with ongoing training.
Thank you once again for contributing to make such a huge difference in our vulnerable farm workers' lives! As it is a multi-purpose ultrasound machine that will be arriving at Hlokomela shortly, we hope that this project will one day also be used in obstetrics where it can be a point of care for improving pre-natal care and HIV treatment so that more babies are born HIV negative.
WARNING: Javascript is currently disabled or is not available in your browser. GlobalGiving makes extensive use of Javascript and will not function properly with Javascript disabled.
Please enable Javascript
and refresh this page.