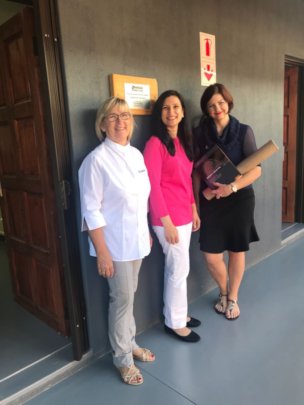 It's time for an update again, oh how time flies! A lot has happened during the past three months here at the Hlokomela Women's Clinic.
Our Ultrasound Nurse, Sonja Botha, attended two Ultrasound training courses in Johannesburg, Gauteng. She was trained in basic obstetric scanning as well as abdominal and pelvic scanning. A need for these kinds of examinations had been identified and we are proud to now offer this service also.
She is using her training daily and in this way improving on her skills and on the quality and spectrum of services we can provide to our patients. In May 2018 she will be attending a 4D training workshop. This will enable us to provide expectant mommies with beautiful images of their unborn babies. This will be a first for many patients!
Sadly, two patients were diagnosed with BIRADS 5* findings in their breasts! Both ladies in one week! They were sent to a referral hospital for biopsies. Results are currently pending. If it was not for the ultrasound services we provide, these pathologies would probably never have been detected, or probably only when it was much too late.
Dr Sarah Zeb, from Johns Hopkins Hospital in Baltimore USA, volunteered at the Hlokomela Women's Clinic during the month of April. She is a specialist in the field of breast imaging and ultrasound. Dr Zeb worked with Sonja and shared some of her knowledge and skills. This was a wonderful opportunity for our staff and a great experience to have Dr Zeb visit us. She also sponsored much needed teaching material which we are grateful for.
Thank you to you, our GlobalGiving family, for continuously making it possible for us to do what we do and save lives!
*When a radiologist interprets an ultrasound image, he or she assigns a score to it used to communicate with doctors about how concerned he or she is about the findings. Did anything look abnormal? How serious is the abnormality that was found? This and other information is efficiently summed up in one number, called the Breast Imaging Reporting and Data System (BI-RADS) score.
Links: