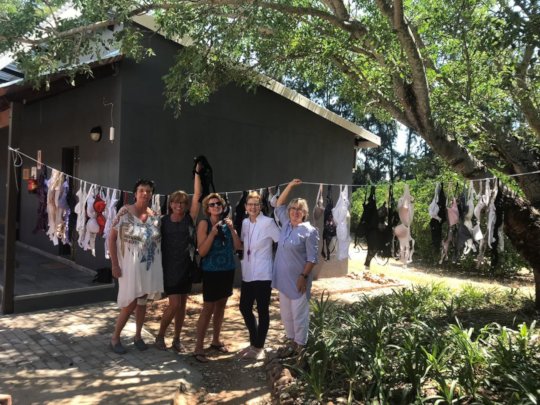 Hlokomela Women's Clinic is going from strength to strength and with the support of the GlobalGiving family, we are able to reach new heights, some of which I take pride in sharing with you today.
Bravolution Update
We are proud to say that we are receiving bra donations on a regular basis at Hlokomela Women's Clinic! We have been able to do fittings and give bras away to 10 patients since the project started. Very recently, some Brazilian visitors donated a whole washing line of new and used bras, over 300 of them!
We also plan to start an underwear drive in the near future, where people can donate new underwear to the vulnerable patients of the Hlokomela Women's Clinic. The need is so much greater than we can ever imagine!
A baby was born…
A huge part of what makes Hlokomela such a wonderful organisation is the ability of the staff to handle challenges. The personality of the organisation allows for people to grow, develop skills and with regular staff/team building events, we become equipped to deal with challenges and "out of the ordinary" situations as they arise.
In February one morning a woman (9 months pregnant and fully dilated) walked into the Hlokomela Clinic. Keep in mind that we do not offer maternity services as yet so this was not a regular event at all! The staff quickly assessed the patient and found that she was moments away from giving birth. With quick thinking, improvising and amazing teamwork, a little baby girl was born. Healthy and happy! This was truly a joyous day. Mommy and baby were taken to the Tintswalo Hospital with an ambulance for evaluation after the delivery.
Cancer patient receives treatment
During March, 3 patients were transported to the Helen Joseph Hospital for further testing and consultations with their doctors. One of our patients *Grace Ngobeni, came to the Women's Clinic in October 2018. She did not present with a significant mass but had a strange re-occurring nipple discharge. A slide was sent to the lab and low and behold, the results came back positive for carcinoma. After undergoing ultrasound, mammograms and numerous testing at the Helen Joseph Hospital in Johannesburg, she received her final results and it is indeed breast cancer. The staging and treatment plan is yet to be finalised. If not for the Breast Health Foundation, GlobalGiving, Rotary and the Tshemba Foundation, for making the work we do possible, this patient may never have been diagnosed.
*Grace Ngobeni is a pseudonym used to protect the identity of the patient.
In October 2018 a 4D scan was done on a 40-year-old pregnant woman. During our consultation, she disclosed that her doctor had ordered some blood tests to screen her unborn child for the possibility of Down's syndrome. This test is mostly indicated for women of advanced maternal age.
The blood test came back positive. The patient and her husband took the news badly. Although the blood test is just a screening and a definitive answer would only be obtained by means of an amniocentesis test, the family was nevertheless very distraught.
The risks of the amniocentesis procedure were weighed up and the family decided not to have the procedure done. Over the past few months, the patient visited the Hlokomela Women's Clinic for scans during which I also counselled her, tried to comfort her and gave her some facts and cleared myths about Down's syndrome.
By the end of her pregnancy, she felt ready and more equipped for raising a child with special needs.
On Monday 28th January 2019 this patient came to show off her precious little baby boy.
The final test results of the baby came in and this little boy it turns out was born without the extra chromosome that would have caused him to have Down's syndrome.
Keeping sex workers safe
At Hlokomela we are committed to providing good quality health care to sex workers. This is something we do without judgement or prejudice. Due to the high risk female sex workers face in developing cervical cancer, we focus on involving our Sex Work Project peer educators in keeping a database of referrals to the Women's Clinic. This helps assure that no sex worker misses her annual Pap smear. This also allows us to consult and provide treatment for Sexually Transmitted Infections (STIs), arrange Trauma Releasing Exercises (TRE) if needed and just give some emotional support. It also creates an environment where our women feel safe and comfortable to talk about their social or domestic problems, report abuse or just ask health related questions.
CANSA Shavathon – it's all for a good cause!
On Saturday 13 April 2019, Maruleng Auto in Hoedspruit in conjunction with Hlokomela hosted a CANSA Shavathon. This was held at the Maruleng Auto premises in Hoedspruit, Limpopo, South Africa. This is a drive that motivates people to get involved in supporting cancer awareness. By donating an amount of money, you can have your hair sprayed in different colours, or on a more serious note, you could have your hair shaved off. The hair then gets used to produce wigs for cancer patients who lose their hair due to chemo therapy.
On this day, Hlokomela Women's Clinic sold cupcakes as this was an opportunity to make the public aware of the work we do as an organisation. We also shared information about breast and cervical cancer. All the proceeds of the day were generously donated to the Hlokomela Women's Clinic.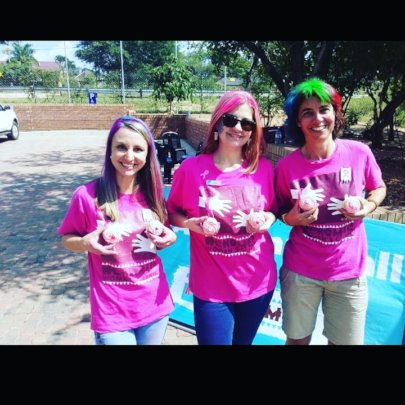 Links: