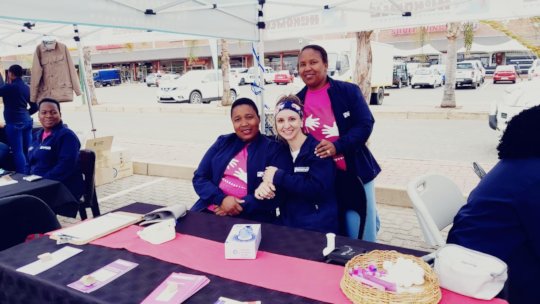 October is Breast Cancer awareness month
Every year the Hlokomela Women's Clinic works on full steam during October to raise awareness about breast cancer and this year is no different!
On October 4th Hlokomela had their annual General Meeting and open day. During this meeting school groups and tour groups visited the clinic. Talks on breast cancer as well as demonstrating self-breast examination was given to our guests!
October 5th was the Hlokomela Migrant Recreation day! During this day, the female farmworkers were shown how to do a self-breast examination and taught the signs and symptoms of breast cancer. Each lady received a bookmark with pictures illustrating Self Breast Examination. The main purpose of the day is to encourage good relationships between South Africans and migrants and to share health information with migrants and where they can access health services.
October 11th was Hlokomela and Rotary Hoedspruit's annual wellness day. On this day we offered free blood pressure testing, glucose testing, HIV testing, and malaria testing. Health education is given and nursing staff is available to answer health-related questions.
The Hlokomela Women's Clinic also has a stall at this event. Talks, training, and education was given to women on breast and cervical cancer. Free physical breast exams were conducted and educational material was handed out.
The month is not over yet and many more events are planned on which we will tell you all about in our next report!
Patient Feedback
During the month of August, a 57-year-old lady *Lebo, came into the Hlokomela Women's Clinic, complaining of large painful masses under her arms and upper chest. Some of the masses were also in her breast tissue. Thankfully at the time, the ladies from the "Pink Drive" were in Tzaneen, Limpopo Province. They contacted me and offered free mammograms to a max of 5 patients for that one day that they spent in Tzaneen. I was able to send Lebo to Tzaneen for a mammogram. I received the report last week. Lebo's results came back as a BIRADS 5, highly suspicious for Lymphoma. Lebo will be travelling to Johannesburg on 11 September 2019 to visit the Helen Joseph Hospital in Johannesburg, Gauteng Province for a consultation at the Breast Clinic. We wish her all the best.
Outreaches
On 21 August 2019 Hlokomela staff, staff from the South African Police Service (SAPS) and Rotary Club Hoedspruit set out to a high school in a local village. We visited a group of Grade 12 female students. The girls learned about breast cancer, cervical cancer, self-breast examination, and safe sex. Topics like transactional sex were discussed in-depth and were followed by a fruitful Q&A session. Members from SAPS also gave a talk about women's rights. Each girl received a goodie bag of body soap and sanitary products donated by SAPS and Hlokomela Women's Clinic. We enjoyed this combined effort with Rotary and SAPS in reaching out during Women's Month.
During the month of August and September, Hlokomela Tours ran an initiative to allow high school learners from another local high school to participate in tours of Hlokomela's various projects and facilities.
During their stop at the Hlokomela Women's Clinic, I did talks on breast -, cervical - and menstrual health. I also spoke about safe and responsible sex, transactional sex, exploitation, abuse and "my body, my rights". The learners received the talks well and we had many interesting questions in the Q&A after the talk.
Our last outreach for the year will be in early November before the schools start with final exams.
Bravolution update
We are so proud to say that the Bravolution has become a booming success! We have received in excess of 100kg of bras since the start of the project in early 2018! The gratitude and joy that we see from our patients when they receive something that could be viewed as mundane by some, is just so satisfying and an absolute pleasure. It has been wonderful to see how women from all around the world stand together and support this project. We often find that women who enter the Hlokomela Women's Clinic are in such a poor economic state that they often don't even own a bra! Imagine the delight when they receive some!
Help a girl out
What a positive reaction we have had! It only goes to show how willing the people of our community are to help! Thanks to the men and women of Hoedspruit we have received a large number of sanitary products during August. This allowed us to fill up our goody bags for outreach as well as give every patient in need a pack of pads. We would like to continue this drive and we are very excited and focusing hard on the re-usable/washable sanitary pad project.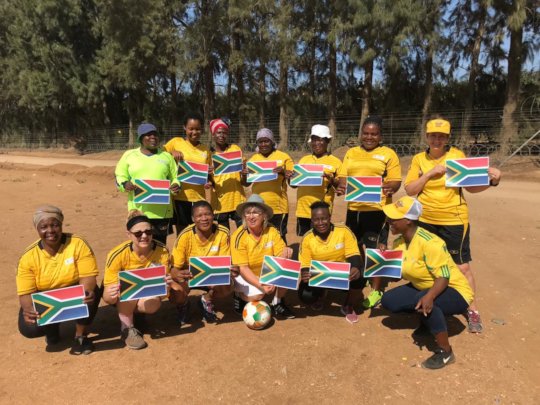 Links: