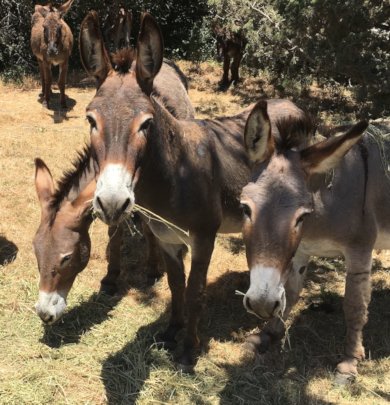 Some of the work to run RTF's American Wild Horse Sanctuary is routine and ongoing, like feeding the over 500 horses and 42 burros currently in residence with us. Some horse management like hoof trimming and worming is routine, while other medical issues arise on their own schedule.
With 310 acres to maintain and all the fixtures needing repair and upgrade, work is always being done to not only maintain the status quo, but to improve the operation of the sanctuary.
All of these necessary tasks are made possible by our supporters.
In the months since we last reported to you, we resourced two mobile offices that we are using for storage and processing merchandise for the RTF store. Work was needed to prepare for the installation of the offices. We cleared branches and overgrown weeds, levelled the ground and built an earth pad for each trailer. All of this was done by our dedicated ranch crew with equipment and materials sourced here on the ranch.
In the stallion barn, the paddocks were resurfaced with shale, and sand was hauled in to create a soft place for senior horses to roll and rest. Ranch staff also built a new feed bin for the stallions, eliminating adverse conditions created by an over-population of ground squirrels.
In our event barn, we replaced or built latches for all the doors on the south side, and repaired broken boards, both inside and out. Ranch staff also built a new drain for rain water at the feed room.
A labor-intensive project has been moving, with our new trailer, our herd of 25 wild burros every 3 to 4 days. Strategic areas of grazing were chosen for fire prevention and weed control. In many cases, this was the first-time animals were placed in these areas, creating the need for temporary fencing and/or gates, and moving water tanks to the grazing areas.
Once the burros cleaned the grass and weeds we did a follow-up clean up, including cutting down non-viable trees and making fence posts to be used later on ranch. The work has been worth it, because the burros are doing a great job helping us create wider safe zones from potential wild fires.
Our ability to have high-quality hay delivered by the semi-tractor trailer-load will be essential this year—a drier-than-usual winter means that the grass is woefully short. Last spring, the grass stood almost chest-deep on our wild horses in places; this year, the blades ranged from stubble to barely knee-deep, with a long, dry summer and even drier fall season looming as we continue to haul water in.
We're digging in, as we must, for another hard fight in Washington, D.C., to protect the right to freedom for wild horses and burros on the range, but caring for our resident animals is our first priority, as it has been each and every day of RTF's 20 years.
As you can imagine, it is a huge challenge to pay for all this. Our small dedicated crew is willing to do the hard work involved, but we are only able to succeed with the help of many other people like you, most of whom we will never be lucky enough to meet in person.
However, the wonderful thing about sanctuaries is that there is always the possibility that you can visit, meet the team and the mustangs and burros you are helping, as well as participate in any number of ways including Family Days, educational safaris, herd immersion, tours and volunteer days.
Currently on our calendar—
* Tour day on the last Saturday of this month, at our 300-acre Lompoc sanctuary;
* Photo safaris at the Lompoc sanctuary and our stunning 2,000-acre San Luis Obispo satellite sanctuary on September 8 & 22, October 6 & 20, November 3 & 17;
* Reiki and animal communication classes with Cindy Rackley September 15-16.
Thank you to those who have already generously responded. Last year's rescue of the 120-member Gila herd—many of whom would likely have gone to slaughter without your support—increased significantly the number of horses in our care. We knew that would make keeping in a good supply of hay and water more challenging than ever, but we could not look away from those animals in need.
We will never waiver from our efforts to speak for the wild horses and burros living on the range and in government holding facilities, but Job One remains keeping our promise to the family bands and the individual horses who have found new families here, to which we've given a home at RTF's American Wild Horse Sanctuary.
Thank you for helping to make this possible.