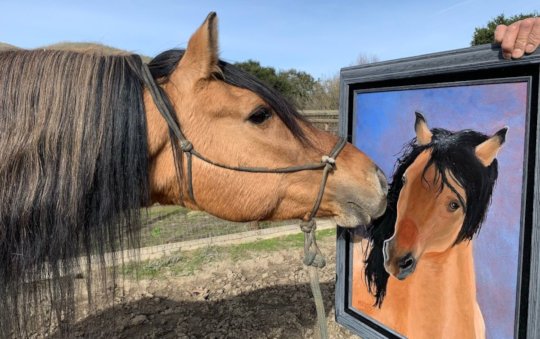 It's hard to believe that we at Return to Freedom, along with our supporters, have been caring for hundreds of captured wild horses and burros and fighting for their future on the range for 21 years.
We've only been able to maintain the high quality of care and management of these displaced equines with the help of many people—office and ranch staff, volunteers, vendors, and most importantly, people like you who share our love and respect for the Wild Ones, and make this vision stay alive. In the past few months, with winter rains and the snow up north, the work has been hard, but seeing the happy horses lets us know it's worth the work and expense.
At RTF headquarters in Lompoc, CA, we have begun planting the pastures with Montezuma Oats which gives some of the herds at this location a few months of grazing in late spring and early summer. We have to feed hay here all year long to some of the horses, but when the rain falls the grass grows and we do enjoy a few months with only light supplementation! In the winter, working with the rainy weather and mud, the daily routine is more than a full day's work for our dedicated ranch staff.
Since October, RTF Ranch Manager Jason been up north in Shasta County, California at our newest satellite location, getting that location set up and running. Another private ranch owner has generously opened his gates to 64 of the Spanish Gila horses we rescued in 2017! Most recently Jason has been repairing and building new fencelines and moving electric fencing to rotate pastures, keeping the horses and the soil healthy! During the winter, he is utilizing the 100 tons of hay we cut this fall from one of the meadows there. We will be completing the alleys and sorting area in the chute area, where horses can be safely handled for hoof trimming and any necessary medical work. Our new chute is ready to be picked up and set up in a covered area so that the electric tilting chute and work area is protected and powered with a new electrical system. This will make working with the horses easier, safer and more efficient.
This past year, 750 people of all ages attended educational programs and special events at RTF's Lompoc and San Luis Obispo sanctuary locations, ranging from monthly tours at the Lompoc location to Photo Safaris at the SLO satellite, all created with an eye toward giving visitors time to experience wild horses while learning about their behaviors, history and the challenges that they face on our public lands.
Some of RTF's work puts an especially big smile on our faces—With the holidays coming to a close, and RTF's Holiday Appreciation party fading into fond memory, we released two mares -- the inseparable Coco (Chanel) and Sophia (Loren) -- at our satellite sanctuary in San Luis Obispo, Calif. (See this happy event in the video link in this report.)
They were greeted—loudly—by many of the 24 burros that make their home on the rolling hills and, soon after, by some of the 82 other wild horses.

Coco and Sophia were among a dozen older horses from the Devil's Garden Plateau Wild Horse Territory in Northern California to which RTF was able to give sanctuary following a 2018 helicopter roundup. In all, the U.S. Forest Service captured and removed 932 wild horses from their home range during that roundup. When the agency announced unprecedented plans to sell the older horses without any restrictions against slaughter, RTF and other advocates filed suit in federal court to prevent the sale. However, it dropped the price per horse from $25 to $1, increasing concerns any remaining "sale authority" horses would be purchased by kill buyers.

With only a handful of older horses left in the government corral, including Sophia, Coco and 10 geldings, a very special donor stepped forward on their behalf and not only reached out to us to give them sanctuary, but sponsors them here as well. These horses are remnants from California's early ranching heritage and have lived in Devil's Garden for more than 140 years. (The Forest Service captured and removed another 499 wild horses from Devil's Garden in 2019.)

As our friends who follow RTF know, as important as our Sanctuary and its residents are to us, we also work on the national stage to assure a real future for all of America's wild horses and burros.
In recent months, RTF successfully fought for the inclusion of language in the Fiscal Year 2020 federal funding package barring the Forest Service barred from euthanizing healthy horses and selling horses without restriction. Previously, Congress had applied those restrictions only to the Bureau of Land Management, and to burros who are still running free.
Return to Freedom also played a key role in securing a $21 million congressional investment for a wild horse management strategy built upon the use of proven, safe and humane fertility control, like we use at RTF. This additional funding for the Bureau of Land Management is a first step toward ending the inhumane, costly and unsustainable practice of capturing, tearing apart families and warehousing these American icons.
Return to Freedom also used donated digital billboard time in New York's Times Square and in ferry boat terminals to draw attention to both the issues of horse slaughter and protecting wild horses. RTF plans to expand the campaign to other cities in the year ahead.
RTF maintains a lobbyist on Capitol Hill (GlobalGiving donations are not used for this work) , and with that effort combined with grassroots support, has helped build majority, bipartisan support for current federal anti-slaughter bill, the SAFE Act, in the House of Representatives, where H.R. 961 has amassed 221 cosponsors. A total of 290 are needed to force a vote on the House floor. The Senate version of the bill, S. 2006, has three cosponsors but many more members of both parties are expected to support this important legislation.
RTF biologist Celeste Carlisle presented at a number of meetings and conferences in 2019, including in October. Topics included how sanctuaries like RTF's can advance applied management, the joint proposal to Congress and the role of fertility control in wild horse management.
A member of the National Wild Horse and Burro Advisory Board, Carlisle has been an outspoken opponent of risky, costly and inhumane sterilization surgeries for wild mares and jennies. She also serves on a working group intended to improve low-stress handling techniques. The advisory board met in Washington, D.C., Oct. 29-31. Carlisle continued to educate members, including new members, about PZP and explain how and why spay via dangerous colpotemy was both unacceptable to advocates and not feasible.
There is much more RTF activity in the fight for wild horses and burros than can be covered here, but you can know for sure that your support becomes reality every day, as RTF works both for the horses and burros we see every day at the ranch, and the ones we may never see, living free, as they should, on America's public lands. They all deserve our help, and they desperately need it.
Thank you for being a part of this important mission,
All of us at RTF.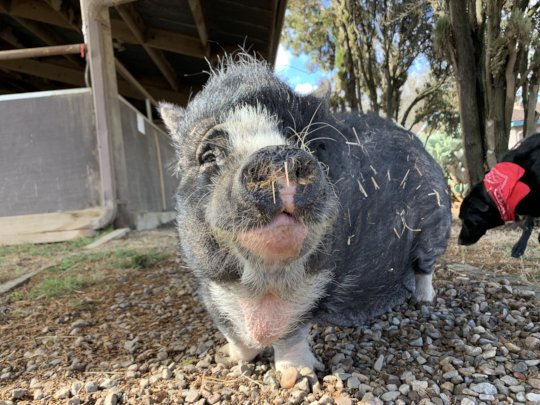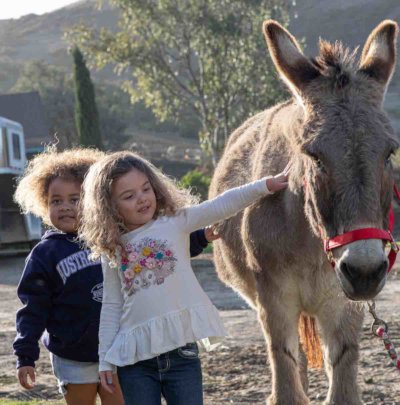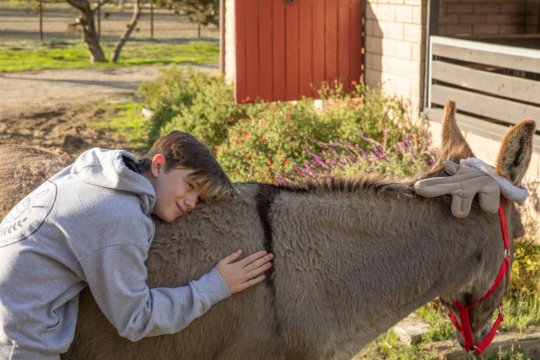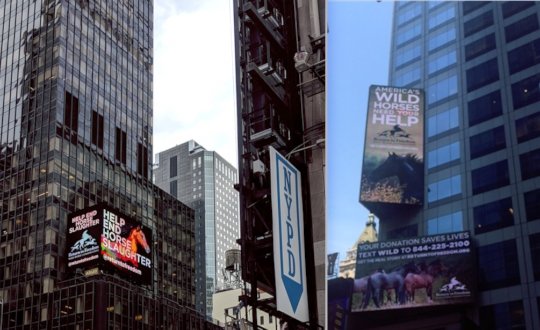 Links: