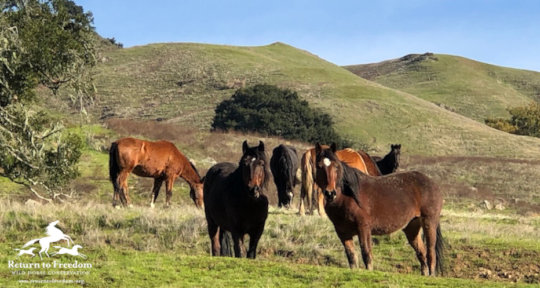 Quite A Year So Far...
We started this year with no hint of the challenges which would shortly come. But no matter what goes on in the world outside, RTF has over 500 wild horses and burros to feed and care for, and that happens in spite of world events. We'd like to share some of what has happened in our world over the past few months.
Devils Garden Horses
On New Year's Day, two inseparable mares, Sophia and Coco, were released onto the green hills of Return to Freedom's 2,000-acre San Luis Obispo, Calif., satellite sanctuary. As they trotted up the hill, they were greeted by loud braying from a group of burros, then first one, then more of the dozens of horses that make their home at the sanctuary.
With the help of a dedicated supporter, RTF was able to provide sanctuary to Sophia, Coco and 10 geldings from Devil's Garden Wild Horse Territory. They were among the last older wild horses – those most at risk of being sold to slaughter— after their capture during the U.S. Forest Service's 2018 roundup in the Devils Garden Wild Horse Territory in Northern California. In all, 932 wild horses were captured during the roundup.
Happy "Accidents"
Although since 2000 we have helped to pioneer the use of non-hormonal, reversible birth control in the course of keeping our sanctuary population stable, even our 91-98% success rate lets a few foals slip through— and that's one "failure" that is still a joyous occasion and invigorates the whole herd!. It also demonstrates that this form of birth control provides a future on the range for more generations of America's wild horses and burros while phasing out the current tragic family-splintering roundups. Here at the sanctuary, it allows stallions and mares to live together naturally while curbing the rate of reproduction.
Now, meet some precious recent arrivals—
Little Cameron was born overnight on March 4 at our Lompoc, CA, headquarters to Willow, from our Sulphur Springs herd. Cameron's sire is the magnificent Cerbat stallion, Amante.
Apparently, Willow laid down close to a gate that night, and her newborn slid right underneath, because our equine manager found the wobbly newborn ambling down one of the sanctuary's dirt roads! When she brought Cameron back to his band, it quickly became apparent that Willow had not bonded with him, and the foal's young siblings, Fuego and Nora, behaved aggressively toward the newcomer.
Our ranch team relocated Willow and Cameron to give them time to connect. Fortunately, they have!
Young Neptune was born on Friday, Feb. 21, also at our Lompoc headquarters, to Juno, a member of our Hart Mountain herd. Neptune's sire is Freedom.
Neptune was named by one of our Instagram followers after the Roman god of horses as well as the sea. This little guy's roots go back to Hart Mountain in Oregon. The U.S. Fish & Wildlife Service conducted a complete removal of 279 wild horses from the Hart Mountain National Antelope Refuge, Oregon, due to pressure from hunters to manage the area for pronghorn antelope and bighorn sheep. Of those, four stallions and nine mares arrived at RTF's sanctuary in 1999.
Then there's Ruby Tuesday—
This pretty filly was born to 15-year-old mare Diamond overnight on Tuesday, Jan. 21, in Lompoc. Her sire is 19-year-old stallion Samir, who, like Diamond, is a descendent of our foundation herd from Hart Mountain in Oregon who arrived in 1998 and 1999.
The Hart Mountain Fish and Wildlife Refuge removed all cattle and in 1998 they removed all the wld horses there. Veteran wild horse advocate Jim Clapp (founder of the first Wild Horse Sanctuary in the 1970's) was hired to remove the horses on horseback and with bait trapping, so that the herd that came to RTF's American Wild Horse Sanctuary arrived in their family bands.
Meet Shiva Rose
In March, a beautiful dorsal striped dun filly was born into the Gila herd in one of our satellite ranches in Northern California. Little Shiva Rose is strong and sassy! Of the 63 Gila herd mares that were treated with fertility control, this filly's mama Robin was not receptive to the vaccine – at least not this year!
All of these youngsters have deep roots in the history of America's wild horses. Although they never had a chance to roam that vast range, with your help they will live wonderful lives, safe from the perils of human politics and power, right here at Return to Freedom's American Wild Horse Sanctuary.
Spirit
You may recall that Return to Freedom's Lompoc, CA sanctuary is home to Spirit, the mustang who served as muse and model for animators of DreamWorks 2002 Oscar-nominated film "Spirit: Stallion of the Cimarron" Youth and adults all over the world fell in love with America's wild horses as this beautiful dorsal-striped stallion carried their dreams about freedom and horses in the DreamWorks film.
Since Spirit's arrival at Return to Freedom's Lompoc, CA headquarters sanctuary in 2003, the handsome, mischievous Kiger mustang has remained a favorite of visitors of all ages, including young viewers of DreamWorks Animation's Netflix's spin-off series, "Spirit: Riding Free."
This year is Spirit's 25thbirthday, and since the start of 2020 we had been planning a live birthday party event here at RTF's American Wild Horse Sanctuary. But the shutdown and restrictions cause by the pandemic derailed the live event, and much of the next few months were spent retooling the party into a virtual event, which did take place in May and will continue for the rest of 2020 to celebrate the spirit of the horse!. Our next update will describe the virtual Birthday for our friend and resident, Spirit.
Advocacy
If you have been following our reports, you know that as well as caring for the residents at RTF's sanctuary locations, our organization works to protect all wild horses and burros still living on public lands. They have faced serious threats to their very existence for many years, and we have always worked on the national stage to ensure wild herds a future on the Western landscape.
We're pleased to report that February marked the continuation in a significant, positive shift in tone around the wild horse issue. For the first time, President Trump submitted a budget proposal that did not include a call for the use of either unrestricted sale (to slaughter) or "euthanizing" healthy wild horses and burros.
For some background, as recently as 2017, the outlook for tens of thousands of wild horses and burros on and off the range looked very bleak. House Appropriators passed an amendment to the Interior appropriations bill that would have allowed the Bureau of Land Management to euthanize healthy wild horses and burros. Under the law and with congressional support, BLM signaled more and larger roundups with no plan to implement fertility control that would allow roundups to be phased out.
In 2018, the push in Washington, D.C., shifted to mass sterilization, and BLM changed its sale policy changed to allow single buyer to purchase up to 24 horses per day with no waiting period, greatly increasing the risk that more wild horses would fall into the slaughter pipeline.
In response to these looming threats to the lives of tens of thousands of wild horses, RTF worked with the nation's two largest humane groups and sat down at the table with other rangeland stakeholders to try to find common ground.
As a result, we were able to present Congress with a non-lethal alterative to a status quo that was fast driving wild horses toward a cliff's edge. Over the past dozen years or so, we have created a model, right here at our sanctuary, for the implementation of safe, proven and humane fertility control so that on public lands, herd growth could be stabilized, roundups phased out and the cost to taxpayers brought under control.
Not only did Congress embrace the idea on a bipartisan basis, investing $21 million for Fiscal Year 2020, but other positive signs began to appear. In 2019, for the first time in three years, the National Wild Horse and Burro Advisory Board did not recommend unrestricted sale or euthanasia. BLM revoked its sale policy change, returning to a limit of four horses per buyer every six months. And it announced it would not seek authority to euthanize healthy horses, for now.
The President's budget proposal continues this positive shift. There's still cause for concern, however. BLM continues to use its base budget to pursue the study of surgical sterilization of wild mares, which RTF strongly opposes, and the president's budget proposal calls for that to continue.
At the end of the first quarter, we were also still awaiting a long-overdue report laying out a long-term management plan for wild horses and burros. Until Congress has the report in hand, the $21 million in additional funds approved by lawmakers will not be released to the agency.
It's critically important that we continue to work with lawmakers to ensure that BLM immediately begins implement a real fertility program with proven safe and humane tools that are available, and that the move toward humane management of wild horses and burros and a sustainable future for the rangelands on which they depend continues.
------
It's the support of so many caring people over our 22-year history that has made possible not only the happy lives of the over 500 wild horses and burros who reside with us, but our work to protect and conserve their counterparts still roaming the range. No matter what the world throws our way, we will always be here for the wild ones.
Thanks to everyone who has helped and continues to help make this possible. There is no RTF without you.
All of us at RTF.