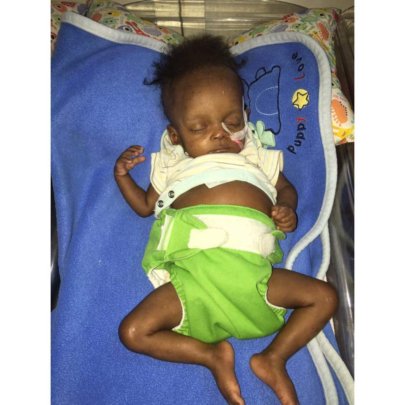 In 2013, Ann & I started collecting cloth diapers for Peru, for the orphanage that inspired the creation of Jake's Diapers. A friend of mine had adopted a little girl from Haiti, and he spoke of the poverty there. We thought they might have a need as well, so we reached out to them. We learned that they were well funded and had an ample supply of diapers. However, they knew of a Rescue Center that might be in need. This was our first introduction to Real Hope for Haiti. We reached out to them, and soon learned of dire need: the diapers they had, for up to 75 babies of diapering age, were actually blue mechanics rags. After the earthquake, they had received a barrel of these as a donation. With no other diapering option, and crafty caregivers, they were using these as makeshift diapers.
When I reached out to them, I soon learned they had been praying for an improved diapering situation with more cloth diapers. I still can feel the tears knowing this is something we are called to do: provide cloth diapers to those in extreme poverty, whose caregivers have to choose between food & diapers.
So we did what made sense at the time, and in July of 2013 we started sending them every kind of cloth diaper that was donated, to meet their diapering needs. This meant fitteds, pockets, all in ones, prefolds, covers, and more. These diapers were a tremendous improvement over the mechanics rags, and meant increased cleanliness because excrement was contained. This meant no more cleaning diarrhea off the floor, a floor that many babies crawled and walked on. Ever grateful for every suitcase of diapers delivered, the caregivers have always expressed extreme gratitude and haven't complained.
But, this doesn't mean that what we were providing was the best that we could do for the situation. We sent a new kind of diaper fastener, but with cultural and language barriers, how to use them properly got lost in translation. So, this was one idea to make their lives easier, but in application, the diaper fasteners just confused them. Good idea, bad implementation! We've stopped providing diaper fasteners, as it just isn't a good fit for them.
All laundry is hand washed in a nearby river, and with 75 babies, that's a lot of laundry! This means the laundry ladies wash up to 750 cloth diapers a day. Diapers are air dried on nearby bushes, and carried in baskets back to the Rescue Center. Cloth diapers come in many types, including multiple pieces to a diaper (an insert/absorbent part, and a waterproof layer). With such mountains of laundry, trying to keep the right inserts matched to the right diapers quickly became a challenge. Once again, the nannies weren't complaining this was an issue, they just modified and did the best they could with what they have, and sometimes babies were diapered without inserts (absorbent part) which meant quick leaks!
The babies at the Rescue Center are extremely tiny and thin, as they are recovering from extreme malnutrition. They have absolutely no body fat. The cloth diapers we were sending were typically meant for babies of traditional size, meaning a much higher weight and fat deposition than our tiny Haitian friends. We had begun by sending all sizes and types of diapers, and most of the diapers were just plain huge on our tiny friends! Once again, the caregivers haven't complained, always grateful.
The cloth diapers we have provided have been a variety of sizes, in all sorts of colors and patterns. With such a mountain of cloth diapers, the caregivers have been challenged to easily identify the size of cloth diapers to the size of the baby. This means that a proper fit for each baby may or may not be happening.
Each of our Diaper Drops is truly unique, and we are always learning and evaluating what works, what doesn't, what is confused, and what's missing. After evaluating how the cloth diapers are working for Real Hope for Haiti, we launched Project Tiny Blue Diapers. We are raising funds ($5,000) to purchase 500 tiny blue diapers, for our tiny little friends. These diapers are meant for small babies, 4-10 lbs, and are all blue in color. Blue is a color that holds up well in Haiti, given river washing, etc. These diapers are also all-in-ones, which means that everything (insert and waterproof outer shell) is sewn together into one piece. With a mountain of cloth diapers, our thought process is that if all the tiny diapers are one color, they can be easily identified for use on the tiniest babies.
This solves the problem for our tiniest friends, and for the bigger babies we will provide all colors/patterns of cloth diapers. We are transitioning over to all-in-ones as a type of cloth diaper, to solve the lost pieces confusion. But that's not all. Modern cloth diapers come in adjustable sizes, meaning one diaper can fit babies from 8 lbs to potty training. They have snaps on the front, to adjust the rise.
With cultural and language barriers, teaching how to adjust the snaps has been challenging. This means the diapers on the bigger kids could be adjusted to fit more appropriately. To address this, we have created a pictoral infographic with no words to help show how to get a better fit.
With all of these lessons combined, we are really excited about improving diapering at Real Hope for Haiti. Currently we are nearly halfway to fully funding our Tiny Blue Diaper project, and every $10 donation provides one tiny blue diaper. Thank you for your amazing support!