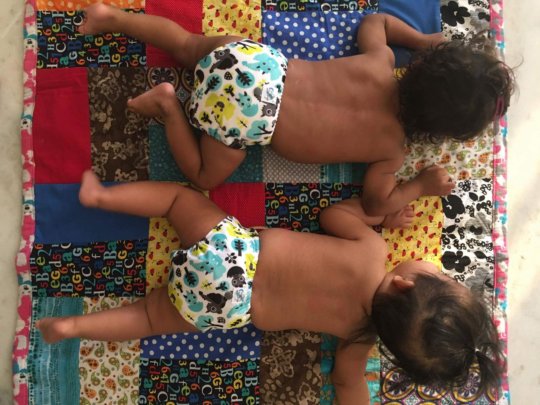 Today I received a fun update from our Diaper Drop partner in Hyderabad, India. Colleen, foster Mom of Shiloh and Emerald wrote to say how much she appreciates the cloth diapers, made possible by your generous support.
These two ladies are both previously abandoned kiddos with special needs. When they arrived at our Diaper Drop in India, they were severely malnourished and in need of medical care and surgeries. Having them in cloth diapers cuts down on expenses, allowing precious financial resources to be put towards keeping them healthy and treating their medical needs while they wait for forever families.
Thank you from the bottom of my heart. I encourage you to reach out to me at stephanie@jakesdiapers.org to find out about more amazing ways to get involved with the mission & ministry of Jake's Diapers. I'd love to hear from you.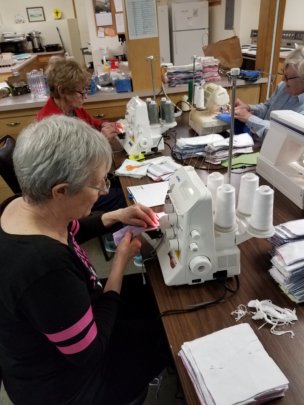 I can not thank you enough for your generous support of Jake's Diapers. Because of you, we were able to order a serger today! This serger will help our volunteer sewers sew easier, faster, and better!
The simple truth is, at Jake's Diapers, everything we do is because of supporters like you. Your kindness and generous heart allow us to do the work we are called to do: provide diapers to babies, children, and adults in extreme poverty, whose caregivers have to choose between food & diapers.
It is my honor to have you as part of our Jake's Diapers family. I invite you to reach me at stephanie@jakesdiapers.org with any questions. I'd love to hear from you.
Thank you for the joy you bring,
Blessings,
Stephanie Bowers
Executive Director
Jake's Diapers, Inc.
139 E. 2nd St. Suite U2
Kaukauna, WI 54130
(920) 257 7890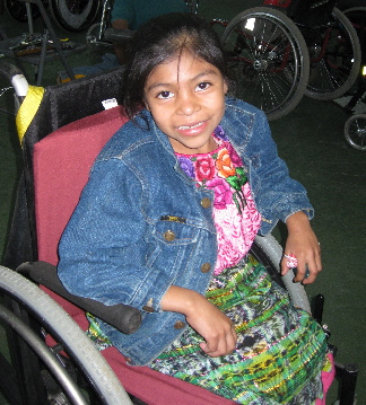 Olivia is a young girl in Chimaltenango, Guatemala. She used to spend most of her day on a kitchen chair, or in her bed. She lives without the ability to walk.
For those of us blessed with mobility, not having it usually doesn't cross our minds. It's something most people take for granted. There are a variety of reasons why some people are mobility challenged. It could be the result of an injury or a medical condition.
One of our partner agencies in Guatemala is affectionately known as the "Wheelchair Ministry". The people they aggresively seek to rescue are the often forgotten: people with disabilities. Sadly, when living in poverty and having a disability, this typically means being hidden away in homes and institutions.
For some with mobility challenges, this also means incontinence and basic sanitation and hygiene difficulties. This is a subject most people don't want to talk about.
Through our partner agency, Olivia was able to receive mobility, the gift of a wheelchair. This means she can to school, and hang out with friends. She finally has independence. This is a huge quality of life improvement for her!
While our partner agency is able to focus on mobility, they also see a huge need for diapers and incontinence supplies. Last week we were able to send 3 more cloth diaper kits, for older children and young adults. Your support is what has made this possible.
WARNING: Javascript is currently disabled or is not available in your browser. GlobalGiving makes extensive use of Javascript and will not function properly with Javascript disabled.
Please enable Javascript
and refresh this page.