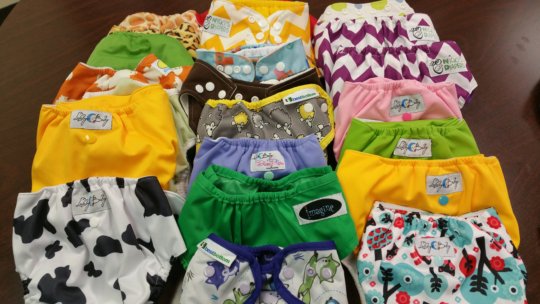 An incredible Thank You! Your support and generosity in supporting Veterans is a true blessing! To date, we have been able to provide enough cloth diaper kits to meet current demand with the Center for Suicide Awareness. But that's not all. Due to the success and support for our Veterans program, we are in the early stages of expanding our Veteran outreach program to help Veterans in need and not served by the Center for Suicide Awareness.
The Fox Valley Veterans Council is another local nonprofit serving Veterans. Their mission is to solicit and coordinate community support for military veterans, those still serving, their faimilies and survivors. They collaborate with veteran service organizations and other public and private partners (like us here at Jake's Diapers!) that also support Veterans. Together, we also focus on avoiding duplication of services and ensuring the effective use of resources.
We are excited to help further our support of Veterans and meeting their basic needs. Thank you!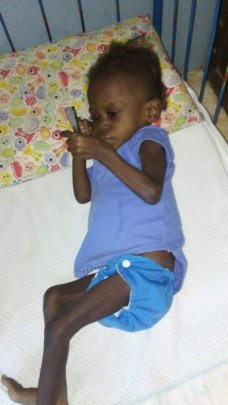 I'm so excited to share with you that the Tiny Blue Diapers have begun to arrive at the Rescue Center at Real Hope for Haiti!
Myolaika is just one of the many babies receiving these diapers to meet her diaper need. Myolaika was first admitted to the Rescue Center in November, weighing just 15.5 lbs at 21 months of age. She was referred to Real Hope for Haiti from Children's Health Ministries, another one of our Haiti Partner Agencies. Children's Health Ministries is an outpatient clinic, and the Rescue Center at Real Hope for Haiti is an inpatient clinic specialized in treating malnutrition.
When admitted, her mother shared that she had left Myolaika with the child's uncle in May and she had drunk clorox. This is perhaps why she refused to eat. Her dad is a carpenter, and Mom is a factory worker. She has one sister, and they live in a rented 2 room house with no running water. They do have an outhouse. They buy there water from a source a ten minute walk from their home. The day she arrived at the clinic, she had eaten soup and juice. The day before she had bean sauce. She is now on a specialized nutrition program, Medika Mamba.
She is progressing well, and her diaper needs are being met because of your amazing support! We are halfway to our goal of raising $5,000 for the purchase of 500 Tiny Blue Diapers. The first set of Tiny Blues have arrived in Haiti, and when we reach $5,000 raised we'll be able to deliver the rest!
Thank you for your amazing support!
It's an exciting time here at Jake's Diapers! I can hardly believe it's been nearly six years since the day we visited an orphanage in Peru. That one visit, where we saw caregivers reusing disposable diapers, changed our lives forever. They loved those babies, but with extremely limited resources, had to make devastatingly difficult choices.
Fast forward to today, and what started out as helping babies in orphanages, has grown to serving local babies as well. We've just begun outreach into the Greater Green Bay area, and have been able to serve a few local families.
One story we are able to share is David's story. Life has dealt David some pretty tough blows. He's a suicide survivor, and a single Dad raising three young children. Raising 3 children is no easy feat, especially when living with mental illness.

He loves his children dearly, and is doing the best he can with the challenges he's facing. To meet the diapering needs of his children, he has had to make the choice of purchasing his prescriptions or diapering his children. So, he has been skipping doses of his much needed prescription to stretch his supply. This has lead to such mental anguish and stress, and David needs to take care of himself to take care of his children too.

Because of you, David received a kit of cloth diapers: A complete supply to diaper his children until potty training. You made real, tangible change possible in his life.

David shed tears of joy when he received the diapers, realizing the huge burden lifted from his shoulders. No more choosing between medication and diapers. With this need addressed, he can now focus on his health and his children too.
Thank you for all you do to help those in need!
WARNING: Javascript is currently disabled or is not available in your browser. GlobalGiving makes extensive use of Javascript and will not function properly with Javascript disabled.
Please enable Javascript
and refresh this page.