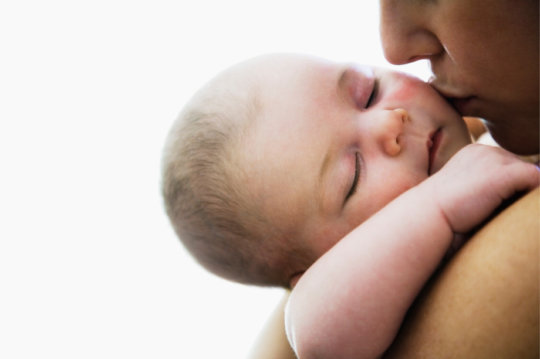 Amelia loves her son. When she became a mom just 9 short months ago, she had not imagined the immense joy she would feel about this new life. But, it hasn't been easy. The frustrations, challenges and difficulties continue to pile up.
Amelia lives in a rural area where access to resources is difficult. She needs to drive 30 minutes or more to places where she can buy essentials or access other support, such as WIC benefits to help feed her son. Even when the trip goes smoothly, and her baby doesn't cry for the ride, the cost of gas for this trip adds to the financial burden she already feels.
Across Wisconsin, an average of 30% of families cannot afford the basics of housing, food, healthcare, childcare and transportation (ALICE, 2018). Many live on extremely low income and lack access to basic needs and resources, with distance and transportation as a barrier.
That's why our Wisconsin diaper bank serves the local community in need. The Eastern Wisconsin Diaper Bank, an initiative of Jake's Diapers, acts as a diaper bank for other community partners already providing comprehensive services that help lift families out of poverty and on to a path of self-sustainability.
In July, we started work with Family Health/La Clinica WIC Program, which serves Green Lake and Marquette counties. Family Health serves people who live a step above making no income. Imagine a family with several children surviving on just $10,000 annually; that's typical. These are people who live high risk lifestyles: high stress, dysfunction, drug use, isolation and little resources.
This additional resource - access to diapers - has been in high demand. We already know that access to diapers is increasing participation at Family Health by registered WIC families, meaning they are getting the help they need. The added incentive offsets the burdensome cost of the drive to the clinic, among other benefits such as increasing financial ability elsewhere and relieving the stress of diaper need.
Family Health tells us that since we've started work together in July, on average two moms per day burst into tears over diapers because of the financial relief. In Amelia's cause, this gift would allow her to instead buy formula and medications her son needs.
Thank you to our supporters who help us provide this essential resource to our community partners.
About Our Efforts in NE Wisconsin: Jake's Diapers recognizes many families in our region of Wisconsin struggle on a regular basis with basic needs and hygiene necessities. This is why we've created the Eastern Wisconsin Diaper Bank Initiative to supply diapers to local families in need.
Make your impact today! A donation of $26 solves an entire month's diaper need for moms and babies like Amelia and baby J.